This page presents my understanding of the current status of Sandy Lake and Environs/the proposed Sandy Lake Regional Park and Wilderness Area; and how the observations I have been making relate to that area. Other sections of the website provide more details on the observations and on related documentation & resources. I am expecting to revise this page as I receive feedback on it.
-dp Jan 11, 2018.
For a shorter overview, see the new Pamphlet on Sandy Lake Regional Park produced by the Sandy Lake Regional Park Coalition in June of 2018.
View From the Air for a quick birds-eye view of the place.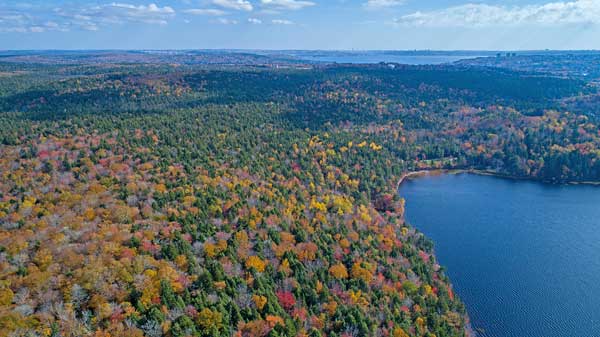 On this page:
Click on a title to go to a particlar section.
1. Which Sandy Lake?
2. A Regional Park at Sandy Lake
3. "Sandy Lake and Environs"
4. Watersheds
5. What's there?
6. Lake frontage development
7. Recreational Activities
8. The Natural Assets
9. Challenges to the ecological integrity of Sandy Lake and Environs
10. Trails/Recreation: the asset and the challenge
11. What would our grandchildren's grandchildren wish we do with this land?
1.Which Sandy Lake?
Sandy Lake lies just northwest of the top of the Bedford Basin in Halifax, Nova Scotia. Sometimes it is called "Big Sandy Lake" to distinguish it from another, smaller lake also called Sandy Lake, about 12 km to to the northwest. As "Sandy Lake" applies to several more lakes in Nova Scotia and probably to hundreds of lakes in North America, I describe this lake as "Sandy Lake Bedford" or "Sandy Lake (Bedford, Nova Scotia)" when necessary to make it clear which one is being talked about. Otherwise, I refer to it simply as Sandy Lake.
2. A Regional Park at Sandy Lake
The history of efforts to establish a park in the area of Sandy Lake go back to 1971.
Overall, this area of Sandy/Marsh/Jack lakes and the Sackville River Corridor has been recognized for nearly five decades, provincially, municipally and locally, and in multiple reports and studies, to be a special landscape worth protecting. Community efforts plus some twists of fate have allowed them to remain largely in good condition, and other twists of fate have caused the past protective processes to fall short. With development coming ever nearer, this may be our last opportunity. – SLCA/SRA 2017
Today, there exists the Jack Lake Regional Park (identified in the 2006 Regional Plan, still to be formally designated*) consisting of approximately 1000 acres (406 hectares) on the eastern side of Sandy Lake, and encompassing the Lions Club Sandy Lake Beach Park, established circa 2000.
*"~1986 CMHC gave the 1000 acres Jack Lake land to the province. Then in 2006, the lands were given from the Province to the city. With the First Regional Plan in 2006, Walter Regan and others lobbied successfully to make the newly traded 1000 acres of Jack Lake lands a Regional Park. In 2001, March 22, HRM approved of phase 1 of Lions Club Park (roadway, parking. Phase 2 to be washrooms). So the Beach park opened before the Jack Lake lands became owned by the city and named Jack Lake Regional Park." -KR

The proposed Sandy Lake Regional Park or Sandy/Jack Lake Regional Park includes the lands inside the black borders in the map at top right; the rose coloured lands are currently owned by HRM. The proposed Sandy Lake Regional Park and Wilderness Area would include additional lands outside of the black borders in order to
(1) provide a Regional Near Urban Wilderness Park adjacent to the
Bedford /Sackville Area;
(2) protect representational Acadian Inland forest habitats;
(3) provide water quality protection of Sandy Lake, Jacks Lake and Marsh Lake;
(4) provide access to and protect the ecology of the Sackville River; and
(5) provide continuity of a wilderness corridor along the Sackville River stretching from the 102 highway at Bedford to the Pockwock Municipal Watershed. – SLCA/SRA 2017, p. 3
This expanded park embodies more of the original concept of a Regional Park at Sandy Lake, which was for parkland around the lake, not to one side of it, and that of the 1979 MAPC plan which would "include more area on all sides, from the Sackville River to the Hammonds Plains Road and from the Bedford Rifle Range west toward the
Lucasville Road (including buffers and flood plains)." (From SLCA/SRA 2017, p.2 )
Please view SLCA/SRA 2017 for more details. Also view Our HRM Alliance.

3. "Sandy Lake and Environs"
So as not to continually trip over the terminology, I refer to the area as Sandy Lake and Environs (SLE) unless I want to refer to a specific version of the Regional Park or for example only to land currently owned by HRM. I refer to the whole set of observations that I made in 2017 as the "SLE 2017 Observations".
4. Watersheds
[Big] Sandy Lake is a headwater Lake in the Sackville River system; the Sandy Lake watershed is a sub-watershed and the largest subwatershed of the Sackville River Watershed.
The BSLS [Big Sandy Lake Sub-watershed] is 23.7 sq kilometres in size making it the largest, by area, sub-watershed of the Sackville River Watershed (SRW). It has a large amount of existing wetlands as well as many small feeder brooks and rivers, ponds, and two lakes. The sub-watershed's main feature, Big Sandy Lake, flows via Peverill's Brook to Marsh Lake and continues to meet the main Sackville River 4.7 km upstream of Bedford Basin and 1.1 km upstream of the Little Sackville River. The BSLS includes areas of Hammonds Plains and Lucasville which contributes a significant portion of urban development to the entire SRW – Sackville River Watershed wetland inventory, Part 2 (2011)
About 60% of the watershed is currently undeveloped; fortunately most of the land closest to Sandy Lake in not developed. A large area between Gatehouse Run and the Dairy on the western side of Sandy Lake is zoned "Urban Settlement" but has not been developed.
Jack Lake is in a separate watershed (the Jack lake Sub-watershed, a subwatershed of the Papermill Lake Watershed) and drains into Papermill Lake and thence in the Bedford Basin.

A small portion of the Jack Lake lands, including Moraine Brook, lies in the Bedford West Sub-watershed of the Sackville River Watershed.
The existing parkland/HRM lands and the proposed Regional Parklands also extend into the South McCabe Lake and North McCabe Lake Subwatersheds – view Existing and proposed parks & protected areas of Sandy Lake & Environs: overlap with 5 subwatersheds.
5. What's there?
In a nutshell:
Three lakes

Sandy Lake, a 72 hectare headwater lake for the Sackville River system

Marsh Lake, downstream from Sandy Lake via Peverill's Brook; 22 ha; it drains into the Sackville River.

Jack Lake, 2.75 ha, is on a separate watershed; it drains into Papermill Lake (outside of the Sandy Lake Proposed Regional Park) and thence to the Bedford Basin.

Wetlands
These occur mostly as small to extensive fringes on the lakes and streams; there are a few bogs in the Jack lake Lands, and a number of treed wetlands (swamps).

The Sackville Rivers Association utilized Wet Areas Mapping (WAM) data to locate areas of potential wetland development, enhancement, or restoration in Sandy Lake and Environs.

Out of the eight inventoried sites; five sites revealed new or previously unidentified wetlands, one site had a previously identified wetland, and no sites were classified as having potential wetlands. The remaining three sites revealed wet characteristics but no definitive wetland characteristics. Sites which contained new or previously identified wetlands also revealed varying amounts of wet areas. Much of the inventoried wet areas and wetlands revealed large amounts of natural forest and understory vegetation and a lack of degraded areas. – Sackville River Watershed Wetland Inventory 2011

Streams
Five streams are cited specifically in the SLE 2017 Observations:

Johnson's or Bob's Brook. This brook and its tributaries enter Sandy Lake at its southwest corner. This system carries the largest direct input of urban effluents into Sandy Lake, draining developed lands by Hammonds Plains Road, also on Lucasville Road and the Gatehouse Road. Many of the lots are on wells (see Fig 4 in AECOM 2014 report). Acid generating slates occur in the Lucasville Road area (Fig 7 in AECOM, 2014). A large area between Gatehouse Run and Sandy Lake is classified as Small Lot Residential but is not yet developed (see Fig 15 in the AECOM 2014 report). The Uplands Park Wastewater Treatment Facility "discharges approximately 40 m3 of treated effluent per day into a wetland/creek approximately 3.5 km upstream of Sandy Lake…which drains into Sandy Lake" (AECOM, 2014).
Northwest Brook (for lack of a name otherwise). This brook enters Sandy Lake at its northwest corner, not far from the outlet. The brook has an approximately 300 m stretch of open water bordered by fen about 600 m upstream from the Sandy Lake. The upper reaches of the brook receive drainage from the Gatehouse Run area and could reach into the acid slate area. Lower down, the brook flows through recently clearcut land and has carried a lot of clearcut debris into the northern end of Sandy Lake apparently expanding the fringing wetlands in that area.
Peverill's Brook, described as Upper Peverill's Brook where it runs between Sandy Lake and Marsh Lake, and Lower Peverill's Brook where it runs between Marsh lake and the Sackville River. Both stretches contain salmon spawning habitat.  In 2012, the Sackville Rivers Association installed 11 digger logs to improve habitat for salmon (also for gaspereau and sea run speckled trout).
Jack's Brook drains Jack Lake and feeds into Papermill Lake. It is bordered by wetlands.
Moraine Brook lies in forest by the sandpits at the eastern extremity of the Jack Lake lands. It drains moraine-like topography supporting hemlock forest, and flows into highway drainage by the Bicentennial and thence into the Sackville River.

There are a half dozen other streams flowing into Sandy Lake and Marsh lake as identified on the Thompson 2001 Map above. I encountered many seasonal streams on the east side of Sandy Lake, some of them flowing intermittently below ground.

Forests
Acadian forest, much of it in a mature to old growth state, covers probably 90% of the landscape. In some areas it is predominately coniferous, in others hardwoods, or mixed (hardwood and softwood).

It is a varied, rolling landscape with drumlins and linear rocky outcrops. There are scattered, mostly small, treeless outcrops. Otherwise forest cover is lacking only along the power lines and on a block of land in the Jack lake Lands that was cleared and bulldozed in the 1990s in preparation to construct a major prison. (That plan was discarded in 1999 and the provincially owned Jack Lake lands were traded to HRM for land in Burnside which would become the site for the prison.)
6. Lake frontage development
There are lakeside cottages, most of which were "camps" in days gone by, and homes along the western and southwestern privately owned sections of the Sandy Lake frontage, but that lake frontage overall is not densely settled. There is one derelict camp on a small piece of private land on the east side just north of Sandy Lake Beach Park.
7.  Recreational Activities
Sandy Lake and Environs are not well known to most people outside of the Bedford/Hammonds Plains area, but are popular locally. Recreational activities include:

At least during the summer of 2017, I never observed more than a few boats on the lake at one time and most of the time, there were none. Most were paddle craft. There is one large power boat on the lake. The sparsity of boats reflects in part the absence of a public boat launch that can be accessed directly by a vehicle; this is fortunate as it is a small lake and power boats can disturb the critical habitat for nesting loons, frogs and turtles. (View Fringing Wetlands)
There is great potential to increase recreational use of these lands. The Halifax Water Connector road is a natural as an Active Transportation Route – but it would have to be re-routed in the area of the rifle range! The prison yard could serve as an amphitheatre/space for large public events.
View more about the recreational assets.
8. The Natural Assets
From my perspective there are three major natural assets.
Trees were harvested from much of the area up to 50-70 or so years ago, but most of it was selective harvesting using horses or tractors and the habitat remains intact or is well on its way to recovering from "highgrading" (taking out all of the larger trees).* An exception is a recent, large clearcut on private land to the west of Sandy Lake but not abutting it directly. A large part of the area clearcut included trees over 100 years of age. Fortunately, Most of the clearcut is exhibiting vigorous regeneration by a full mix of Acadian forest species. More limited cutting has occurred on some of the recently acquired HRM lands west of Marsh Lake, and there was some clearcutting in the vicinity of the land cleared for the prison on the Jack lake lands, probably in the 1990s.
Today there are many trees of different species over 100 years of age, and some hemlock over 200 years of age. These forests have many stories to tell.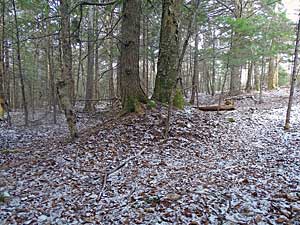 One of the stories is about wind. The pit and mound topography found throughout much of the forest reveal an 'old process' of development towards an old growth state interrupted by wind disturbance, a process that can be seen continuing today in blowdown of big trees initiated by Hurricane Juan. These processes are especially pronounced in this forest close to the windy coast in our windy province. In places, the pit and mound structures occur in a repeated series with the long axes of mounds oriented perpendicular to the direction of wind that blew the trees down; walking across them in the direction of the wind is something akin to swimming or paddling through a set of swells in the ocean. The mounds were formed by blowdowns of very large trees, which I estimate occurred about 150 years ago at many sites. The mounds are preferred ground for establishment of tree seedlings, and most of the big trees we see today are found on top of mounds. The pits often develop as vernal (temporary) pools, providing habitat for amphibians and other organisms requiring water for part of their life cycle. As the trees grow old and mounds erode, the tree roots are exposed creating cavities for wildlife between the roots and the trunk. Trees snap off in a windstorm or just die in place providing "snags" that support another suite of wildlife, and when they fall over, another suite as they gradually return to and enrich the earth.
American beech trees which occur both as old dead skeletons (beech wood is very slow to rot) and as some quasi-healthy large trees and as many smaller trees and seedings, tell of another kind of forest disturbance. It was a pest that came to North America via Halifax. Viewing the beech trees and the pit and mound topography reminds us to think about forest lifespans over longer time intervals than those of our own lives, and that diverse forests in which natural processes are maintained are resilient. Freed from the pressures to clearcut or otherwise improve the forests, we can allow the natural processes to continue.
The presence of cyanolichens on the maples tell us this forest is protecting the air by the ground where we walk. The spring wildflowers will tell another story, and birds tell more.And then there are the old forestry roads or routes, and other evidence of forestry in days gone by, and signs of an old farm in the area of the parking lot; and harder to see because they tread more softly on our landscapes, evidence of activities by indigenous peoples.
These are fascinating forests that are quite easily accessed with countless trails and spots which allow visitors to bask in the Acadian forest as we might wish it to be over more of Nova Scotia today, but isn't or is being lost to intensive forestry.View Forests (and subpages) for more.
_______________________
*View Sandy Lake Community Profile (NASCAD doc, 2001) for a description of historical land use.
9. Challenges to the ecological integrity of Sandy Lake and Environs