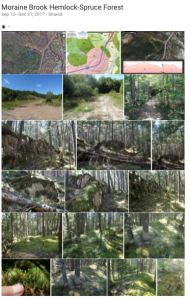 Goggle Albums
The albums listed below are in progress; more photos will be added to most of them.
As well, more albums will be posted.
Unless otherwise stated, photos on this website were taken by David Patriquin and may be used under the conditions of a Creative Commons License.
ALBUMS
Sandy Lake Bedford Beaver Dams on Upper Peverill's Brook Aug 3, 2018
Sandy Lake has no beaches in 2018, the water level about 2ft higher than normal, and higher mid-summer than anyone can remember. The reason: the beavers have been busy on Upper Peverill's Brook, with 2 solid dams and 2 developing, plus a new lodge. Some photos from Aug 15, 2017 (next set) have been inserted to show differences between the 2 years.

Upper Peverill's Brook Aug 15, 2017
These photos were selected from a large set taken onAug 15, 2017, to provide some landscapes along the brook for comparison with the state of the brook in 2018.
ABOUT THE ALBUMS
These albums, posted on Google Photos, provide some of the observations on which the various descriptions on this website are based.
You can start at the beginning of an album and go through it quite quickly, pausing as you might wish, e.g. to enlarge a photo for closer examination.
Click on the i-icon at the top right of the first photo to bring up descriptions and Google map locations of the photos.