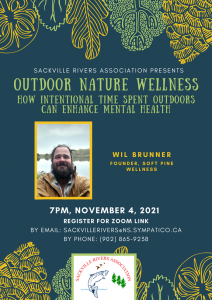 Received from SRA:
TITLE: Outdoor Nature Wellness: how intentional time outdoors can enhance mental health.
Wil Brunner will be giving this talk this Thursday November 4 via ZOOM.
Wil Brunner is from Port Sydney, in the Muskoka Region of Ontario, where he grew up around a lake fishing, swimming and walking through the woods.
After graduating from the Ecosystem Management program at Fleming College, he ended up in Nova Scotia working with the SRA in 2009.  Later he was involved in bringing community to the river to foster conservation and stewardship.
In 2013 Wil returned to Ontario and worked on more habitat restoration projects before creating a new path in the mental health field. He began counselling and guiding camping trips for a teenage addictions and mental health program. Wil enjoyed and was very effective supporting these clients and began to instruct on behavioral therapy and mindfulness meditation in nature. He also taught many kids about ecology and the importance of protecting nature.
Now in 2021, Wil has again come to Nova Scotia – he couldn't stay away for long – and has been providing nature-based wellness to Nova Scotian's. He received his Forest Therapy Guide certification from The Association of Nature and Forest Therapy (https://www.natureandforesttherapy.earth/) and is a  Naturalist Guide at Trout Point Lodge.
In September Wil created his Soft Pine Wellness business and will be moving to the Windsor area to offer forest bathing, wellness recreation and mindfulness meditation to communities from Halifax to the valley. He hopes to support people experiencing mental health struggles, physical problems and facilitate a strong connection to the natural world. Science has found strong evidence of the many positive effects from time spent outside and Wil is excited to be a part of that journey.