View Tender Details
Bids Opening and Closing on Tuesday, November 9, 2021
View Tender and Additional Documents (Zip File)
Contents:
– 21-418.pdf (Request for Proposal Doc)
– Bathymetric profiles of First Lake.pdf
– D_Tymstra Thesis_A Paleolimnological Record of Anthropogenic Impact on Water Quality in First Lake, Lower Sackville, Nova Scotia.pdf
– HRM_Final Report Draft_Beach Water Quality.pdf
– Kinap Beach Closures 2010-2019.pdf
– RFPAppendixB-MSAforProfessionalServices2020-06-30.pdf
– SupplierQuestionnaire-2021-09-20.pdf
From 21-418.pdf:
Project Background
Kinsmen Beach is located on First Lake in Lower Sackville, a densely populated and urbanized community. The surrounding area is composed of a mix of residential, commercial, and industrial land uses. Kinsmen Beach was historically part of the municipal beach monitoring program and supervised by a municipal lifeguard between July 1 and August 31. In 2020 the beach was removed from the municipal beach supervision program after several years of exceeding guidelines for bacterial levels for recreational water use as set by Health Canada. Between 2010 and 2018 the beach was closed for approximately half of the season (30 days). The beach was closed for the entirety of the 2017 beach season (62 days). The beach has been unsupervised in 2020 and 2021 but continues to be used by the local public even without a lifeguard or regular testing.
Goal
To conduct a scientific study to form the basis for recommending options that could usefully serve to identify, track, and reduce sources for E. coli, and reduce future beach closures due to excessive E. coli levels and increase the likelihood of safe ongoing use of First Lake for swimming, boating, and other contact-based recreational purposes.
Objectives/Critical Path
This project is funded by operating funds for fiscal year 2021-22, which concludes on March 31, 2022. However, where it addresses water quality issues affecting the Municipality's beach program which runs annually from July 1st to August 31st, the field season will take place in the 2022-2023 fiscal year. Consequently, the field season for this project must get underway by no later than Monday June 13, 2022. The overall project must be complete, including the receipt of the approved final report(s) and associated materials, by no later than Tuesday January 31, 2023.
Halifax staff have determined that both a pollution loading study and a bacteria (microbial) source tracking (MST) study be conducted, to satisfy the overall requirements of the pollution control study. The objective of the first is to determine:
i. the overall E. coli loading to the lake;
ii. where the loads are originating from; and
iii. actual and relative magnitudes of E. coli loading from different geographic points of origin.
——–
On lakes.chebucto.org (Soil & Water Conservation Society of Metro Halifax/S. Mandaville):
– First Lake, Lower Sackville
– Community Stewardship Practices
——-
www. firstlake.ca/
Community Website
——–
Pick Up the Poop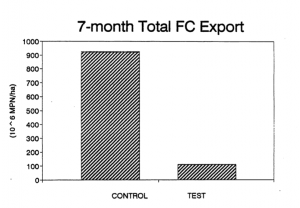 I was involved in a study of First Lake in 1993/4, (FirstLake1993_4). The objective was to test effects of particular stewardship practices (quick removal of pet feces from properties, regular cleaning of the street gutter, collection and composting of yard wastes, use of phosphorus-free detergents for washing vehicles; and avoidance of phosphorus fertilizers except as indicated essential by soil analysis.)  on phosphorus and fecal coliform levels in storm water.   Effects on phosphorus were not clear, but there was a pronounced effect on fecal coliform counts. Simple picking up of dog poop really helps.
That was before HRM required dog owners to 'scoop the poop' (re: By-law A-700, 2008, but I think "pick up the poop" was first introduced circa 2001). Evidently, more effort is still needed. In 2019, HRM launched a "pilot program encouraging dog owners to pick up after their pets… in an effort to maintain safe water in two Dartmouth area lakes. The project is called Canines for Clean Water and is focusing on Lake Banook and Lake Micmac, both having shown high levels of canine e.coli in testing. A page on the city's website includes a pledge form that dog owners are encouraged to sign, along with some information on some of the issues caused by dog droppings and their effect on water. Dog owners are also reminded to bring along a plastic bag to pick up after their pets, and if they forget there are bag dispensers at both lakes." (halifax.city.news Aug 12, 2019)
Also view: Oh, crap! The scoop on poop, by Yvette D'Entremont in the Halifax Examiner May 18, 2021. "During the pandemic, more people are using local trails. That's a good thing. But they're bringing their dogs. And suddenly there's a veritable ton of dog shit on the trails. There are bags of dog shit hanging from trees. And dog shit is leaching out to the Cole Harbour salt marshes, closing down the clam beds that are sourced by local restaurants. That's not a good thing"