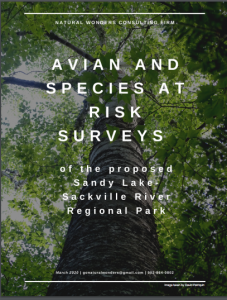 Avian & Species at Risk Surveys of the proposed Sandy Lake – Sackville River Regional Park
Report by Natural Wonders Consulting Firm to Sandy Lake Conservation Association, March 2020. 20 pages. View Full Report
Also view the subpages to this page:
– Wildlife Corridors
– Birds by Habitat
– Common Snapping Turtle
and this post (June 13, 2020):
– New report on Avian & Species at Risk Surveys identifies key habitat & wildlife corridors on lands by Sandy Lake under development pressure
The author is Clarence Stevens, a highly experienced, professional naturalist. View This Video to see, hear Clarence talk about the natural history in the area of the Sackville Greenway Trail
EXECUTIVE SUMMARY
(Some formatting for web inserted)
In 2017 avian surveys were commissioned by the Sandy Lake Conservation Association for the purpose of augmenting their baseline data and to acquire additional information on the current status of bird species within the proposed Sandy Lake Park.
Initial surveys were conducted during the 2017 breeding season with additional breeding surveys and year-round data gathered in 2018 and 2019. The followup surveys also placed special emphasis on gathering data on any avian or non-avian Species At Risk that might be living within the proposed park boundaries.
The proposed park boundaries, also referred to in this report as simply the proposed park, can be found on the map labeled Map 1.
Survey preparation work began by traveling all roads bordering the proposed park for the purpose of identifying pubic access points into the project area. Access Points used included those trail heads associated with Jack Lake and Sandy Lake off of Smiths Road, as well as trails entering the proposed park area from Gatehouse Run, Viscount Run and Savoy in Kingswood North. Surveys were not just limited to well established trails but involved travelling the shorelines of each of the water bodies present, which included all but some of the small privately owned shore line properties of Sandy Lake, all of Jack Lake and all of Marsh Lake and its surrounding wetlands.
For the purpose of the surveys we also gained permission to use private access points available through the Agropur Cooperative Dairy property. Game trails were also traveled whenever they were encountered.
Details on the Avian Species found within the proposed park are located in Table 1
Surveys conducted on the proposed park lands during the 2017 to 2019 breeding seasons detected 21 species of interest to Federal and Provincial conservation bodies.
Species at Risk living within the proposed park boundaries include:
BIRDS

Barn Swallow
Canada Warbler
Common Nighthawk
Eastern Wood-Pewee
Evening Grosbeak
Olive-sided Flycatcher
Rusty Blackbird

INVERTEBRATE

MAMMALS

Little Brown Myotis (Bat)
Moose (Mainland Population)

REPTILES

Common Snapping Turtle
Eastern Painted Turtle
Wood Turtle
The information on these species is found in this report under Species of Concern and in Table 2
Several important wildlife corridors were identified during the surveys, including two major wildlife corridors. The locations of these two major corridors along with a dozen smaller but important wildlife corridors are marked on Map 2
END OF EXECUTIVE SUMMARY
---
==============================================================

Some totals:
– 117 avian species; 99 breed in the proposed SL-SRRP
– 7 Species-At-Risk; 8 additional are Species Of Interest
– Passerines 69 species, 64 breeding
– Birds of Prey 11 species, 11 breeding
– Game Birds 3 species 2 breeding
– Other non-passerines 23 species, 11 breeding
– Waterfowl 11 species, 11 breeding
Also view Birds by Habitat