Some morphometric and water chemistry data
From the Jack Lake CHMC/NSDH Report (1986):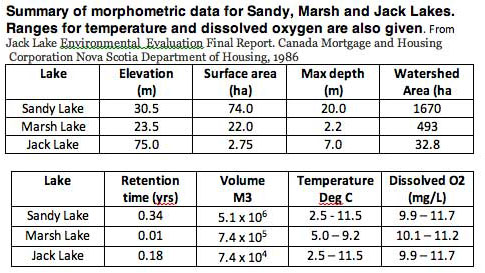 So these are quite different lakes. Sandy Lake is  relatively deep,  Marsh Lake is shallow, and Jack Lake is very small and acidic. Sandy Lake and Jack Lake are deep enough to stratify (according to Brylinski, 2002, such lakes are larger than 1 ha and generally >3 m depth for brown-water lakes and >6 m for clear-water lakes). Jack Lake is a brown water lake, Sandy Lake has very little colour, Marsh Lake, some. Sandy Lake, but not Marsh Lake and Jack Lake receives waters from storm sewers.
Video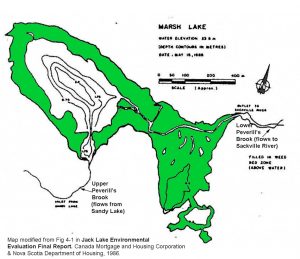 Peverill's Brook/Marsh Lake
Upper Peverills Brook runs between Sandy Lake and Marsh Lake, Lower Peverills Brook fror March Lake to the Sackville River. The video shows pieces of the upper brook with digger logs that the Sackville Rivers Association installed in the brook to improve habitat for salmon; and the magnificant views where the brook flows into Marsh lake. August 17, 2017.
View Topographic Map
Photo Album
Posts and Other Pages on this website