Turtles facing a tough road across the country
By Staff in Halifax Today, Aug 1, 2020.
——-
One of the special attributes of Sandy Lake & Environs is the presence of three of Nova Scotia's four freshwater and land turtles – the Eastern Painted Turtle, the Wood Turtle and the Common Snapping Turtle (the 4th, Blanding's Turtle, is found only in SW Nova Scotia).
All four  turtles are on our endangered species list. So it was with some alarm that a hiker recently found and reported to the NS Turtle Patrol four turtles near Marsh Lake that appeared to have been run over.

Clarence Stevens, President of the Turtle Patrol Nova Scotia, investigated and confirmed that indeed 4 Eastern Painted Turtles had been run over by an off-road vehicle – probably an ATV – and evidently they were deliberately run over. Further, the turtles killed were breeding age females. Clarence and colleagues had been observing turtles in the area over the past 4 years and knew  about only 4 breeding females at that particular site. So it's possible that all breeding-age females at that site were lost.
The incident, including interviews with Clarence Stevens and Karen Robinson (co-chair of the Sandy Lake-Sackville River Regional Park Coalition), was the topic of a CBC story by Alex Cooke: 'Devastating': 4 turtles run over, killed in Halifax-area park
(CBC July 13, 2020)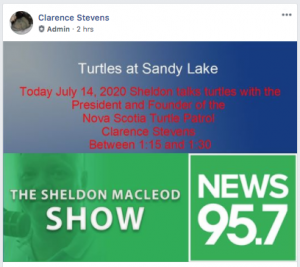 Earlier today, Clarence Stevens was interviewed on the Sheldon MacLeod Show (News 95.7). Below is an "abbreviated transcript"* of the interview.
SM: CBC's Alex Cook's article about 4 turtles killed in Sandy lake Park in Bedford… Clarence Stevens is a biologist and President of NS's Turtle Patrol…what can you tell us about how you stumbled across these 4 turtles that were killed?

CS: Actually it was a hiker.. who was hiking along one of the trails and encountered the turtles and contacted us.

SM: What did you learn about what happened to these 4 turtles?

CS: When we got the report, we wanted to find out the exact location. I already suspected the spot because we had been studying turtles in the park for four years and these particular turtles at that exact location so it was a huge disappointment to find out that 4 of the turtles had been killed right at that location which was Marsh Lake.

SM: 4 turtles in one place… what may have been going on there?

CS: The reason why that site is so important – it's a breeding site for turtles and they actually gather there to lay their eggs and they were on the trail for that purpose.

SM: And all 4 were run over… an ATV? – Do you have to make that assumption?

CS: We were able to see the tracks, 'could definitely tell it's an Off-Road Vehicle, looks like an ATV and it definitely swerved to hit the turtles as well… you can tell by visiting the site exactly what happened there.

SM: This is nothing unusual? 4 in one place, that is highly unusual, but that people run over turtles, really?

CS: They do, but studies in Ontario and elsewhere show its only about 3% of drivers that deliberately try to hit turtles, so that means 97% go out of their way not to hit turtles and most people we talk to absolutely love turtles.

SM: Where I live there are turtles on the road certain times of year and neighbours are mindful and signs sometimes go up and sometimes people will move them from the road to the roadside or the road bed. What kind of turtles are we talking about here?

CS: These were Eastern Painted Turtles, that's the most widespread turtle in the province, the one most people are familiar with; but even though it's our most common turtle, their numbers are still declining rapidly so much so that they were added to the endangered species list –  the lowest category but it means that all of our turtle species in NS are now on the list.

SM: Are you able to tell anything about the age of these turtles, were they babies or adults?

CS: They were breeding females; they were there for the purpose of laying eggs..so definitely adults.

SM: So what kind of impact would loss of 4 turtles mean?

CS: Marsh Lake is the area in the park with the greatest no of painted turtles…they are in other locations but in smaller numbers. Previously we only knew of 4 turtles at that location… I hope there are more but …if not we have lost the whole female breeding population there; at the very least it's going to be a serious reduction in the population and in the health of the population because of loss of genetic diversity.

SM: Are there not signs to note this, is it not restricted to ATV use?

CS: Most people know, everyone should know, that you are not allowed to have ATVs in city parks…there are trails that connect to the park trails where ATVs drive all of the time and most of the ATV drivers are great, they turn around when they reach the park boundaries but there are a few that disregard the rules…

SM: What's the penalty?

CS: I don't know that. I know that more signs are being put up because of this incident and the city is cracking down as well.. so hopefully something good will come from this… better protection, more awareness is what we are working at.

SM: We can learn more about the NS Turtle Patrol online…thanks for talking to us….Clarence Stevens a biologist and President of NS Turtle Patrol, 4 breeding age females turtles were run down by an ATV in a park in Bedford… if you know something about it, call the NS Turtle Patrol.
To which I can only add more thanks to Clarence Stevens and Turtle Patrol Nova Scotia for their invaluable volunteer work. Thanks also to Sheldon MacLeod/95.7 for a thoughtful interview.

It all underscores how important it is to protect all of Sandy Lake & Environs in the form of the proposed Sandy Lake-Sackville River Regional Park for the benefit of all species.

—-

For more info on the Eastern Painted Turtle, view COSEWIC Assessment and Status Report on the Midland Painted Turtle Chrysemys picta marginata and the Eastern Painted Turtle Chrysemys picta picta in Canada. Special Concern 2018.

Studies Show 3% of Drivers Swerve to Hit Snakes and Turtles
Patrick Durkin Jul 9, 2019 on www.themeateater.com/

*A note about the "abbreviated transcripts". I sometimes post "abbreviated transcripts" of interviews on radio and TV as a matter of record. One can listen to the interviews, but in this rushed world it's faster to read the transcript, albeit you miss some of the nuances; and sometimes the audio records do not hang around for very long. It is not Hansard, and for the sake of getting though it in less than a day, the transcript is not always precise, but I attempt not to change the essence of what is said in any way.

UPDATE Aug 1, 2020: View