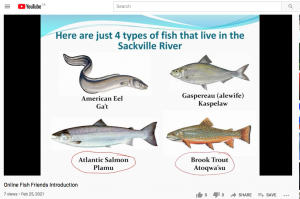 UPDATE  Mar 29, 2021: 4 lessons now available: Introduction, Watersheds, Habitat & Egg Observation, Shelter and Alevin Observation
View more at SACKVILLE RIVERS ASSOCIATION EDUCATIONAL PROGRAMVIRTUAL FISH FRIENDS/RIVER RANGERS 2021
————
Original post
I just checked out the first video lesson the SRA  (Sackville Rivers Association) has posted in its new online Fish Friend Series series, launched because of  limitations on their hands-on programs in Covid times. It is incredibly well done.
The lessons are geared for elementary school children, but I still enjoyed and learned from this first video – especially about First Nations' Perspectives.
In the first video (LESSON 1: INTRODUCTION)
Students are introduced to the SRA and the work they do
Students are introduced to the concepts of "Watershed" and "Habitat"
Students are introduced to scientific and traditional (Mi'kmaq) approaches to ecological knowledge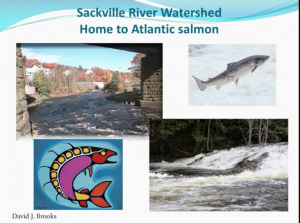 There are a couple of worksheets to print out, one a Trout Outline Drawing for participants to fill in; and the second a "Reciprocity Worksheet" – it asks "What does the river give us and what can we give in return?". Wonderful materials.
Congratulations & Thanks SRA!
The message I received from SRA this am gives some further info.
Hello!

Every year Sackville Rivers Association runs two education programs: Fish Friends and River Rangers. 

Due to Covid these programs have been temporarily shelved. However, we are pleased to announce our free online program that combines both Fish Friends and River Rangers. This program is offered in both French and English. 

We hope to help students develop watershed stewardship through a better understanding of natural habitats and fish life cycles. Each video lesson is 15-30 minutes long and includes additional classroom resources such as art activities and worksheets. Seven main topics are explored over 10 lessons:

• The Mi'kmaq concept of Netukulimk
• Watersheds
• River and ocean habitats
• Fish life cycles
• Food chains
• Developing observation skills
• Natural and human impacts on the environment

In the first lesson students are introduced to:
• The Sackville Rivers Association and the work we do
• "Watersheds" and "Habitats"
• Scientific and traditional (Mi'kmaq) approaches to ecological knowledge

We are excited to announce that this lesson is now online at: https://sra-edu.weebly.com
Future lesson will become available throughout March, April and May 2021.
Also,
View past reports on Fish Friends activities
View past reports on River Ranger activities