On a lengthy winter outing in the area of Sandy Lake on a slightly above zero day this past week I noted several sites where sediment is flowing into streams that flow into Sandy Lake or Marsh Lake, or that lie directly on Sandy Lake.
The first site was on a power line where a significant stream flows out of the forest on one side and into the forest on the other and there is extensive puddling from OHVs crossing the stream. I think the stream is known informally as "Jackie's Brook". It goes into the woods, falls down over the edge of ridged bedrock outcrop and then crosses the powerline again on its route to Marsh Lake; there is also extensive puddling at that second crossing of a powerline.
OHV (Off-Highway Vehicles) use on publicly accessed lands can be very controversial, and is banned in HRM Parks unless specifically permitted (By-law P-600).  Personally, I am OK with OHVs accessing power lines  but…not without significant responsibilities and accountability. One solution: OHV organizations take responsibility for managing ATV routes in such areas, e.g. see this document describing how OHV use was/is managed in the Five Bridge Lakes Wilderness Area; their involvement this way was a big factor in gaining community and political support for establishment of the Five Bridge Lakes Protected Wilderness Area in 2011.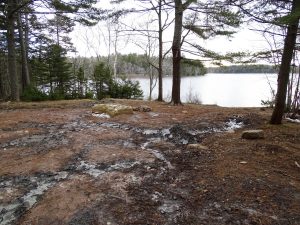 The second site was  close to Sandy Lake Beach Park where a derelict cottage was removed last summer. There is a lot of exposed soil on a slope that leads directly to Sandy Lake.  What could be done to reduce sediment flow? E.g., make a trench parallel to the lake  close to the bottom of the slope and pile a lot of brush into it and plant/transplant vegetation onto the slope above the trench and onto exposed soil between the trench and the lake.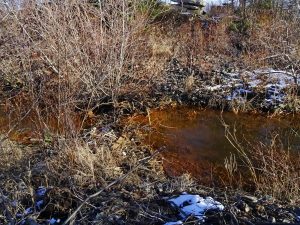 The third site was a stream that skirts a highly disturbed wetland near Sandy Lake. The water in the stream was  very turbid.  That's a more complex  issue to deal with involving  commercial and public lands.
Such accelerated erosion degrades habitat for fish and also increases nutrient loading which in turn can result in excessive plant  growth, algal blooms etc. in our treasured lakes. View What is Sediment Pollution (US EPA pamphlet).
These are not  the only sites within Sandy Lake & Environs where I have observed these sorts of impacts, but they really stuck out on this winter day when the waters were still not fully frozen.  So I thought they should at least be noted.