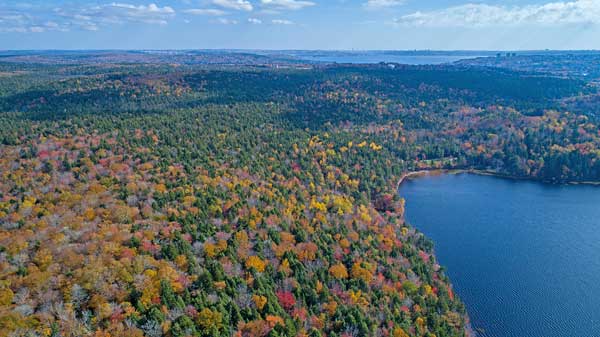 So reads an Op-Ed by Karen Robinson in the Business section of the Chronicle Herald March 7 in the print edition and March 6 online. Karen wrote as "park committee chair of the Sandy Lake Conservation Association [and also] on behalf of the Sackville Rivers Association.
The Op-ed provides a brief history of efforts to create a park in the area of Sandy Lake, cites its natural and social values, and places it all in the context of Halifax's developing Green Network.

The article closes with an appeal for concerted action:
Citizens and the Town of Bedford have worked since before 1970 to keep it safe and to acquire 1,000 acres — the halfway point of a magnificent park plan. Time is running out because development has been on a parallel path and is close to overtaking the park goals. Delays to the Green Network Plan are putting places like Sandy Lake at risk. We need to see concerted action from HRM to enact the Green Network Plan and ensure that jewels like Sandy Lake will be preserved for generations to come. There will likely never be another chance to preserve stunning areas like Sandy Lake for the long-term benefit of the entire city and province.
Amen.
View COMMENTARY: Spare HRM's Sandy Lake 'jewel' in suburban HRM from bulldozers
By Karen Robinson in the Chronicle Herald, March 6, 2018.