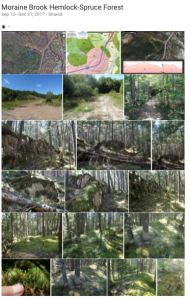 Goggle Albums
The albums listed below are in progress; more photos will be added to most of them.
As well, more albums will be posted.
Photos in these albums and photos that are posted on this website without specific attribution may be used under the conditions of a Creative Commons License/Attribution-NonCommercial-ShareAlike 2.5
ALBUMS
Jack Lake Lands Drumlin Forest
SL: Marsh Lake/Peverill's Brook
SL Clearcut June 21 SW Stream Corridor
Moraine Brook Hemlock-Spruce Forest
These albums, posted on Google Photos, provide some of the observations on which the various descriptions on this website are based.
You can start at the beginning of an album and go through it quite quickly, pausing as you might wish, e.g. to enlarge a photo for closer examination.
Click on the i-icon at the top right of the first photo to bring up descriptions and Google map locations of the photos.