Use this webform to tell city councilors we need an expanded park.

From the Sandy Lake-Sackville River regional Park Coalition:
Help us expand the existing park to protect this irreplaceable natural area. Time is running out.
The Sandy Lake – Sackville River Regional Park Coalition has formed to take care of unfinished business. That is, to finally protect the land and water in the area that stretches from the Hammonds Plains Road to the Sackville River, long identified for protection as a park (well beyond what is now protected at Jack Lake Regional Park). Our Coalition supports the urgent objective of protecting this area for current and future generations before it is too late.

Our Coalition includes partners who share the long-term vision that people who care about the area have worked so hard to bring to fruition. Land protection would benefit Sandy, Marsh, and Jack Lakes (and accompanying wildlife), and the Sackville River's watershed. An expanded Regional Park would provide an outstanding place for public access to nature and recreation for a growing city. Protection of this area is a key part of the Halifax region's goal for a functioning Green Network Plan.

Join us in working towards the creation of Sandy Lake – Sackville River Regional Park.

It's time to speak up for Sandy Lake and Sackville River.
Use this webform to tell city councilors we need an expanded park.
Read more
About SLSRRP
Where is SLSRRP
Why a SLSRRP
News about SLSRRP
Research on SLSRRP
AND A RELATED MESSAGE
From Lindsay Lee on Friends of Blue Mt – Birch Cove Lakes (Public Facebook Group)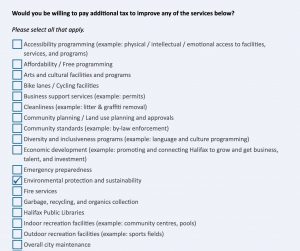 It's important to many of us that our city invests in a green future that includes wilderness conservation.
We need to ensure that this is clear to HRM's new Council, who are currently looking for services to scale back in the midst of Covid-19. If the formal designation of Blue Mountain Birch Cove Lakes is important to you, then I encourage you to fill out the HRM survey:
https://www.halifax.ca/city-hall/accountability-transparency/citizen-survey
I've included a few screenshots that show questions about environmental protection. Below is my answer to the open-ended question at the end of the survey.
"Formally protecting wilderness/natural areas for recreation and environmental well-being serves multiple purposes. It offers a free avenue for outdoor family exercise, which is especially important with the prohibitive fees charged by facilities like the Canada Games Centre. Designating protected areas helps with the climate crisis (by absorbing and storing carbon), it helps with practical ecosystem services (such as water purification), and can even contribute to eco-tourism.
While I understand that the Regional Council will likely need to scale back certain services, I truly hope that investing in the green future of our city is not one of those areas. After all, how many of these investments will continue to better the lives of HRM residents for decades to come?
I urge you to move forward in supporting Blue Mountain Birch Cove Lakes Wilderness Area, Sandy Lake Park, and others, which have high community interest but remain in need of protection."
Thx, L.L.