Drafting…
The formally recognized wetlands make up a relatively small proportion of the Sandy Lake watershed, about 3.5% according to the AECOM 2014 report, which also notes that "this is a small proportion relative to the size of the watershed and suggest the watershed is well drained".
However, the AECON map (Fig 3 in AECOM 2014), which appears to be based on the wetland layer in DNR maps, does not include wetland at the fringes of Sandy Lake, along much of the watercourse of Peverill's Brook, Bob's (Johnsons) Brook, and Northwest Brook. These fringing wetlands play very important roles in the watershed. Nor do the AECOM and DNR maps include patches of treed wetland, some of which in the Jack Lake lands are quite large.
The Sackville Rivers Association utilized Wet Areas Mapping (WAM) data to locate areas of potential wetland development, enhancement, or restoration in Sandy Lake and Environs.
Out of the eight inventoried sites; five sites revealed new or previously unidentified wetlands, one site had a previously identified wetland, and no sites were classified as having potential wetlands. The remaining three sites revealed wet characteristics but no definitive wetland characteristics. Sites which contained new or previously identified wetlands also revealed varying amounts of wet areas. Much of the inventoried wet areas and wetlands revealed large amounts of natural forest and understory vegetation and a lack of degraded areas. – Sackville River Watershed Wetland Inventory 2011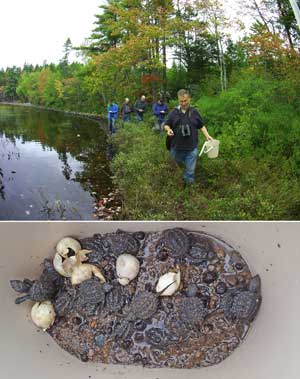 The wetlands play critical roles in filtering out nutrients, silt and organic debris coming in via streams and as habitat for wildlife.
I observed a greater abundance of bullfrogs and green frogs and their tadpoles in the fringing wetlands on Sandy Lake and on the watercourse down to Marsh Lake (likely through to the Sackville River) than I have seen anywhere in Nova Scotia. Wood frogs are common in vernal pools in the forests. I was told by a lakeside resident that leopard frogs were much more abundant and bull frogs less abundant in the past.
Snapping turtles are found on Sandy Lake, and wood turtles (listed as "threatened" in NS have also been been reported. According to Clarence Stevens of the local Turtle Watch group (and a well known Halifax area naturalist), snapping turtles were once present in 25 Dartmouth area lakes, today only in three. Snapping turtles were added to our Species-at-risk in 2013, where they are listed as "vulnerable".
Sandy Lake supports a large population of smallmouth bass; introduced to Nova Scotia in 1942, the fish was reported in Sandy Lake in 2000 and today is commonly caught by sports fishers. They are voracious feeders, thus these fringing wetlands are likely important protective habitat for amphibians and reptiles, as well as systems that produce abundant food for the fish population.

Two food items I noted in the fringing wetlands were discarded shells of a freshwater mussel (Pyganodon cataracta), and the exposed, partially eaten roots of Pickerel weed. River otter are seen regularly on Sandy Lake. The otters eat "mostly fish such as minnows, perch and trout, river otters will also eat other aquatic items like clams/mussels and crustaceans, as well as frogs, muskrats, birds (particularly young waterfowl), eggs, insects and even turtles" so evidently are well supported by Sandy Lake. A local resident said he has seen beavers eating the roots of pickerel weed.