"Big Trees" are taken to be those those of 20″ (50 cm) diameter at breast height (dbh) and larger, but I recorded any tree 16″ (40.6cm) and larger. Diameters were either estimated visually or were calculated from the measured circumference at breast height (dbh=circumference/pi) with about 1/4 in total being measured. (The agreement was close for averages, not so close for individual trees.)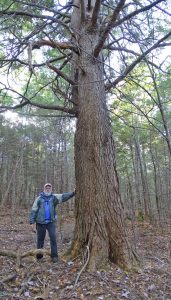 An example of the kind of results that can be generated from such data is shown in the modified Google map above with different colours and sizes of bubbles showing locations, species and sizes of trees. (I plan to make such maps for all of my tracks.)

One use I have made of these data is to identify stands where there is a concentration of big trees, e.g. view Google map of White Pine OG site, some of which were formally assessed for Old Forest ratings.

I routinely recorded all "big trees" wiewed within approx. 20 meters of my walking routes, sometimes changing the route to get a better view or to explore an area of big trees seen in the distance.