Some reasons to celebrate and some reasons to be concerned about Sandy Lake & Environs
Short link for this page: https://cutt.ly/ShAkAGM (www.cutt.ly/ShAkAGM)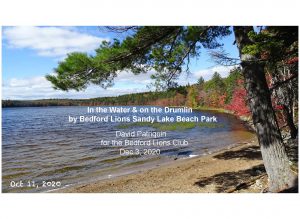 A presentation by David Patriquin to the Bedford Lions Club on Dec 3, 2020.
View Hi-Res Video of presentation (1920×1080 px)
View on YouTube (Low-Res)
View A few of the Slides below for a quick overview of what's in the talk
Sandy Lake is a near-pristine lake lying within a partially developed landscape in the suburbs of Halifax, Nova Scotia. The Bedford Lions Club led the way for establishing the Sandy Lake Beach Park  in 2003/4.

It's a wonderful spot, for children especially, with safe swimming, paddling, fishing and opportunities for diverse nature activities. Mixed Acadian forest with patches of Old Growth occurs on drumlins by the Beach and is readily accessed via old forestry roads.

There is pressure to develop in an area of the watershed that provides most of the water for the lake.

In this presentation to the Bedford Lions Club on Dec 3, 2020, David Patriquin describes
–  the benefits of  the lake and the surrounding area for recreation and wildlife (0-19 min);
– some interesting features of old growth forest on the drumlin by the beach (19-32 min);
–  life in the lake and possible impacts of further development in the watershed on lake water quality (32- 67 min).

Find out more about the natural history of the area at www.sandylakebedford.ca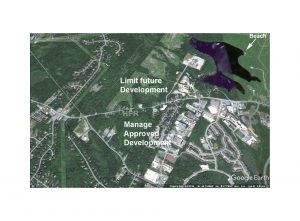 The concluding message:  To maintain a healthy Sandy Lake, we need to
(i) plan and  manage already approved new development to minimize impacts on the lake, and
(ii) limit further development within the watershed, especially in the area to the west and southwest of Sandy Lake just above Hammonds Plains Road.
View a few of the slides for a quick overview
of what's in the talk:
Click on images for larger versions