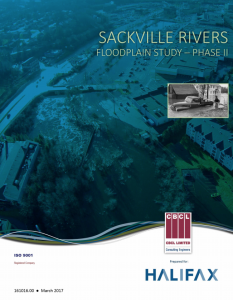 "On August 14, 2018, the municipality published the findings of the Sackville Rivers Floodplains Study (2017). This study involved an assessment of the Sackville River and the Little Sackville River, and their watersheds, to produce updated floodplain maps. Areas at risk of flooding were evaluated using updated information and computer modelling that accurately predicts the impact of rain storms on the rivers." Read more on HRM website.
Public Open House Events "to learn more about the floodplains [and] Come talk to municipal staff and technical experts" are scheduled for
– Thursday, September 20, 2018, noon to 4:00 p.m., and 6:00 p.m. to 8:00 p.m. at the Kinsmen Community Centre, 71 First Lake Drive, Lower Sackville or
– Saturday, September 22, 2018, noon to 5:00 p.m. at the LeBrun Recreation Centre (Lion's Den), 36 Holland Avenue, Bedford.