More to come..
Key Documents & Links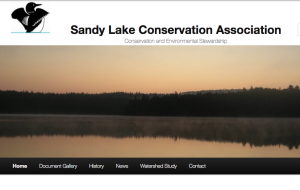 Sandy Lake Conservation Association (SLCA) (website)
This organization focusses specifically on Sandy Lake and Environs, working closely with the Sackville Rivers Association.
Sandy Lake Regional Park Coalition
"The Sandy Lake Regional Park Coalition has formed to support the efforts of the Sandy Lake Conservation Association and the Sackville Rivers Association to take care of unfinished business and protect the area that stretches from the Hammonds Plains Road to the Sackville River and encompasses the three lakes and several waterways within the Sackville River Watershed through the creation of the Sandy Lake Regional Park."
View Pamphlet
Sackville Rivers Association (SRA) (website)
The Sandy Lake watershed is a subwatershed of the Sackville River watershed. The SRA is a highly active organization which works to
1) Protect and where necessary restore the environment of the Sackville River Watershed
2) Raise awareness about the environment of the Sackville River watershed and its adjacent watersheds
3) Establish a Conservation Corridor along the length of the Sackville River
4) Provide training and advice to community groups in other watersheds as needed, to restore the environment and raise environmental awareness
Sandy Lake Conservation Association and Sackville Rivers Association submission to the Halifax Green Network Plan implementation public process
A comprehensive documentation of the history of efforts to have Sandy lake & Environs formally recognized as a Regional Park and of its many assets. Sandy Lake Conservation Association, June 12, 2017
Sandy Lake, Bedford a unique natural resource worthy of our protection 2017
"An Information Package prepared by the Sandy Lake Conservation Association, prepared for shoreline property owners, with thanks to the Friends of Cox Lake."
We Love Sandy Lake, Bedford
Facebook group
Pages on Sandy Lake in Natural environment survey — Description of the intrinsic values of the natural environment around greater Halifax-Dartmouth
by P.B. Dean, Canadian Wildlife Service and D. B. Lister, Fisheries Service, DOE, January 1971. "Sandy Lake is probably one of the finest fresh water lakes in the Halifax-Dartmouth area. It is surrounded by gently rolling hills rising to 75 and 100 feet…this is a prime park land – nature reserve site in an excellent landscape setting."
Lucasville Community Association
Facebook Group
Dalhousie School of Planning: Sandy Lake
"In 2001-2002, students in the Dalhousie Masters of Urban and Rural Planning program and in the NSCAD undergraduate environmental planning program worked together on a project for the Sandy Lake Area Residents Association in the Bedford area of the Halifax Regional Municipality. (Students in civil engineering also participated in water quality testing.) The project involved several components: environmental analysis, community analysis, and policy writing. In the fall Environmental Planning students studied the watershed of Sandy Lake and prepared detailed reports. In winter, Rural Community Studio students conducted a survey of residents, analysed trends in the urban-rural fringe, and prepared as series of reports for the community group.
The reports can be downloaded from this site as Acrobat (.pdf) files." (Below)
*Sandy Lake Community Profile
*Environmental Inventory
Issues of the Urban and Rural Fringe
Suggestions for Managing Development
*These two docs focus on Sandy Lake and Environs alone. The other two docs situate SLE within the broader municipal framework.
Sandy Lake Watershed Study Final Report
AECOM, 2014. 131 pages. History, maps etc. View also the Response of Sandy Lake Conservation Association (SLCA) to this report.
CBCL Cost of Servicing Report
to HRM, 2009. Port Wallace, Sandy Lake , Highway 102 West Corridor
JACK LAKE Environmental Evaluation Final Report
Canada Mortgage and Housing Corporation Nova Scotia Department of Housing, 1986. This 159 page document contains a lot of information about the Jack Lake lands. Unfortunately, it is not available online. I accessed a copy of it held by the Sackville Rivers Association.
Sandy Lake Park Master Plan
HRM 1986 document SandyLakeParkMasterPlanJuly1986. Only recently (Mar 2022) came to light.
Sackville River Watershed Wetland Inventory
By: John-William Brunner/Sackville Rivers Association, Aug 2011. Prepared for the Nova Scotia Department of Transportation and Infrastructure Renewal (NSTIR-ESS File:17.008.09)
Part 2 on the Big Sandy Lake Sub-watershed is available separately/ "This report – Sackville River Watershed Wetland Inventory Pt. 2 (SRWWI2) – is an appendix to the original inventory and assesses eight sites in the Big Sandy Lake Sub-watershed (BSLS) for future wetland compensation potential. The SRA completed the work for the SRWWI2 during the months of April-August 2010. This report does not complete wetland compensation field work in the BSLS as 18 (70%) identified sites remain to be field inventoried.
Sackville Rivers Floodplain Study Phase II
CBCL Ltd for Halifax, March 2017. The link is to Item No. 14.1.3 Halifax Regional Council, August 14, 2018 with the CBCL document attached. (Re:Case 21402: Sackville Rivers Floodplain and Case 20361: Municipal Planning Strategy Amendment Request for 1488 and 1496 Bedford Highway, Bedford). "Responding to requests by the Sackville Business Association, HRM decided to complete an updated floodplain study of the Sackville River and the Little Sackville River to update the previous flood line delineations based on the new information. The first phase of the floodplain study was carried out by GHD in 2016, and was intended to collect and analyse background information for the second phase of the study, including survey data and information on historical floods. 1.2 Purpose of Study: This report presents Phase II of the Sackville Rivers Floodplain Study for the Sackville River and the Little Sackville River, which includes a comprehensive hydrologic and hydraulic modelling analysis and floodplain delineations along the two rivers for various flood scenarios. This updated floodplain study CBCL Limited Sackville Rivers Floodplain Study – Phase II 2 therefore presents detailed flood maps along the river that are associated with existing and future conditions for land use, development, climate change (in precipitation and sea level rise) and ice jamming. The resulting flood lines delineated as part of this study provide HRM with updated information on flood risks within the Sackville River and Little Sackville River watersheds that will support the planning of future development and flood mitigation efforts.
Off-site Parkland Dedication Request – Marsh Lake Lands, Bedford
Halifax Regional Council Oct 6, 2015 "On August 4, 2015, Regional Council debated the request by Armco Capital Inc. to accept the transfer of the Marsh Lake lands in Bedford as public parkland for its various subdivision developments throughout the Municipality, instead of providing the cash-in-lieu of land payments as would ordinarily be required."
An earlier document – Off-site Parkland Dedication Request – Marsh Lake Lands, Bedford (June 8, 2015) provides more details/rationale – View Marsh Lake Lands
Friends of Blue Mountain-Birch Cove Lakes
Our closest protected area/developing Regional Park on the Chebucto Peninsula. Join the Society View Newsletters
Halifax Regional Watersheds Advisory Board
The Regional Watersheds Advisory Board advises the Environment and Sustainability Standing Committee with respect to watershed management
More Links
Halifax Green Network Plan
August 14, 2018 Regional Council approved the HGNP. For a quick overview, see Our HRM Alliance
Halifax Open Data
Release Information, November 29th, 2019 – In coordination with Planning & Development, twenty-three new datasets have been released to the Open Data Catalogue supporting the Halifax Green Network Plan (HGNP) and the Regional Centre Plan (Package A). We are also releasing Accessible Parking Spots in support of the Parking Strategy and an update to the HRM Tax Rates to include the new tax rates for 2019.
The datasets included to support the HGNP are: HGNP Ecological Open Space Values, HGNP Essential Corridors, HGNP Important Corridors, HGNP Natural Vegetation Patches Large, HGNP Overlapping Values Ecology Working Socio-Cultural, HGNP Socio-Cultural Landscape Values, HGNP Working Landscapes Open Space Values, HGNP Working Landscapes Overlap Ecology Socio-Cultural.
The datasets included to support the Regional Centre Plan are: Active and Proposed Heritage Conservation Districts, RC Citadel Ramparts, RC Downtown Dartmouth Precincts, RC Maximum Building Heights, RC Maximum Floor Area Ratio, RC Maximum Front and Flanking Yards, RC Minimum Front and Flanking Yards, RC Pedestrian Oriented Commercial Streets, RC Shadow Impact Assessment Areas, RC Site Plan Approval Areas, RC Special Area Boundary, RC Transition Lines, RC View Corridors, RC View Lines and RC View Terminus Sites.
Open Data LiDAR files
Halifax Green Network Plan User's Guide
Our HRM Alliance, Nov 2019
HIKING NOVA SCOTIA: Trip to Bedford's Sandy Lake Park a great choose-your-own-adventure hike for families
Heather Fegan · Freelance Writer for Saltwire, June 11, 2021 May require subscription
Department of National Defence (DND)- Bedford Rifle Range Sackville River Wetland Restoration Project Soils Monitoring 2011 – 2012
Part 3 March 2016. East Coast Aquatics
Bedford Land Use By-law Appendix C Areas of Elevated Archaeological Potential
See page 100 showing sites by Sandy Lake
Halifax Dogventures: The Ins and Outs of Sandy Lake Park
Apr 1, 2016
Cost of Servicing Plan – Regional Planning Greenfield Sites
CBCL. 2009. Prepared for Halifax Regional Municipality Report No. 071065. February 2009. 46 pp. Recommending initiation of secondary planning process for lands on west side of Sandy Lake
HRM: Jack Lake, Marsh Lake Sandy Lake Park Proposal
Nov 4, 2014
Old Forests of Sandy Lake
Report on Halifax Field Naturalists walk, July 14, 2018
Turtle rescue Phone No: 902-240-8332
Turtle Patrol Nova Scotia
Facebook group; they have done rescue work the area of Sandy Lake
Mountain Biking
Rifle Range Bike Track
Youtube video Isaac Tsahi Moscovich\ Published on Aug 25, 2014
Biking at bedford rifle range
Luke Veinot Published on Nov 19, 2013
Bedford Range 2015
Josh Micheau Published on May 18, 2015
————-
Comments on Sandy Lake water quality
April 11, 1983. An extract:
During his address, on behalf of the Sandy Lake Area Residents Association, Professor Grantor noted that the major concern of the Residents of the Sandy Lake area has been with the quality of the water of Sandy Lake. Noting that the lake is now showing all the signs of a "dying lake", he urged Council to initiate action which will protect the quality of the lake now that it appears the Regional Park concept has been abandoned.
PARKS IN DANGER
In Fine Print, EAC newletter, 1974. (On Dalspace) "MAPC's proposed parks must be protected…