More to come..
Key Documents & Links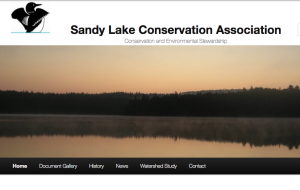 Sandy Lake Conservation Association (SLCA) (website)
This organization focusses specifically on Sandy Lake and Environs, working closely with the Sackville Rivers Association.
Sackville Rivers Association (SRA) (website)
The Sandy Lake watershed is a subwatershed of the Sackville River watershed. The SRA is a highly active organization which works to
1) Protect and where necessary restore the environment of the Sackville River Watershed
2) Raise awareness about the environment of the Sackville River watershed and its adjacent watersheds
3) Establish a Conservation Corridor along the length of the Sackville River
4) Provide training and advice to community groups in other watersheds as needed, to restore the environment and raise environmental awareness
Sandy Lake Conservation Association and Sackville Rivers Association submission to the Halifax Green Network Plan implementation public process
A comprehensive documentation of the history of efforts to have Sandy lake & Environs formally recognized as a Regional Park and of its many assets. Sandy Lake Conservation Association, June 12, 2017
Sandy Lake, Bedford a unique natural resource worthy of our protection 2017
"An Information Package prepared by the Sandy Lake Conservation Association, prepared for shoreline property owners, with thanks to the Friends of Cox Lake."
Pages on Sandy Lake in Natural environment survey — Description of the intrinsic values of the natural environment around greater Halifax-Dartmouth
by P.B. Dean, Canadian Wildlife Service and D. B. Lister, Fisheries Service, DOE, January 1971. "Sandy Lake is probably one of the finest fresh water lakes in the Halifax-Dartmouth area. It is surrounded by gently rolling hills rising to 75 and 100 feet…this is a prime park land – nature reserve site in an excellent landscape setting."
Dalhousie School of Planning: Sandy Lake
"In 2001-2002, students in the Dalhousie Masters of Urban and Rural Planning program and in the NSCAD undergraduate environmental planning program worked together on a project for the Sandy Lake Area Residents Association in the Bedford area of the Halifax Regional Municipality. (Students in civil engineering also participated in water quality testing.) The project involved several components: environmental analysis, community analysis, and policy writing. In the fall Environmental Planning students studied the watershed of Sandy Lake and prepared detailed reports. In winter, Rural Community Studio students conducted a survey of residents, analysed trends in the urban-rural fringe, and prepared as series of reports for the community group.
The reports can be downloaded from this site as Acrobat (.pdf) files." (Below)
*Sandy Lake Community Profile
*Environmental Inventory
Issues of the Urban and Rural Fringe
Suggestions for Managing Development
*These two docs focus on Sandy Lake and Environs alone. The other two docs situate SLE within the broader municipal framework.
Sandy Lake Watershed Study Final Report
AECOM, 2014. 131 pages. History, maps etc. View also the Response of Sandy Lake Conservation Association (SLCA) to this report.
JACK LAKE Environmental Evaluation Final Report
Canada Mortgage and Housing Corporation Nova Scotia Department of Housing, 1986. This 159 page document contains a lot of information about the Jack Lake lands. Unfortunately, it is not available online. I accessed a copy of it held by the Sackville Rivers Association.
Sackville River Watershed Wetland Inventory
By: John-William Brunner/Sackville Rivers Association, Aug 2011. Prepared for the Nova Scotia Department of Transportation and Infrastructure Renewal (NSTIR-ESS File:17.008.09)
Part 2 on the Big Sandy Lake Sub-watershed is available separately/ "This report – Sackville River Watershed Wetland Inventory Pt. 2 (SRWWI2) – is an appendix to the original inventory and assesses eight sites in the Big Sandy Lake Sub-watershed (BSLS) for future wetland compensation potential. The SRA completed the work for the SRWWI2 during the months of April-August 2010. This report does not complete wetland compensation field work in the BSLS as 18 (70%) identified sites remain to be field inventoried.
Off-site Parkland Dedication Request – Marsh Lake Lands, Bedford
Halifax Regional Council Oct 6, 2015 "On August 4, 2015, Regional Council debated the request by Armco Capital Inc. to accept the transfer of the Marsh Lake lands in Bedford as public parkland for its various subdivision developments throughout the Municipality, instead of providing the cash-in-lieu of land payments as would ordinarily be required."
An earlier document – Off-site Parkland Dedication Request – Marsh Lake Lands, Bedford (June 8, 2015) provides more details/rationale – View Marsh Lake Lands
More Links
Bedford Land Use By-law Appendix C Areas of Elevated Archaeological Potential
See page 100 showing sites by Sandy Lake
Halifax Dogventures: The Ins and Outs of Sandy Lake Park
Apr 1, 2016
Cost of Servicing Plan – Regional Planning Greenfield Sites
CBCL. 2009. Prepared for Halifax Regional Municipality Report No. 071065. February 2009. 46 pp. Recommending initiation of secondary planning process for lands on west side of Sandy Lake
HRM: Jack Lake, Marsh Lake Sandy Lake Park Proposal
Nov 4, 2014
Turtle rescue Phone No: 902-240-8332
Mountain Biking
Rifle Range Bike Track
Youtube video Isaac Tsahi Moscovich\ Published on Aug 25, 2014
Biking at bedford rifle range
Luke Veinot Published on Nov 19, 2013
Bedford Range 2015
Josh Micheau Published on May 18, 2015