Nov 2, 2022:
Paper Excellence: The making of a new forestry giant
Nealson Bennett in www.timescolonist.com
Nova Scotia avoids looking at the biomass scam
Tim Bousquet in the Halifax Examiner. "The province has studied small-scale biomass heating units to death, but evidently has not researched the green claims of biomass electrical generation at all."
Oct 31, 2022:
Northern Pulp wants another six month delay in B.C. court and forced mediation with Nova Scotia
Joan Baxter in the Halifax Examiner. UPDATE Nov 1, Granted: British Columbia Supreme Court grants Northern Pulp six-month creditor protection extension; Nova Scotia takes no position "The latest extension of the Northern Pulp et al CCAA creditor protection expires on April 28, 2023."
What's the 'due process' at West Mabou Beach Provincial Park? Mabou or Cabot… A Lesson in Reconciliation
Tim Bousquet & Jennifer Henderson in the Halifax Examiner
Oct 30, 2022
UW study finds wild animals are more sensitive to human presence than previously thought, raising questions about local trail management
By Eli Francovich in The Spokesman. References: Systema et al., 2021 Low levels of outdoor recreation alter wildlife behaviour. In regard to disturbance of moose, also see some of papers referenced here.
Oct 27, 2022:
Fatal landslide blamed on old logging road raises fears about hidden risks near Canada's highway
Yvette Brend, Lyndsay Duncombe · CBC News. Comments Bev Wigney on Annapolis Environment and Ecology: "Interesting article on the perils of roads built to get at natural resources such as forests and mines. Nova Scotia appears on the list with 6,650 km. estimated on Crown lands. I'll bet it's way more than that as there are logging roads snaking in mazes all through the province. Anyhow, what's going on should be a wake up call to everyone after seeing how much flooding we had in the Annapolis Valley this spring — all "downhill and downstream" from where the forest industry is chopping the hell out of the Crown land forests up above all of our roads and homes – and where they intend to take out many more hundreds of acres of forest in the near future."
Oct 27, 2022:
Forests, habitat suffer after Fiona's ferocity
By Steve Goodwin, The Pictou Advocate "A local forester has seen first-hand the damage done by post-tropical storm Fiona. Green Hill resident Tom Miller is among those trying to respond to the widespread destruction of trees in the area."
New Approach to Forest Carbon Accounting Aims to Enhance Accuracy and Transparency
The Nature Conservancy "A first-of-its-kind carbon accounting methodology for Improved Forest Management, designed to provide more measurable proof of climate impact and to solve access challenges for small forest landowners, has officially been approved for use in the United States and around the world."
Scientists call for 'climate smart' forestry in face of global warming
By Frédéric Simon EURACTIV "Over 550 scientists have signed a letter to the European Commission, alerting them of the deteriorating state of European forests and calling for climate-smart forestry practices – including wood harvesting for bioenergy – to bolster their resilience to global warming. European forests are under growing pressure from rising temperatures, which cause more wildfires, pests and diseases that threaten their ability to store carbon dioxide and safeguard biodiversity."
Oct 23, 2022:
Sporting Lake – HWA – One Year Later
On www.giantsofnovascotia.com. "Donna Crossland was one of the key organizers for October 2021 mission. She returned on the Thanksgiving 2022 weekend and provided me with an update …" About hemlock Wooly Adelgid"
Oct 13, 2022:
Worldwide wildlife populations decline by nearly 70% since 1970
BBC News "Earth's wildlife populations have plunged by an average of 69% in just under 50 years, according to a leading scientific assessment, as humans continue to clear forests, consume beyond the limits of the planet and pollute on an industrial scale."
Oct 6, 2022:
Wood from B.C. forests is being burned for electricity billed as green — but critics say that's deceptive
CBC news "Pellets from virgin forests fuel the U.K.'s Drax Power Station, backed by politicians and subsidies…During a tour of the company's Meadowbank facility south of Prince George, Aquino said 80 per cent of the plant's pellets come from sawmill waste. The other 20 per cent comes from forest materials, including "roundwood" or what he called "biologs." ". Also view The Big Burn "Amid the ongoing fight to protect British Columbia's forests, The Fifth Estate examines how the province has become a leading exporter of wood pellets being burned to fuel energy needs in the U.K., where some activists and politicians say both the U.K. and Canada have made a mistake in supporting the industry." Comment: BC might look to Nova Scotia to see where this all leads —> less than 0.3% Old Growth, a value so low that even the forest industry is Ok with protecting it – but not with protecting 'Old Forest' (80 yrs+) in its place.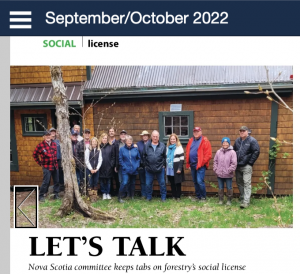 Oct 2, 2022:
Extinction Rebellion Mi'kma'ki / Nova Scotia" "No more aerial spraying of glyphosate-based herbicides on our forests this year."
Post on Facebook; copied onto this website
Sept/Oct 2020:
Let's Talk: Nova Scotia committee keeps tabs on forestry's social license
By Maria Church, pages 48-50 in September/October issue of Canadian Forest Industries Digital Ed. "To learn more about the ELC and what they are up to, visit www.elc4ns.ca/. To lean more about Northern Pulp's proposed transformation, visit www.tomorrowsmill.ca"
Sep 29, 20221:
County of Kings calls for Nova Scotia moratorium on forestry aerial glyphosate spray
By Kirk Starratt for SaltWire
Sep 28, 2022:
Mature and old-growth forests contribute to large-scale conservation targets in the conterminous USA
By Dominick DellaSala et al. for Frontiers in Forest and Global Change. "Mature and old-growth forests (MOG) of the conterminous United States collectively support exceptional levels of biodiversity but have declined substantially from logging and development. …We present the first coast to coast spatially explicit MOG assessment based on three structural development measures—canopy height, canopy cover, and above-ground living biomass to assess relative maturity. MOG were displayed by major forest types, landownerships (federal, state, private, and tribal), and Gap Analysis Project (GAP) management status. …The vast majority (76%, 20.8 M ha) of MOG on federal lands that store 10.64 Gt CO2 (e) are vulnerable to logging (GAP3). If federal MOG are logged over a decade, and half their carbon stock emitted, there would be an estimated 0.5 ppm increase in atmospheric CO2 by 2030, which is equivalent to ∼9% of United States total annual emissions. We recommend upper bound (100%) protection of federal MOG, including elevating the conservation status of Inventoried Roadless Areas." Comment: This is very relevant to NS, where MOG is primarily unprotected Mature Forests (not protected OG on Crown lands).
Sep 26, 2022:
Windhorse: A Story of Land Back
Community Forest International, YouTube video. "Land Back is one of the most tangible actions settlers can take within the process of reconciliation. Through the story of Windhorse Farm, this short film shows the importance of Land Back and the profound beauty this form of healing provides. This story gives an intimate look at reconciliation through the eyes of the people on the ground."
Sep 24, 2022:
HELGA GUDERLEY: We're burning our forests to fatten NSP profits
In the Chronicle Herald "When the use of biomass is promoted, typically sawmill wastes or low-grade wood are mentioned. While this sounds harmless, it is the beginning of a slippery slope. Once a generating system is built, its appetite is whetted and biomass harvests must satisfy this appetite. The wholesale destruction of forests and the elimination of multi-species mixed forests in favour of even-aged monocultures of spruce and fir are consequences of this biomass and chip industry. Our land's capacity for carbon sequestration is massively diminished by biomass harvesting."
Sep 23, 2022:
Meet the 2022 Winners: Woodland Owner of the Year
NS Natural Resources & Renewables. "The central region and provincial winners for 2022 Woodlot Owner of the Year are James Leggate and Christina Millar of Five Mile River, Hants County. James is a silviculture contractor who takes great pride in what he does and has worked on many woodlots across the province. The 600-acre woodlot was purchased in 1998, and it had been clear cut many years before. It had a few trails then, but he has added a few more and improved and built many access roads throughout the property…Eastern Region Winners: Ron and Johanna Melchiore …[they] live off grid in Guysborough County. They have lived for 42 years off grid on three different homesteads surrounded by forest and have experience with making use of the resources in the woodlot for themselves and others. Their dream is to build awareness about forestry stewardship…Western Region Winners: Peter and Angela Kennedy…live on a 102-acre woodlot called "Crows Haven" with their three children Anthea, Ashe, Draven. They also have a horse, Twilight Twiggy, whose manure is used to fertilize the land. They make use of selection management and ensure they also create a habitat for animals. They have different kind of trees including oak, sugar maple and beech.
Sep 19, 2022:
New tech aims to track carbon in every tree, boost carbon market integrity
By Carolyn Cowan in Mongabay "Climate scientists and data engineers have developed a new digital platform billed as the first-ever global tool for accurately calculating the carbon stored in every tree on the planet."
Sep 18, 2022:
Exploring the Massive Clean Energy Boondoggle of Burning Trees as Carbon Neutral
In mishtalk.com
Sep 16, 2022:
Cinéfest: Tissue, ecology and a love story about a forest
By By Jenny Lamothe in Sudbury.com "Premiering at Cinéfest this Sunday, Michael Zelniker set out to make a movie about the impact of toilet paper manufacturing on Canada's boreal forest…"The Issue with Tissue – a boreal love story documents the little known, largely untold story of the boreal forest and the Indigenous Peoples who call it home. How protecting and conserving the boreal is an existential imperative and that unfettered extractive industrial exploitation of the few remaining wild spaces, like the boreal, must be curtailed if life as we know it on Planet Earth is to sustain. Told by the First Nations Elders and Leaders of the boreal, leading scientists and activists, The Issue with Tissue creates a kind of talking circle that inspires our storytellers to speak with intimacy and candor about the issues confronting us all, sharing their enlightened, unified vision that the way forward lies in supporting and elevating Indigenous knowledge/stewardship in combination with the ages old wisdom that can be found in the life of these forests and trees."
Sep 7, 2022:
– Biomass is not green energy, but that's not stopping Nova Scotia Power
Intro in Morning File (Halifax Examiner) & full story by Jennifer henderson
– Eisner Cove wetland defenders arrested
In Morning File (Halifax Examiner). View related Letter
Sep 2, 2022:
Once again, protestors in Kings County are camping out to stop glyphosate spraying in Nova Scotia
ETHAN LYCAN-LANG in the Halifax Examiner "Dozens rally on the North Mountain to stop another attempt at aerial herbicide spraying, citing concerns over carcinogens, threats to biodiversity"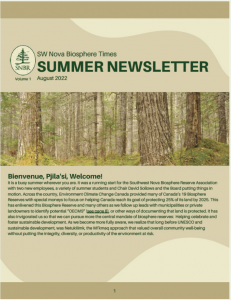 August, 2022
SW Nova Biosphere Times Vol 1: Summer Newsletter
Released by the Southwest Nova Biosphere Reserve "The Southwestern region of Nova Scotia was designated as a UNESCO Biosphere Reserve in 2001. It is one of only 18 ecosystems in Canada with this special designation."
Aug 30, 2022:
– A Conversation with Retired Forest Ranger Peter Romkey
On Shared Ground. "Curious to hear from someone who worked for Lands and Forestry (DNRR) for 22 years?
This conversation with Peter Romkey touches on the Christmas tree industry, the early days of glyphosate use in the Cape Breton Highlands, some natural history, and Peter's idea for a specific incentive for private landowners. We hear about what he thinks should change in forestry and why the future could look much different."
Aug 18, 2022:
– All Old-Growth Forest Protected
NS Natural Resources and Renewables News Release. Additional Resources:
– An Old-Growth Forest Policy for Nova Scotia: https://novascotia.ca/ecological-forestry/docs/old-growth-forest-policy.pdf
– Summary of feedback from public consultation: https://novascotia.ca/ecological-forestry/docs/old-growth-forest-consultation-2022.pdf
Comment: no substantive change from the Draft Policy floated last fall, e.g., The 140 year age requirement for Tolerant Hardwoods is retained. See Comments on the Draft Policy
– Canada and Nova Scotia commit to shared actions to protect more nature and halt biodiversity loss
Environment and Climate Change Canada news Release
Aug 3, 2022:
– WVU researchers work to restore iconic West Virginia red spruce forests 
On www.wvutoday.wvu.edu/
– After Nova Scotia's Economic Development Shakeup
David Campbell on huddle.today. Gives a table with average annual real GDP growth by sector and timeframe (1997-2010 and 2011-2021) for NS.
July 28, 2022
*Director of Forestry position within Natural Resources & Renewable advertised
On jobs.novascota.ca. No mention of the Forest Practices Review (aka Lahey Report) and it is not clear how this position relates to the "statutory position of the province's Chief Forester" re: recommendation p vi in Independent Evaluation of Implementation of the Forest Practices Report for Nova Scotia (2018) to fill Chief Forester position: "The Department needs to adopt a more centralized and directional approach to the organization of work on implementation of the FPR and assign overall leadership of the process to a forester who is committed to ecological forestry who has the experience and knowledge to lead Nova Scotia's embrace of an ecological paradigm. Appointment of this person to the vacant statutory position of the province's Chief Forester should be considered."
July 22, 2022:
*Progress Report on Environment and Climate Change Goals
Nova Scotia Government News Release Full Report:
– 2022 Environmental Goals and Climate Change Reduction Act – Progress Report
– Initiatives Driving Sustainable Prosperity in Nova Scotia and EGCCRA Goals
& related:Environmental Goals and Climate Change Reduction Act
Largely silent on what remains to to done to "Implement Lahey Recommendations" (re: What's left to do to implement the Forest Triad in Nova Scotia by 2023? Plenty 13Jul2022)
What was the Last Hope camp, what did we achieve, and what now?
FB posts copied on ec-action.ca
July 21, 2022:
*Forestry Innovation Transition Trust Approves Four More Projects
Government of Nova Scotia
– Research Nova Scotia will receive $4.1 million to support the implementation of the 2021 research agenda Bringing Focus to Forestry Research, developed for the Forestry Innovation Transition Trust
– the Christmas Tree Council of Nova Scotia will receive $1.1 million to support a tree improvement program
– the Verschuren Centre for Sustainability in Energy and the Environment will receive $698,500 for Phase 2 of its Bio-technology Acceleration Centre
– MTC Mass Timber Company Inc. will receive $325,000 for feasibility testing for commercial production of mass timber in the province.
July 9, 2022:
*The demise of Mountain Equipment Co-op could spell expensive trouble for Nova Scotia
Joan Baxter in the Halifax Examiner. "The demise of Mountain Equipment Co-op could spell expensive trouble for Nova Scotia. In 2020, a federal law and a BC judge dismantled Mountain Equipment Co-op…Now, the same federal law that was used to dismantle Mountain Equipment Co-operative is being cited by Paper Excellence in its lawsuit against the province of Nova Scotia related to the creditor protection of Northern Pulp. And Paper Excellence's lawsuit is being heard by the same judge who ordered Mountain Equipment sold. If Paper Excellence is successful, it could be awarded $450 million — that is, $450 from every Nova Scotian."
July 5, 2022:
Scientists warn MEPs against watering down EU deforestation law
Arthur Neslen in The Guardian. "More than 50 experts say proposal redefining forest degradation could undermine net zero emissions plans"
June 22, 2022:
Day 203: June 22, 2022 — Last Days at Last Hope Camp
FB posts copied on ec-action.ca
June 15, 2022:
*The conservation officer shuffle: Houston government quietly moves inspection, enforcement and compliance officers out of Nova Scotia Environment and back to Natural Resources
Joan Baxter in the Halifax Examiner
June 13, 2022:
*Sustainable Forestry for Nova Scotia, Op-ed
An op-ed from Natural Resources and Renewables Minister Tory Rushton (Nov Scotia News Release) "…we are transforming Nova Scotia's forestry sector. We are building the triad model of ecological forestry on Crown land as recommended in the independent review of forestry practices. This complex, integrated model balances many interests and will secure sustainability for our environment and our forestry industry."