Items in the news related to forests and forestry in Nova Scotia
Asterisked items pertain directly to implementation of the Triad Nova Scotia
Page initiated June 13, 2022
On separate page: June 13-Nov 2, 2022
May 30, 2023:
How climate change is fuelling fires in Eastern Canada
By Cloe Logan in the National Observer
May 29, 2023:
Saving the forest for the trees
By David Orwig in the Boston Globe "Invasive species are decimating old-growth species that have survived for half a millennium. There are ways to stem the destruction before it's too late."
May 28, 2023:
Tracking forest fires across Nova Scotia
CTV News. "Hot, dry and windy conditions on Sunday helped cause a series of wildfires in Atlantic Canada, with at least 10 reported in Nova Scotia…So far, Nova Scotia has reported 176 wildfires this season, compared to 70 at this time in 2022"
May 25, 2023:
– Coming Home: Repatriating Mi'kmaq Culture One Artifact at a Time
Linda Pannozzo in the Quaing Swamp Journal. ""The west side of Rossignol is very, highly culturally sensitive, and a lot of people know it," says Purdy, who is also the archaeology, culture and heritage rep for the Mi'kmaq Grand Council. "Collectors don't realize they're stealing significant artifacts, some of them from ancient burial sites."…Purdy tells me that when artifacts are taken, a spiritual connection to the traditional teachings is also taken away, as well as any scientific value from an archaeological perspective."
– Biomass fuel plant proposed for Kensington, P.E.I., residents turn out in droves for info
Colin MacLean · Journalist for Saltwire
May 24, 2023:
Make Blue Mountain-Birch Cove Lakes a true wilderness park, not a degraded collection of leftover parcels cobbled together as a fake wilderness
In Halifax Examiner, Morning File. Related: Parks Canada spends $2.1 million on Blue Mountain-Birch Cove Lakes park planning by Zane Woodford in Halfax Examiner (subscription required)
May 16, 2023:
Post-tropical storm Fiona decimated Nova Scotia's woodlots. These ecological foresters tell us what cleanup should look like.
By Joan Baxter in the Halifax Examiner (Susbscription required; see Morning File for summary) " ask Miller about arguments I've heard at meetings since Fiona that brought together woodlot owners, forestry contractors, and industry spokespeople in northern Nova Scotia, that they need the Northern Pulp mill back in operation. Without it, some said, they had no place to send the waste or low-grade wood that Fiona blew down. "Here's the question to ask them," Miller replies. "Why, after 50-plus years of what they call 'scientific forest management' [that came with the pulp mill], are our forests full of low-grade material?"
May 15, 2023:
Post-tropical storm Fiona decimated Nova Scotia's woodlots. These ecological foresters tell us what cleanup should look like. Part 1 Greg Watson
By Joan Baxter in the Halifax Examiner (Susbscription required; see Morning File for summary) " Since post-tropical storm Fiona, the provincial government has allocated millions of dollars for dealing with the damage the winds […]" Comment: Finally some ecologicallyl sensible discussion of what to do with the blowdown.
May 12, 2023:
Are Canada's emissions finally heading down?
By Barry Saxifrage in the National Observer. "The deeper I dug into the data, the more discouraging the trends looked."
May 11, 2023:
– Crown drops environmental charge against Dexter Construction related to Arlington Heights dump
Jennifer Henderson in the Halifax Examiner
May 10, 2023:
– Forest fires: North America's boreal forests are burning a lot, but less than 150 years ago
Article in The Conversation
– Seeing the forest for the trees: A tool to prevent flood damage
by Alyssa DiSabatino in www.canadianunderwriter.ca/ "…In New Brunswick, 143 hectares of forest would yield approximately $285,000 worth of timber inventory if it was cut down. On the other hand, it would cost more than $1.04 million to replace that forest's water storage capacity through man-made infrastructure, according to a Community Forests International model. On a smaller scale, there are ways to engage consumers in better flood mitigation habits."
May 9, 2023:
– Dalhousie Forestry Research Team Receives $1.57 Million to STudy Nova Scotian Forests
On researchns.ca "The five-year research project will measure how changing forestry practices impact biodiversity and landscape connectivity, evaluate recreation opportunities arising from changing forestry practices, value carbon as part of forest lands in the province, investigate and undertake effective knowledge exchange with woodlot stewards and operators and registered professional foresters, and support Mi'kmaq-led forestry."
– Wildfire burning near Weymouth no longer out of control
CBC, on Yahoo News
– Canada should close the logging gap in its climate plan
By Michael Polanyi & Jennifer Skene | Opinion in the National Observer. "…Last month, Canada's commissioner of the environment and sustainable development, Jerry DeMarco, released an audit criticizing the federal government for failing to clearly and separately report the greenhouse gas emissions associated with industrial logging…While Environment and Climate Change Canada (ECCC) does not separately report logging emissions, it is possible to calculate these emissions from data scattered throughout Canada's National Inventory Report, an updated version of which was released in April. Nature Canada and the Natural Resources Defense Council recently undertook this analysis. We found that net emissions from logging in Canada — comprising carbon the logging industry takes out of the forest (and emissions from soil and debris), minus carbon stored in long-lived wood products and carbon absorbed by trees planted after logging — were 73 million tonnes (Mt or megatonnes) in 2021. This means, for numerical comparison, logging emissions are significantly higher than emissions from electricity generation (52 Mt), and only slightly lower than emissions from oilsands operations (85 Mt).
May 8, 2023:
Verschuren Centre Bags Forestry Trust Funding: The fermentation and bioprocessing incubator is receiving about $927K to help startups with commercialization work
By Avery Mullen on entrevestor.com
May 5, 2023:
Opinion: Get with the times: old laws can't keep up with Nova Scotia's new gold rush
By Alana Westwood in the Narwhal "Nova Scotia has had three gold rushes since colonization: one in the 1800s, one at the beginning of the 1900s and, most recently, in 1942. Eighty years later, the gold market is sitting near an all-time high — but this time, things are different: we've moved from miners with pickaxes to open pits deeper than high-rises, their waste stored in open tailings ponds the size of multiple football fields…In 2013, our calculations show there were 158 mineral exploration licences covering approximately 1.5 per cent of Nova Scotia's total subsurface. Ten years later that number had jumped to 2,124 licences, covering 18 per cent of the province's land mass."
May 4, 2023:
– Industrial logging is one of Canada's largest sources of greenhouse gas emissions: report
Joan Baxter in the Halifax Examiner
– The challenge of managing Eastern NC's forests amid population growth, changing climate
Gareth McGrath in www.gastongazette.com
May 3, 2023:
For The Love of Lichens and Old Forests! art show opens in Annapolis Royal, N.S.
Contributed, in saltwire.com "…For the Love of Lichens and Old Forests! features paintings and sculptures as well as lichen-encrusted rocks and photographic portraits of some of the species at risk lichens credited with protecting old forests from logging in Annapolis County…As well as the opening reception on May 6, the Arlington Forest Protection Society has organized two presentations at Artsplace focused on species at risk that need old forests: Cindy Staicer on forest birds, May 4 from 7-9 p.m., and Frances Anderson on lichens, May 16, 7-9 p.m."
May 1, 2023:
– Some birds will be scrambling for nest space after Fiona took down their trees
Kevin Yarr · CBC News "P.E.I. landowners urged to freeze woodland cleanup soon or risk destroying nests"
– N.S. art show celebrates love for lichens, aims to protect old forests
Josefa Cameron · CBC News "Artists and citizen scientists have come together to create a unique show opening next week at ARTSPLACE in Annapolis Royal, N.S. The show is called For the Love of Lichens and Old Forests and was put together to raise awareness around the destruction of old forests in Annapolis County. It features paintings, sculptures, lichen-encrusted rocks and photographic portraits of at-risk lichens."
– Northern Pulp gets creditor protection extension
Joan Baxter in the Halifax Examiner. "On Friday, British Columbia Supreme Court Justice Shelley Fitzpatrick once again approved an extension of Northern Pulp's creditor protection, this time for four months, until August 30, 2023," reports Joan Baxter. In its request for the delay, Northern Pulp suggested it might look for a different location for the mill. It also listed a series of "milestones" that it hopes to reach by August. "On Friday, British Columbia Supreme Court Justice Shelley Fitzpatrick once again approved an extension of Northern Pulp's creditor protection, this time for four months, until August 30, 2023," reports Joan Baxter. In its request for the delay, Northern Pulp suggested it might look for a different location for the mill. It also listed a series of "milestones" that it hopes to reach by August…"
Apr 30, 2023:
Slew of factors driving up price of firewood in N.S.
Josefa Cameron · CBC News
Apr 27, 2023
– Northern Pulp considers producing electricity from trees downed by Fiona
Michael Gorman · CBC News "Officials with the company that owns the Northern Pulp mill in Pictou County are exploring the potential of selling electricity produced from burning fallen trees as a way to generate revenue and dispose of blowdown from last fall's post-tropical storm Fiona."
– Mimaju'nsuti will shape future of Nova Scotia forestry sector
Drake Lowthers for Port Hawkesbury Reporter "..Mimaju'nsuti, formally known as the Mi'kmaq Forestry Initiative, under the direction of the Assembly of Nova Scotia Mi'kmaw Chiefs, was launched jointly by Kwilmu'kw Maw- klusuaqn (KMK), the Confederacy of Mainland Mi'kmaq (CMM), and the UINR. "It does have a meaning; it actually is kind of a good way to describe the initiative. If you know the Mi'kmaq language, you can capture a lot of meaning in a short phrase," Young said. "It speaks to maintaining the Earth" In 2019, Young advised the Government of Nova Scotia granted the Mimaju'nsuti approximately 20,000 hectares of Crown land through a pilot forest project. Fast forward to 2022, an additional 10,000 hectares was added to Mimaju'nsuti land base… Mimaju'nsuti includes several parcels of land in the Hants, Annapolis, Halifax, Cape Breton, Antigonish, Guysborough, Richmond, and Inverness Counties.
Apr 24, 2023:
Pellet pioneer: John Swaan and the industrial wood pellet trade origins
By Hannah Campbell in Canadian Biomass "Twenty-five years ago, the first of many large bulk shipments of industrial wood pellets produced by John Swaan travelled from British Columbia to the Helsingborg Energi power plant in Sweden. John Swaan' numerous bulk shipments after that first shipload, marked the birth of today's multibillion dollar industrial wood pellet industry."
Apr 20, 2023:
– Canada's emissions report paints a positive picture but not a complete one
The Weather Network
– N.S. government says no to golf course in West Mabou Beach Provincial Park
ichael Gorman · CBC News
– Forestry Trust Announces Two New Projects
NS Gov news release " The Verschuren Centre for Sustainability in Energy and the Environment is receiving $926,500 to further support the development of the Bio-technology and Bio-manufacturing Acceleration Centre in Sydney. It aims to advance commercialization of key forestry and biomass sector innovative technology companies.
Research Nova Scotia will receive about $1.6 million for a project to assist the forestry sector as it transitions to the ecological forestry model. The five-year research and knowledge mobilization program will be led by Dalhousie University. Comment I have learned that the lead for the Dal component is Alana Westwood which is very re-assuring.
Apr 19, 2023:
Former consultant to wind industry warns of turbines' toll on migrant birds in N.S.
By Michael Tutton, The Canadian Press on CityNews
April 18, 2023:
An Introduction to Ecological Forestry and the Family Forest Network (YouTube Video)
On NSWOOA YouTube Channel "This short video explains the goals of the Family Forest Network and its province-wide pilot of ecologically sensitive forest management in Nova Scotia. To learn more or get involved, request project updates at www.nswoods.ca/family-forest-network"
Apr 16, 2023:
Dalhousie study finds Northern Pulp Mill was by far the biggest polluter near Pictou
Joan Baxter in the Halifax Examiner (subscription required) "At times, the pulp mill emitted 10 to 80 times more fine particulate matter than nearby Michelin Tire plant and Nova Scotia Power's coal-fired station." The article cites this paper: A baseline characterization of fine particulate matter (PM2.5) concentration and releases in Nova Scotia, Canada, by Gianina Giacosa et al., 2023 in Atmospheric Pollution Research
Apr 12, 2023:
NDP Natural Resources critic Charlie Angus speaks about Paper Excellence
By Joan Baxter in the Halifax Examiner. "…Angus thinks Nova Scotians should be asking why Paper Excellence's Northern Pulp still has a licence to harvest on Crown land in the province even though its pulp mill is not operating. As the Examiner reported here, Northern Pulp is still enjoying access to public forested land in Nova Scotia the pulp mill owners were granted by the 1965 Scott Maritimes Act, and its most recent licence that is up for renewal in July this year covers 308,000 hectares of Crown land."
Apr 11, 2023:
– Hemlock Woolly Adelgid Webinar
Nova Scotia Nature Trust. Donna Crossland describes how the pest attackes hemlocks and use of pesticides to control it (on an interim basis).
Apr 10, 2023:
Extension of Mi'kmaq-Nova Scotia forestry partnership could be on the horizon
Cassidy Chisholm · CBC News · Posted: Apr 10, 2023
Apr 4, 2023:
– Save Our Old Forests: A Conversation with Rob Bright (audio)
On https://sharedground.captivate.fm/; episode 11 "Podcast episode 11: Save Our Old Forests: A Conversation with Rob Bright.
Hear about the campaign launched in Bridgetown (Kespukwitk district of Mi'kma'ki)! Find out more about "the SOOF" through this episode, which includes clips of the recordings from the speakers (Bob Bancroft and Donna Crossland), and features an interesting conversation afterwards with a spokesperson for the campaign, Rob Bright. https://sharedground.captivate.fm/ Be inspired by the story and evolution of a small group of people finding solutions, and about the actions we can each take as individuals to make a difference for the health of our forests. Join us in contemplating the ownership and management of "crown land" and some root causes and challenges behind our current forest crises. As is written in their excellent pamphlet: "Saving old forests in Annapolis County is something we can do locally that will have a global effect." and "We need to protect the best of what is left, for the health of nature, yes, but for our health, too, and for the health of our economy."
– Mi'kmaq Forestry Initiative shapes future of Nova Scotia forestry sector
by ahnationtalk "Mi'kma'ki, April 4, 2023 – A first-of-its kind partnership is bringing traditional and ancestral Mi'kmaw knowledge to the Nova Scotian forestry sector and providing opportunities and prosperity to Mi'kmaw communities through forestry. The Mi'kmaq Forestry Initiative (MFI) serves Mi'kmaw communities, supporting the development of sustainable economic opportunities for the Mi'kmaq and promoting community prosperity through the lens of ecological practices and traditional Mi'kmaq knowledge…Under the direction of the Assembly of Nova Scotia Mi'kmaw Chiefs, the MFI was launched jointly by Kwilmu'kw Maw-klusuaqn (KMK), the Confederacy of Mainland Mi'kmaq (CMM), and Unama'ki Institute of Natural Resources (UINR). In 2019, the Government of Nova Scotia granted the MFI approximately 20,000 hectares of Crown land through a Pilot Forest Project with KMK, CMM, and UINR. In 2022, an additional 10,000 hectares was added to the MFI land base. The MFI continues to operate under the Pilot, with negotiation of a long-term forestry agreement underway. A long-term agreement will enable the MFI to operate with the mandate of managing and overseeing forested lands while creating opportunities for a wide range of economic, social, and educational uses—from crafting, to ecotourism, to cultural teaching and learning."
Apr 3, 2023:
EU woody biomass final policy continues threatening forests and climate: Critics
by Justin Catanoso in Mongabay "The final revisions to the European Union's Renewable Energy Directive (RED) were reached March 30, with nearly all environmental activists (who had lobbied intensely for changes for years), responding negatively to RED policies in support of forest biomass. The policy revisions will continue allowing the burning of the world's forests to make energy, with emissions from EU powerplant smokestacks not counted. Wood pellets will still be classified as renewable energy on par with zero-carbon wind and solar, even though biomass releases more CO2 than coal, per unit of energy produced."
Mar 31, 2023:
The hidden carbon impacts of getting mass timber wrong
Jennifer Hahn on dezeen.com. "Architects are increasingly using mass timber in the hopes of creating net-zero buildings but carbon assessments are missing key sources of potential emissions, researchers tell Dezeen in this Timber Revolution feature."
Mar 28, 2023
Save Our Old Forests Campaign Launched Mar 25, 2023
Nina Newington posted on healthy Forest Colaiiton FB page, copied on this website
Mar 23, 2023:
– Logging, forest loss may have awakened ancient B.C. landslides, at cost of about $1B
Brenna Owen, The Canadian Press in CityNews
Mar 22, 2023:
– Government will ensure wood pulp giant Paper Excellence respects Canadian laws
By Elizabeth Thompson for CBC
–Nova Scotia municipal dump overwhelmed by Fiona wood debris
In Canadian Biomass
– Deforestation Inc: Media investigation into Paper Excellence ignites concerns on Parliament Hill over the company's mysterious ownership, Chinese ties, and rapid expansion in Canada
Joan Baxter in Halifax Examiner
– Environmental orgs urge Trudeau to report transparent logging emissions
Environment Journal. "More than 80 civil society organizations and scientists from across the United States and Canada today called on President Joe Biden and Prime Minister Justin Trudeau to address a forest-sized hole in their countries' climate plans at their upcoming summit. In a joint letter to the leaders, the signatories assert that the failure to separately and transparently report greenhouse gas emissions from industrial logging jeopardizes the achievement of the two countries' 2030 climate goals." From the letter: "Despite the logging industry's status as a high-emitting sector, the U.S. and Canadian inventories do not separately and transparently report on its climate impact. Instead, the logging industry's emissions are subsumed under broader reporting on land use, land-use change, and forestry (LULUCF). This practice makes it exceedingly difficult to discern what carbon fluxes are attributable to the logging industry and, more specifically, what logging industry practices offer the greatest potential for mitigation."
Mar 19, 2023:
Undeveloped Shorelines and Rare Old Forests in Bedford NS Threatened by Rushed Housing Order
Nature Nova Scotia
Mar 17, 2023:
– Forestry companies say they're at risk because of Wolastoqey title claim to more than half New Brunswick
By Mia Urquhart, CBC News "Some of the New Brunswick's largest forestry companies say their business operations are at risk as a result of a title claim by the Wolastoqey Nation for about 60 per cent of land in the province."
– Deforestation Inc: Canada is a 'world laggard' in sustainable forestry, say critics, and Paper Excellence's expansion threatens this country's boreal forests
Joan Baxter in the Halifax Examiner. Subscription required for access to full article. "This is the sixth in a series of articles resulting from a yearlong investigation into Paper Excellence…"
Mar 14, 2023:
– Deforestation Inc. reporters checked global promises to end forest loss. This is what they found
By Scilla Alecci for www.icij.org/ "From Europe to Asia to North America, even as leaders and governments made new sustainability pledges, authorities were failing on a number of key forest protection measures…Canada ranks third globally for old-growth forest loss, behind Russia and Brazil. The country is also home to a $34 billion forestry industry. And yet, according to an investigation by CBC News, ICIJ's media partner, Canadian politicians have lobbied lawmakers in New York State to amend a bill aimed to prevent the state from buying products that are linked to deforestation or forest degradation."
–Deforestation Inc: Nova Scotia opts for forest certification scheme critics call 'greenwashing'
Joan Baxter in the Halifax Examiner. Subscription required for access to full article. "This is the fifth in a series of articles resulting from a yearlong investigation into Paper Excellence"
Mar 13, 2023:
– Nina Newington: Taking direct action to protect Nova Scotia's forests
By Suzanne Rent in the Halifax Examiner. "Suzanne Rent continues her series of profiles of women over 50 who, in their own often quiet ways, make significant contributions to our society outside of the corporate world.Nina Newington's work to protect Nova Scotia's forests started one day when she was watching the barn swallows that nest in the old barn on her property on North Mountain in the Annapolis Valley."
– A New York Times report casts doubt on the viability of 'green hydrogen' export schemes like that approved in Nova Scotia
Tim Bousquet and Jennifer Henderson in the Halifax Examiner Morning File
Mar 12, 2023:
Deforestation Inc.: Is Canada's biggest forestry company living up to its green promises?
Stefan Labbé in www.vancouverisawesome.com/ "…In 2020, Paper Excellence released its first sustainability report with the pledge: "Our fibre is derived from well-managed, sustainable North American and European forests…Paper Excellence has said between 10 and 14 per cent of the wood feeding its mills comes from old-growth trees…Since the 1990s, over a dozen forest certification schemes have emerged with stated plans to hold companies accountable for their practices. Among the most rigorous is that of the Forest Stewardship Council (FSC), an international organization based in Germany. As old-growth trees feed mills, FSC measures fall short…"
Mar 10, 2023:
– Canada, home to a massive boreal forest, lobbied to limit U.S., EU anti-deforestation bills
Lynette Fortune, Stephanie Matteis · CBC News
– NDP critic calls for pulp-and-paper giant to appear before MPs
By Elizabeth Thompson, CBC News
– Deforestation Inc: Paper Excellence's rapid expansion in Canada is a 'fibre grab' to feed mills in China, say critics
Joan Baxter in the Halifax Examiner. Subscription required for access to the full article. "This is the fourth in a series of articles resulting from a yearlong investigation into Paper Excellence…The privately owned and secretive Indonesian conglomerate now has access to 22 million hectares of Canada's woodlands"
– Forestry Funding Helps with Fiona Damage, Silviculture
Government of Nova Scotia. Inlcudes reassurances from Forest Nova Scotia "Nova Scotia's forest sector provides a net environmental benefit. We plant more trees than we harvest, and we take more carbon out of the environment than we emit."
Mar 9, 2023:
– Why independent, kick-ass, journalism needs to be supported
Linda Pannozzo in the Quaking Swamp Journal. "There have always been significant challenges to being the kind of journalist I continue to aspire to being. But there are also some new challenges, or if not new, they are now on steroids… disinformation isn't just coming from buddy in his basement, it's coming from very powerful institutions."
– Deforestation Inc: Are Paper Excellence and Asia Pulp & Paper linked companies? They say they aren't. Here's what we've learned
Joan Baxter in the Halifax Examiner.. Subscription required for access to the full article. "This is the third of a series of articles resulting from a yearlong investigation into Paper Excellence, already Canada's largest pulp and paper producer following its 2022 acquisition of Domtar and now much bigger following its March 1 takeover of North American logging giant, Resolute Forest Products."
– Who's behind Canada's new pulp-and-paper powerhouse, and where's the money coming from?
Zach Dubinsky, Elizabeth Thompson · CBC News
Mar 7, 2023
– Mainstreet's Spinbusters examine Nova Scotia's clearcutting promises (Audio)
CBC "Mainstreet's Spinbusters Chris Lydon, Barbara Emodi and Michelle Coffin look at Nova Scotia's clearcutting promises from the past decade. How much of it is spin?"
– Halt to logging at Goldsmith Lake a 'huge relief', say citizen scientists
Suzane Rent in the Halifax Examiner. Subscription required for access to full article. Intro to it by Philip Moscovitch in Morning File
Mar 3, 2023:
Grant Will Help Small Forest Owners Fight Climate Change
Derek Montague in Huddle. "…in the Maritimes, 40 percent of the forests are owned by individuals, who are also known as family forest owners. These 80,000 owners across New Brunswick, Nova Scotia, and P.E.I. use the forest in a diverse number of ways to make a living. Some own small lumber mills, others may sell firewood for extra income, or just use their land for hunting and fishing. Because these operations are small, they are often overlooked for funding and training to combat climate change. But now, an Atlantic non-profit, Community Forests International, has received a $1-million grant from TD Bank to help these forest owners make the transition." [Community Forests International was one of 10 recipients of the The 2022 TD Ready Challenge funds]
Mar 2, 2023:
– Deforestation Inc: Paper Excellence and the 'environmental insult' to a First Nation community
Joan Baxter in the Halifax Examiner. Subscription required for access to full article. "This is the second of a series of articles resulting from a yearlong investigation into Paper Excellence…Pictou Landing First Nation Chief Andrea Paul recalls the events of that morning as if it were yesterday."
– In search of 'balance': Conservationists wade into an age-old debate as they seek more protection for forests
By Emma Cotton on vtdigger.org About controversies over forest protection etc in Vermont. "Across Vermont, where 74% of the state is covered in forest, only around 3.7% of the forests are permanently protected in what are called wildland reserves, according to a forthcoming report by forest research and conservation groups including Harvard Forest, Highstead and Northeast Wilderness Trust. In recent years, environmentalists have made a push to increase those numbers, and in some areas, it appears they're gaining ground. …Across the country, environmentalists have long fought to protect old growth forests and allow logged woodlands to fully regenerate. "
– Nature Nova Scotia calls for second look at proposed timber cuts on eastern Crown land
By Michael Gorman for CBC News "…Dealing with blowdown: The minister and Crossland are of different minds when it comes to the need for salvage cuts in areas affected by Hurricane Fiona. While Rushton said the wood needs to be removed while it is still of value and to prevent potential forest fires, Crossland said such concerns are overstated because of rapid decay in Nova Scotia's humid climate. The removal of so much wood from Crown land also serves to depress values of wood on private lands, said Crossland.
Leaving some of that blowdown in the woods creates an opportunity to teach ecological forestry practices and it can also nourish depleted soil, and create hummocks and hollow terrain which helps with water retention and diversification of the forest floor topography, she said. Rushton said he knows people are concerned that the recommendations of the Lahey report are taking longer to implement than hoped, but he said he thinks his government has made good progress since being elected in 2021. Ruston said he remains committed to finishing the work by 2025, as called for in his mandate letter."
– Deforestation Inc
In the Halifax Examiner Morning File. Tim Bousquet explains the project of the International Consortium of Investigative Journalists
– Port Hawkesbury Paper logging deal
In the Halifax Examiner Morning File. Jennifer Henderson reports that Nature Nova Scotia has slammed it. Access to full article requires subscription.
Mar 1, 2023:
– Neurologist says 'mystery' illness in New Brunswick could be caused by herbicide
Swikar Oli for National Post "Lab tests that show 'clear signs of exposure' to glyphosate and other herbicides among patients, letter to public health bodies states"
– Deforestation Inc: How an email from China triggered an international investigative journalism project
Joan Baxter in the Halifax Examiner. Subscription required for access to full article. "This is the first of a series of articles resulting from a yearlong investigation into Paper Excellence, already Canada's largest pulp and paper producer and now even bigger with today's completion of the acquisition of North American logging giant, Resolute Forest Products. These articles are part of the much larger "Deforestation Inc."collaboration of the International Consortium of Investigative Journalists […]"
Feb 28, 2023:
– Forestry Innovation Symposium
From Announcement by the Forestry Sector Council (NS) "Join us [in Truro, NS, Feb 28-Mar 2, 2023] for the 1st annual Forestry Innovation Symposium. We look forward to welcoming you to a showcase of the phenomenal research, innovation and workforce development happening in Nova Scotia's forestry
sector!"
– First Nations in N.B. sign agreement with one forestry company named in title claim
Hina Alam, The Canadian Press in Halifax City News. "Six Wolastoqey communities in New Brunswick have signed a memorandum of understanding with one of the companies named in a major lawsuit filed by the First Nations, who are seeking to reclaim title over large swaths of the province…Bernard said the memorandum of understanding, which includes a land parcel transfer, does not mean the title claim will be amended to remove AV Group NB, but added, "negotiation is always better than litigation." The agreement shows a beginning of reconciliation, she said."
Feb 27, 2023:
HELGA GUDERLEY: We don't have decades to fix our forests
In the Chronicle Herald: "Yes, our news is dominated by health-care problems, lack of housing and the terrible war in Ukraine. Unfortunately, we're paying less attention to the looming crises of climate change and biodiversity decline that threaten life as we know it. To address these, we need to preserve our forests both to sequester carbon and to maintain biodiversity so that life on Earth can continue for our children and grandchildren. Thus, I am deeply concerned with the recent return of "business as usual" in the Houston government's handling of forestry. Three examples stand out:
-The mandated increase in biomass burning for power generation;
-The heavy harvests that have been proposed in Eastern Nova Scotia; and
-he lack of environmental assessment and forestry management plans for Port Hawkesbury Paper's Forest Utilisation Agreement.
We appear to be regressing after some improvement stemming from two massive reviews: William Lahey's review of forest practices in 2018 and the Natural Resources Strategy 2010."
Feb 23, 2023:
– Fiona debris fuelling concerns about forest fires
Sheehan Desjardins, Maggie Brown · CBC News Comment: PEI Story, but concerns likely apply to some areas of NS as well.
Feb 21, 2023:
– Saving our ancient forests
by Darcy Rhyno in Saltscapes Magazine. "Five years ago, Scott Robinson discovered the tiny hemlock woolly adelgid, native to Japan, on trees around his house in southwest Nova Scotia.The invasive insect has already killed thousands of hemlocks beyond his property in the Tobeatic Wilderness Area. He's been trying to raise the alarm ever since. This past October, he led a massive three-week operation to inoculate all the old growth hemlocks on an island in Sporting Lake in the Tobeatic. Saltscapes spoke with Scott Robinson about primordial forests, maxed credit cards and cures for despair."
Feb 15, 2023:
– Mi'gmaq community wants Quebec to increase its wood allocation (audio)
On CBC Listen with Alison Brunette. "An Indigenous community on the Gaspé Coast is holding its ground. They say they're willing to do whatever it takes to ensure their community has access to enough wood resources to keep their economy afloat. Guest host Allison Van Rassel speaks with the chief of Gesgapegiag."
– Port Hawkesbury Paper agrees to harvest less
Port Hawkesbury Reporter
Feb 14, 2023:
Scientists tangle over 'wood wide web' connecting forests and fungi
By Sarah Kaplan in the Washington Post. View also CBC article Forest ecologist Suzanne Simard's research says trees talk to each other. Others aren't so sure, Ali Pitargue · CBC News Feb 24, 2023
Feb 13, 2023:
–Port Hawkesbury Paper agreement extension ignores Lahey Report
Tim Bousquet in the Halifax Examiner Morning File
Feb 10, 2023:
– Don't let hydrogen tax credit become a fossil fuel subsidy, academics, civil society groups tell Ottawa
By Natasha Bulowski in the National Observer
Feb 8, 2023:
– Port Hawkesbury Paper Agreements Extended, Renewed
NS NRR News Release "The company's forest utilization licence agreement is a long-term agreement that guarantees an annual volume of timber from certain parcels of Crown land and sets out terms and conditions. Originally for 20 years, it is now extended to 2043. Changes to the agreement include a lower volume of timber to ensure the Province can accommodate multiple priorities on Crown land." Comment: whatever happened to the Environmental Assessment process that was to supposed to kick in for approval of such agreeements? (See Addendum document page 99, and  NSFN Post)
– Is 'green hydrogen' the next Crypto?
Tim Bousquet & Jenniefer Henderson in the Halifax Examiner
Feb 6, 2023:
Port Hawkesbury Paper takes part in promotion of Nova Scotia's bioeconomy
By Kake Boudrot in the Port Hawkesbury Reporter. Refers to nsbioeconomysites.com and quotes Rob Badcock, Executive Director of the Nova Scotia Innovation Hub. Comment: 'Sounds an awful lot like we are back to "Plan B" again. View, e.g. Plan B/Biorefinery on nsforestnotes.ca; article in Chronicle Herald in 2016, archived here.
Feb 3, 2023:
Proposed wind farm could become 1st renewable energy competitor for NSP
On yahoo news "A proposed wind farm in Queens County could become the province's first project to sell electricity from renewable sources directly to customers. Mersey River Wind, a subsidiary of Roswall Development, wants to erect 33 wind turbines south of Milton, N.S., to generate 148.5 megawatts of power."
Feb 1, 2023:
– Port Hawkesbury Paper Wind submits proposal for wind farm in MODG
On yahoo news "…In submitted documents relating to a presentation given at a trade fair last summer in Paqtnkek Mi'kmaw Nation, proponents of the project stated the wind farm would provide Port Hawkesbury Paper with approximately 30 per cent of all required electrical power. Given that the mill reportedly uses on average 10 per cent – and sometimes as much as 25 per cent – of the provincial electrical load, the wind farm would go a long way towards meeting provincial renewable energy goals."
– Competition Bureau to investigate industry claims of sustainable forestry management
By Canadian Press on https://biv.com/ "The Competition Bureau has opened an inquiry to see if forestry industry claims of sustainable management on vast stretches of Canadian woodlands are false advertising. "
*-Westfor GM comments on the Triad
In Jan 2023 Newsletter
"A note from Breck on High Production Forestry:

"We are thrilled to finally see the long awaited release of High Production Forestry (HPF), the third "leg" of the Lahey Report. This will complete the basis of the new triad management approach to Nova Scotia's Crown forests.

"35% of Crown lands are protected as parks, wilderness areas, and other conservation designations. 55% of Crown lands will be managed first and foremost for Ecological Values towards restoration of a more traditional Acadian forest with "light touch" forestry permitted. Finally, we have the remaining 10% of Crown lands which will be used to grow focused crops of spruce trees designed to be fast growing and short rotation aged plantations.

"This is not a new concept to Nova Scotia, it will be the same as the typical spruce plantations we've seen along the highways and around the province for years, they will just be limited to only 10% of crown land. These few plantations however, are extremely critical to ensuring a future supply of valuable saw timber to supply our children and their children with enough dimensional framing lumber to meet their ever growing needs. Many of us will never see the harvest of these new 'high production' plantations in our lifetimes but we need to make sure we plant and care for them to ensure they survive for the future. The Ecological Matrix, although thriving and healthy, will not be a timber production zone. The 55% majority of Crown land will be slow growing as the young seedlings spend their entire lives growing under the shade of towering pine and hemlock canopies but as you'll recall, ecology is the objective here. Unlike the sun bathing, controlled environment of the plantations. This raises one final issue that we must be sure to legally protect and hold in high regard these high production sites. These areas will no doubt see many new political turf wars, for and against, over the years to come. The plantations themselves will be there for harvest after soaking up our carbon emissions and store them away to build our children's homes one day. Let your MLA know you want these plantations protected for your children.

"We are looking forward to working with DNRR to develop plans to overcome the many hurtles that follow this announcement. Stay tuned for HPF updates as we progress.

"For more information about the HPF update, please click here [error in link to NRR News Release]."
Jan 30, 2023:
Landslides: New research shows forestry management impact
Steve Lundeberg Chronicle Guest Article in www.thechronicleonline.com/ Cites this scientific paper: Seventy years of watershed response to floods and changing forestry practices in western Oregon, USA
by Arianna C. Goodman et al., 2022 in Earth Surface Processes and Landforms. "This study examined the 70-year history of clearcutting of old-growth forest and associated road construction, floods, landslides, large wood in rivers, and channel change in the 64 km2 Lookout Creek watershed in western Oregon, where forestry practices began in 1950 and largely ceased by the 1980s…Watershed response to floods was more related to the timing of road construction and clearcuts, past geomorphic events, and forest dynamics than to flood magnitude. Even small (1–3 year) floods generated geomorphic responses in the period of initial road construction and logging (1950–1964) and during ongoing logging..Geomorphic response was negligible for the third largest event on record (2011) during the last period (1997–2020), when former clearcuts were 20 to 70-year-old forest plantations."
Jan 27, 2023:
Environmental groups taking Health Canada to court for giving OK to pesticide containing glyphosate
Francis Campbell for Saltwire "The lawsuit has been filed by Ecojustice on behalf of four groups and comes in the wake of the Jan. 11 release of an American research study that found that people exposed to glyphosate have biomarkers in their urine linked to the development of cancer and other diseases."
Jan 25, 2023:
Purdue launches new AI-based global forest mapping project
On Purdue University News "…This task is considerably more challenging than mapping carbon emissions from forest loss," said Nancy Harris, research director of the Land & Carbon Lab at the World Resources Institute, a nonprofit research organization based in Washington, D.C. "With emissions, there's a clear signal in satellite imagery when trees are cut, leading to a big drop in forest carbon stocks and a relatively abrupt pulse of emissions to the atmosphere. With sequestration, forests accumulate carbon gradually and nonlinearly…Liang is developing an artificial intelligence model that will combine information collected about billions of trees measured on-site with satellite and other geospatial data to map local forest growth rates throughout the global forest range. "This will be the first AI-based forest growth model deployed at a global scale," "
Jan 23, 2023:
Protecting the hemlocks: Stakeholders meet in Nova Scotia to share knowledge about destructive hemlock woolly adelgid
By Jason Malloy, Annapolis Valley Register in The Saltwire Network "HWA has been discovered in the seven western counties of Nova Scotia but has not been detected in Hants and Halifax counties. In the Annapolis Valley, it has been reported as far east as Wolfville."
Jan 18, 2023
State of Nature 2022
Nature NS "The 2022 State of Nature Report profiles some of the issues nature faced in Nova Scotia this year, as well as some successes worth celebrating and information you can use to take action in 2023."
Jan 17, 2023:
*High Production Forest Zone in Place
Natural Resources and Renewables News Release "…Ten per cent of Crown land – 185,000 hectares, currently – will be allocated for the high production forest zone where clear-cutting is allowed, as recommended in the review. Once forestry licensees have harvested an area in this zone, they will prepare and add nutrients to the soil, plant high-quality, fast-growing seedlings and manage the crop for decades. This method of forestry can produce crops of trees that mature in 25 to 40 years, compared with 60 to 90 years through traditional approaches…High production forestry will be done mainly on Crown lands that have been previously used for forestry or agriculture, are conducive to growing spruce trees quickly and are relatively close to existing sawmills.Three initial sites totalling about 0.5 per cent of Crown land have been identified. Licensees can now do further work to determine the suitability of these sites, develop harvesting and silviculture proposals and submit them to the Department. Proposals must go through the existing review process, which includes opportunity for the public to submit their local knowledge about sites. More sites will be evaluated and made available until a maximum of 10 per cent is reached."
– Province releases Crown land locations where clear cutting may soon be permitted
Frances Willick · CBC News
Jan 13, 2023:
Environmental group claims water tests at gold mine site have high levels of arsenic
Story by Paul Palmeter on cbc.ca "An environmental group in Nova Scotia says a gold mine is responsible for high levels of arsenic in waterways nearby… "There was a yellow and orange liquid running through the woods," said Sydnee McKay. "We were quite shocked to see this.""
Jan 12, 2023
Grand plans: New Brunswick pellet producer embarks on $30M expansion project
By Maria Church Canadian Biomass ""Today we can really only effectively use sawdust and shavings.," MacGougan says. "We're building in flexibility on both lines to be able to use more low-value material like sawmill bark or biomass from the forest."
Jan 11, 2023:
Auditor general finds Prince Edward Island government not following own forestry management policies
By Stu Neatby SaltWire "…has not conducted audits to determine whether or not wood harvested for biomass is being harvested sustainably"
Jan 7, 2023
Never-opened $300 million-plus biofuels refinery facing foreclosure in southern Oregon
By Ted Sickinger| The Oregonian/OregonLive "The project was originally slated to come online in 2017, converting woody biomass such as slash from logging and forest thinning projects in the area into jet-grade liquid fuel that could be used as a substitute for the fossil-based fuel…" Shades of Nova Scotia's ill-fated Cellufuel and a cautionary reminder, perhaps.
Jan 6, 2023:
– Celebrating Winter:Ask an Elder: What do you call the winter months in the Mi'kmaw language?
Nic Meloney · CBC News · Posted: Jan 06, 2019
Jan 4, 2023:
Nova Scotia Power claims it wasn't consulted about new biomass regulations
By Jake Boudrot in The Port Hawkesbury Reporter
Jan 2, 2023
New paper out on life cycle #GHG dynamics for different scenarios of forest-based bioenergy in Nova Scotia
Announcement by James Steenberg, first author of the paper on Twitter. The tweet provides a link to : Life-Cycle Greenhouse Gas Emissions from Forest Bioenergy Production at Combined Heat and Power Projects in Nova Scotia, Canada, by James W N Steenberg, Jérôme Laganière, Nathan W Ayer, Peter N Duinker, published in Forest Science Jan 2, 2023. Comment. The full paper is not publicly available on the publisher's site. I learned about the paper from a Facebook Post on Jan 20, 2023 in which a PDF of the paper was also provided. I wqs asked to comment. Here is what I said:  Read More 
Jan 1, 2023:
Nova Scotia's provincial parks aren't as protected as you may think
Victoria Welland · CBC News "Cabinet, natural resources minister have far-reaching discretion over fate of parks"
Dec 30, 2022:
Couple donates 27 acres to protect at-risk species, rare forest in N.B.
Isabelle Leger · CBC News "Bob Bancroft and Alice Reed have given away 27 acres of their land in New Brunswick…That land, located in Gagetown, is now a nature preserve and will be protected forever by Nature Trust New Brunswick, a non-profit land conservation organization. Bancroft, a biologist from Nova Scotia and a regular guest on CBC's Maritime Noon, said he and his wife Alice found the land by chance when they began looking for a property in Gagetown in 2015 so they could live near their friends for a part of the year.
Dec 27, 2022:
With forests in peril, she's on a mission to save 'mother trees'
Story by Sarah Kaplan. Photography by Alana Paterson, Illustration by Stef Wong in the Washington Post. "Suzanne Simard, who made key discoveries on how fungal networks sustain healthy forests, is now pushing to reform logging"
Dec 26, 2022:
Snowy days could be a rarity in Nova Scotia by 2100. Here's what it means
Moira Donovan · CBC News
Dec 23, 2022:
Sierra Club Canada on COP-15
Content of a Newsletter provides a quick overview with some local (NS) context.
Dec 22, 2022:
Finnish government understands more must be done, Ohisalo says about report on shrinking carbon sinks
Finnish Gov. on www.helsinkitimes.fi. A REPORT by Natural Resources Institute Finland (Luke) has confirmed that the land use sector has turned from a carbon sink into a source of emissions in part because of rising felling volumes, states Minister of the Environment and Climate Change Maria Ohisalo (Greens)...The slowing growth is attributable to a handful of factors, mostly related to the biology of pines, which account for almost half of trees in Finland…[i]age structure of forests explains only roughly a fifth of the decline…[ii]growth has also slowed down due to lack of soil moisture…[iii]reproduction: In 2020 in Northern Finland, the cone yield was the fifth highest since 1979. Previous studies have shown that the volume growth of pines decreases typically by 10–20 per cent in years with high cone yield…[iv]aggressive thinning…25 per cent of forests have been thinned too aggressively in recent years.
Dec 21, 2022:
– A mighty, mighty wind
Tim Bousquet & Jennifer Henderson in the Halifax Examiner "A report filed by Nova Scotia Power with the Utility and Review Board details some of the winds accompanied by Hurricane Fiona in September."
Dec 20, 2022:
'A farce, a sick joke': Nova Scotia amps up burning of biomass for electricity
Jennifer Henderson in the Halifax Examiner "Last week, the Labour government in Australia moved to change a 2015 regulation classifying woody biomass as a 'renewable' source of energy alongside wind and solar…Contrast that decision in Australia with one announced yesterday by the Houston government here in Nova Scotia…At Port Hawkesbury Paper, the amount of biomass used to generate electricity over the next two years is forecast to increase a staggering 51.7%". Comment: So we are right back to the spring of 2016 (or will be in spring of 2023) when widespread concerns about excessive forest harvesting for biomass electricity were voiced and led to the Lahey Review in 2017/18. A huge deficiency in the Lahey Report was its next-to-nothing to say about  forest biomass energy except to recommend it for small scale regional heating; there were no recommendation for LCAs, no comments about the inefficiencies of using it for electricity. So we are where we are because of a major failing in the otherwise widely applauded  Lahey Recommendations, of course with ongoing complicity of DNR/L&F/NRR foresters who knew and know better.
Dec 19, 2022:
– Biodiversity agreement to protect planet reached at UN conference in Montreal
The Canadian Press in CBC News. Related UNEP Documents (partial): Agenda Item 9A Agenda Item 9B View also: Cop15: historic deal struck to halt biodiversity loss by 2030 by Patrick Greenfield and Phoebe Weston for The Guardian "Agreement on '30 by 30' target forced through by Chinese president, ignoring objections from African states"
– Nova Scotia just announced it'll be burning more trees to save the climate. What a farce.
Linda Pannzzo in the Quaking Swamp Journal. See also CBC News and NS Government News Release
Dec 16, 2022:
Ocean geoengineering scheme aces its first field test
Paul Voosen for Science News. Alkaline lime powder spread in Florida estuary drew down carbon and reduced acidification.
Cited here as this estuarine trial it similar to trials by Shannon Sterling in NS see Sterling et al., 2021Direct Aquatic Application of Crushed Dolomite Reduces CO2 Evasion in an Acidified River
Dec 15, 2022:
A stealth effort to bury wood for carbon removal has just raised millions
By James Temple in www.technologyreview.com/ "A California startup is pursuing a novel, if simple, plan for ensuring that dead trees keep carbon dioxide out of the atmosphere for thousands of years: burying their remains underground."
Dec 13, 2022:
Why burning primary woody biomass is worse than fossil fuels for climate
By Edward Robinson, Hannes Böttcher, Klaus Josef Hennenberg and Sampo Soimakallio on www.euractiv.com/ Also see RED III greenhouse gas balance methodology: an important element of the IPCC rules is missing and related scientific paper
Dec 12, 2022:
–Nova Scotia creates 14 new and expanded protected areas including Sackville River Wilderness Area
CPAWS NS. View NS Gov. News Release
– An Indonesian forestry giant becomes the new king of Canadian pulp (and paper)
By Nicolas Van Praet The Globe and Mail
– Is Canada truly committed to protecting forests? Recent actions make it hard to know
By Michael Polanyi, Nature Canada in The Toronto Star
Dec 11, 2022
Attacks on forestry industry strain credulity
By By Yaël Ossowski & David Clement in the Hamilton spectator
Dec 9, 2022
– Dynamite in the logjam
Chris Hatch for [zero] carbon newsletter (National Observer). Some reasonably good news on Canada x mitigation of climate warming. Good message to Nova Scotia's governors: "You can't have it both ways."
– UINR shares Mi'kmaq perspective at COP15 to protect biodiversity for generations to come
Emma Naugle in the Kings Signal "An organization that advocates for Mi'kmaq values is at a UN convention on biological diversity to share their perspective and harness information from other Indigenous communities. Unama'ki Institute of Natural Resources (UINR) is at the summit in Montreal to help set new biodiversity targets for 2050. It is the 15th meeting of the Conference of Parties (COP15) to the UN Convention on Biological Diversity."
– Nina Newington/XR on Old Forests in NS
"While the UN Summit on tackling the Biodiversity Crisis is underway in Montreal, here in Nova Scotia citizen scientists are highlighting for our government the biodiversity of our few remaining old forests."
Dec 8, 2022:
Prescriptions for more climate friendly forestry
By Nelson Bennett for biv.com. Cites this report: CCA (Council of Canadian Academies). (2022). Nature-Based Climate Solutions, Ottawa (ON): The Expert Panel on Canada's Carbon Sink Potential, CCA.
Dec 7, 2022:
– Province Releases Climate Change Plan for Clean Growth
NS Environment and Climate Change News Release. For some comments, view Keith Doucette for The Canadian Press on CTV News.
Leaked letter puts focus on Canada's forestry trade priorities ahead of COP15
By Natasha Bulowski for the National Observer "The proposed EU regulations are very ambitious but the letter reveals Canada is out of step with those ambitions, environmental groups say. "Canada is really sending a message that it's continuing to prioritize its logging industry over the health of its species, the health of its communities and the health of the world," said Jennifer Skene, natural climate solutions policy manager at Natural Resources Defense Council." RELATED: Canada accused of putting its timber trade ahead of global environment by J Watts in The Guardian, Dec 1, 2022 "Weeks before Cop15 in Montreal, leaked letter to EU shows host tried to water down deforestation regulations".
Dec 6, 2022:
– Boat Harbour cleanup now priced at $314 million, and no one knows how much it will cost to clean up abandoned mine sites
Tim Bosquet in the Halifax Examiner
– These are the 5 drivers of forest loss
Govind Bhutada on www.weforum.org/
Dec 5, 2022
– Still Feeding the Fire: When is the biomass fraud going to end?
Linda Pannozzo in the Quaking Swamp Journal
– Enviro groups call Sustainable Forestry Initiative 'greenwashing'
Joan Baxter in the Halifax Examiner (subscription required)
"The Ecology Action Centre and Nature Nova Scotia have joined six other Canadian environmental groups to lodge a complaint with Canada's Competition Bureau about 'sustainability' claims the Sustainable Forestry Initiative makes about its forest certification," reports Joan Baxter
– Donkin
Tim Bousquet in Halifax Examiner "The provincial government has renewed the industrial approval for the Donkin Mine in Cape Breton…Donkin is operated by Kameron Coal Management Limited, a subsidiary of The Cline Group, controlled by American billionaire Chris Cline. Cline is a climate change denier..And one particularly greasy aspect of the province's approval was the news late Friday that former Glace Bay MLA Geoff MacLellan is now working for Kameron. MacLellan, who was a Liberal MLA and cabinet minister, shocked observers by joining the PC government last year, as chair of the Halifax Regional Municipality Housing Task Force, the provincial agency that fast tracks development in the urban area. He was later also named Deputy Minister of Intergovernmental Affairs."
Dec 2, 2022:
– More than 70 EU signatories call for efficient, circular use of woody biomass residues
By Bioenergy Europe in Canadian Biomass "… the signatories renewed their concerns that the European Parliament's proposal for a new definition of "primary woody biomass" in REDIII would prevent the efficient and circular use of woody biomass residues, and put EU energy security at risk. Bioenergy and, in particular, woody biomass are Europe's most prominent local and sustainable energy source, it represents 10 per cent of the total energy we consume, with over 96 per cent of biomass produced domestically…they point out that the definition currently proposed by the European Parliament does not reflect the reality of sustainable forest management and bioenergy." See the Full Signatory Statement
The signatories are concerned about the proposed European directive "'Biofuels, bioliquids and biomass fuels produced from forest biomass….shall not be derived from primary woody biomass", where " 'primary woody biomass' means all roundwood felled or otherwise harvested and removed. It comprises all wood obtained from removals, i.e., the quantities removed from forests, including wood recovered due to natural mortality and from felling and logging. It includes all wood removed with or without bark, including wood removed in its round form, or split, roughly squared or in other form, e.g., branches, roots, stumps and burls (where these are harvested) and wood that is roughly shaped or pointed. This does not include woody biomass obtained from sustainable wildfire prevention measures in high-risk fire prone areas, woody biomass obtained from road safety measures, and woody biomass extracted from forests affected by natural disasters, active pests or diseases to prevent their spread, whilst minimising wood extraction and protecting biodiversity, resulting in more diverse and resilient forests, and shall be based on guidelines from the Commission [Am. 42]" – cited from document at https://www.europarl.europa.eu/doceo/document/TA-9-2022-0317_EN.html
Also on Dec 2, 2022:
– Kameron Coal hires former N.S. MLA and gets approval to operate Donkin mine until 2029
By Cloe Logan in the National Observer
Dec 1, 2022:
– Acadia biologist excited at discovery of rare fern at West Mabou Beach
om Ayers · CBC News "The provincial park is the subject of a controversial golf course proposal by Cabot Cape Breton"
– Paper Excellence excels at forest acquisitions
by Delores Broten in Watershed Sentinel "Paper Excellence, now one of the largest forest companies in Canada (and possibly the largest), is a complex maze of interlinked corporate ownerships and spin-offs, according to a new report…in the east of Canada the company does have large forest tenures through its subsidiaries, while in 2020, Domtar managed 1,774,000 hectares, almost half of which was FSC-certified."
– New Glasgow council looks at how wood heat could ease bills, help the environment
Michael Gorman · CBC News. "District heating feasibility study to be complete in 2023. Along with removing the need to use heating oil in a time of skyrocketing prices and efforts to reduce greenhouse gas emissions, Rushton said expanding the use of district heating systems would create a much-needed market for forestry operations looking to dispose of byproducts such as bark, wood shavings, chips and thinnings." Comment: Ok folks, it can be done but it's also potentially a slippery slope into large net carbon emissions – so please just do the GHG accounting transparently, and independently to ensure that doesn't happen and to give us all some confidence about the process and the claims that it's all good for the environment.
Nov 30, 2022:
Canada: Ambassador tells EU that deforestation rules 'burdensome'
By Nadine Yousif for bbc.com. "Climate campaigners have called Canada's resistance to the rules "shocking"… In the 17 November letter obtained by the BBC, Ms Campbell says Canada supports the objectives of the proposed deforestation regulation, but is "greatly concerned" that some elements will cause trade barriers for Canadian exporters. She asks for several revisions to the regulation, including providing a delay and a clearer definition for what falls under forest "degradation" – a practice that climate advocates say is widely seen in Canada."
Nov 28, 2022:
– Logging could continue in Annapolis County forest despite identification of species at risk
Paul Palmeter · CBC News. The title was changed on Nov 29 to "Logging paused in Annapolis County forest after identification of species at risk". From the updated article: "Late Monday, a provincial spokesperson told CBC News that the harvest plans have been paused in light of the new information. A plan by WestFor to harvest 343 hectares had been approved by the province but the government is now directing WestFor to conduct surveys after new information was reported to the Department of Natural Resources and Renewables, Adele Poirier said in an email to CBC News. WestFor cannot harvest any trees until the province has reviewed the surveys, she added." View Goldsmith Lake Forests for more about it.
– Can BECCS be saved from the net-zero scrapheap?
By Oliver Gordon on energymonitor.ai. "BECCS is again enveloped in a furore calling its sustainability into question. Is it time to bin the technology or can it still play a role in the energy transition?" A thorough review.
Nov 27, 2022:
LETTERS — Hot debate over carbon tax, heat pumps
Charles Bull "I am a huge fan of Bruce MacKinnon. He usually hits the nail on the head. But his Nov. 23 cartoon about the carbon tax is just plain wrong…The time to wake up is now. Supporting the carbon fee and dividend is the least we can do." Brian Gifford "I think the climate crisis calls for "all of the above" — an aggressive carbon tax, aggressive regulations and massive spending. The consequences of failure are too severe to keep changing direction and taking half-measures. Colin MacEachern: "The environment is vitally important, but having someone from Greenpeace with no pragmatic sense or compassion for average people running our environment department, making $200,000 a year, slapping a huge carbon tax on working people so that he can look good on elite international stages is disgusting. "
Nov 25, 2022:
–Efforts to save eastern hemlock trees expanding after success in Tobeatic Wilderness Area
CBC News "Invasive insect called hemlock woolly adelgid found dead on inoculated trees"
– Citizen Scientists discover SAR lichens and a new logging road in proposed protected area
Citizen Scientists of the Southwest Nova Biosphere Press Release
Nov 22, 2022:
– How logging left Atlantic Canada's trees vulnerable to Hurricane Fiona
By Haley Ritchie in The Narwhal. It begins "Matt Miller grew up alongside many of the trees on his parents' woodlots in rural Nova Scotia. But while most of the trees survived "Hurricane Matt" — his rambunctious childhood and some early, clumsy lessons in forestry from his father — many didn't survive Hurricane Fiona." The article cites this paper: Forest structure more important than topography in determining windthrow during Hurricane Juan in Canada's Acadian Forest by AR Taylor et al., 2019 in forest Ecology & Management. From the Narwhal article "Published in 2019, the study used aerial photography and satellites to analyze how wind damage varied based on topography, weather, soil and forest structure. It found that having a greater amount of hardwood species and pine reduced the effect of wind damage to a lot or forest. Tall stands were most vulnerable, especially those dominated by shallow-rooted spruce and balsam fir. Unfortunately, the two most vulnerable species are also overrepresented in the region, as a result of their value for softwood lumber and pulp and paper. "Over the last century, we've been carrying out forest management practices that promote more spruce and fir," said Taylor. "So by default in the forest, it's already been a bit more vulnerable to blowdown, because we have much more of the spruce and fir." Taylor's study found that while forests dominated by a single species that had been replanted after a clearcut were hurt by wind, so were areas in mixed forests that were more selectively thinned. Both harvesting methods created vulnerabilities. "I don't know if anyone has a solution yet, but it's definitely on a lot of minds. If you believe the science and the projections of climate change, then we're going to be in for more wind and it's going to impact our forests," Taylor said. "If we know that our spruce and fir forests tend to be more susceptible to wind, but we really depend on them for our economy here, then what do we do?" He also pointed out a caveat from the study — which suggested that regardless of species or topography, 10 minutes of sustained winds of 100 km/h can topple most trees. "At a certain threshold it doesn't matter what your forest is made of — likely a lot of it is going to blow down," he said."
– Is Canadian forestry sustainable?
Ben Barclay in rabble.ca. "UBC forest scientists Younes Alila and Xu Jian Joe Yu have shown that reducing forest canopy by only 11 per cent in a watershed doubles the flood risk and increases intensity…The sheer volume of land degraded by industrial clearcutting has caught up with us and pushed us over the tipping point."
Nov 21, 2022
– Nova Scotia designates blue felt as its provincial lichen
CBC News
– First 100% bio-based 3D-printed home unveiled at the University of Maine
By Taylor Ward The University of Maine News
– Europe's Energy Hypocrisy Attracts Increasing Notice
By David Blackmon in Forbes Magazine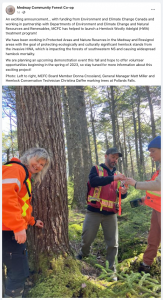 Nov 19, 2022
Hemlock Woolly Adelgid Treatment Demo coming up Sun Nov 27
Medway Community Co-op
Nov 18, 2022
Becoming Indigenous
Linda Pannozzo in The Quaking Swamp Journal "Living as if our children's future mattered"
Nov 16, 2022
– Time to stop counting forest biomass as 'renewable energy'
Mary Booth on euractiv.com "Policymakers at COP27 are trying to advance last year's commitments to end global deforestation. But even as they support such efforts, some EU policymakers are seeking to water down a weak – yet still important – proposal by the European Parliament that would protect forests within the EU, by disqualifying energy from burning trees and other forest biomass from counting as renewable energy. The forest products industry obviously has the ear of key policymakers in opposing reforms. Now, thanks to an open letter from forestry scientists and practitioners, we can see what arguments they've been making. What emerges is a disturbing picture of an industry that deploys dangerous misinformation, mirroring the worst trends in political tactics today…
– Once abundant, now increasingly rare
Received from Community Forest International "In September, Community Forests International launched our new podcast, Below the Canopy. In this latest episode, Megan speaks to Jesse Saindon, the owner of Liberty Tree Nursery in Beaver Dam, New Brunswick. Jesse grows a unique mix of hardwood trees native to the Wabanaki forest—including the special bur oak, an ecologically and culturally significant tree species now rare in New Brunswick. When asked why this tree species is so special, Jesse answered: "As a tree, [bur oak] lives a long time. So, some of the big trees we have in New Brunswick are 200-300 years old. I don't know exactly how old they are, but they're some of the biggest trees in the province if you can get out and see them. And they're just sturdy, they look kind of like haunted house trees, just because they're so massive. And they're great habitat for wildlife. They provide a lot of food for bluejays, squirrels, and deer!" To learn why this once abundant tree is now rare in New Brunswick, read more on the blog then listen to Jesse on Below the Canopy!"
Nov 15, 2022:
'Green' hydrogen industry takes aim at Nova Scotia's underground salt deposits
Jaon baxter in the Halifax Examiner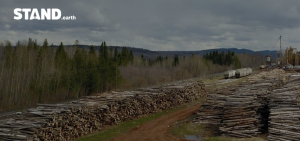 Nov 10, 2022
Tell Canadian politicians to cut ties with Drax
Campaign by Sand.Earth. Thx to BW for highlighting. For some background, see item under Oct 6, 2022 below, relevance to NS, items under Nov 4, 2022.
Nov 7, 2022:
Eye of the Storm Forestry in a Changing Climate
NSWOOA Video on You Tube "If you are interested in the impact of climate change on the woodlands of eastern Canada, take a few minutes to watch this new video. In it, forest professionals talk about the problems caused by Hurricane Fiona and offer thoughts about how woodland stewards can make their forests more resilient in a changing climate."
Nov 6, 2022: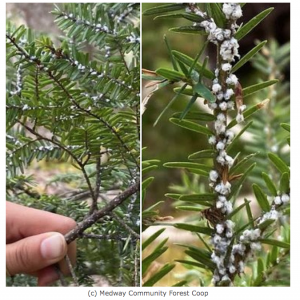 Hemlock Woolly Adelgid in Nova Scotia – Update
on Giants of Nova Scotia website. "It's been five years since hemlock woolly adelgid (HWA) was first identified in south west Nova Scotia. This post is an update about the bug, efforts being made to control it and specific actions for you."
Nov 4, 2022:
– STEPHEN MOORE: Nova Scotia forestry at a crossroads
Stephen Moore, executive director of Forest Nova Scotia in the Chronicle Herald (subscription may be required). "New opportunities, timing key to keep the supply chain moving…Solutions within our reach: First, opening the European Union to Nova Scotia forest products…Second, we need to build more with wood…Third…Locally sourced biomass could power heating throughout much of the province…Finally, Northern Pulp's efforts to build a world-class facility in Nova Scotia wouldprovide a major boost to the sector… As much as Nova Scotia needs forestry, our forests need forestry. Harvesting is essential for a healthy ecosystem and can prevent much of the stored carbon dioxide from being released back into the atmosphere." Story repeated under the heading Forest Supply Chain at Risk of Collapse, in the Port Hawkesbury Reporter, Nov 10, 2022
UNECE: Wood energy on the rise in Europe
Attributed to United Nations Economic Commission for Europe, in Canadian Biomass "Countries in the European Union (EU) burned about 23.1 million tonnes of wood pellets in 2021.It is expected that their consumption in 2022 will reach more than 24 million tonnes and increase even more in the future due to soaring fossil fuel prices and increased demand by individual households. The UNECE region dominates the global trade in wood energy both as exporters (United States and Canada) and importers (United Kingdom