Subpages:
– NRR Update June 4
– On Ecological Recovery
– Forest Mgmt: can it help?
– FireSmart Practices
I have had a keen interest in the fire ecology of the local landscape since 2006 when I first viewed the Jackpine-Crowberry barrens in the Halifax Backlands. There was a major fire in the Backlands in 2009 (the "Spryfield Fire"), followed  the next year on the eastern shore, Porter's Lake area. Up until this year (2023),  those two fires were the largest in NS since the early 1990s (NRR Stats).
As the editor of backlandscoalition.ca, I have tried to increase pubic awareness of the fire-prone nature of the Backlands, most recently on May 21, of this year.
On Sunday May 28 of this year (2023),  it was reported  that "Hot, dry and windy conditions on Sunday helped cause a series of wildfires in Atlantic Canada, with at least 10 reported in Nova Scotia…So far, Nova Scotia has reported 176 wildfires this season, compared to 70 at this time in 2022" (CTV News)
The situation  got progressively more dire in the several days following and through to the following week when some fairly heavy rains helped firefighters to gain control of most but not all of the larger fires. In the meantime, the fire situation in Quebec worsened, and by June 7, Canada at large was on track "for its worst-ever wildfire season on record", affecting air quality well beyond our borders.
Update Sep 9, 2023: Ironically, perhaps, beginning in early June, we had excessively wet weather in NS and throughout the summer and we had several days of extreme flooding.  This wet summer weather has been attributed to warmer ocean waters nearby. So unlike the situation in western Canada, our fires were firmly extinguished.
There have been many news items, those cited below were chosen to be representative of the larger set of news items.
IN THE NEWS
News items are listed below with most recent items at top.
Sep 13, 2023:
Learning to live with wildfire
By UBC Okanagan News, The University of British Columbia. "UBC Okanagan researchers take an interdisciplinary approach to wildfire management…While it sounds unorthodox, carefully planned, small-scale controlled burns in strategic areas can yield a variety of benefits, says Dr. Bourbonnais. They remove accumulated dry fuel for future fires, make breaks in massive expanses of forest and even help regenerate entire ecosystems that can restart and thrive in burned-out areas.It's an idea the general public may be hesitant to embrace."
Sep 8, 2023:
Forest blackened by Saint Andrews-area fire sprouts signs of life
Mia Urquhart · CBC News. "Homeowner sees renewal, UNB tree expert says fire a normal part of forest regeneration"
Aug 24, 2023:
– Canadians unified on forest protection although wildfire cause divisive: poll
Canadian Press on rdnnewsnow.com
Aug 23, 2023:
– Halifax councillors hope to make Tantallon wildfire 'a catalyst for change
Zane Woodford in the Halifax Examiner (subscription required; intro. in Morning File)
Aug 10, 2023:
Historical Fire Regimes and Recent Wildfire Trends in Canada and Nova Scotia
YpuTube Webinar on MTRI channel
The 2023 fire season in Canada has drawn widespread attention due to the exceptional area burned and the number of people affected. Our Summer Seminar with Ellen Whitman, Forest Fire Research Scientist at Natural Resources Canada, on Aug. 10, 7-8 p.m. will help viewers contextualize this year with an understanding of historical fire activity and the natural role wildfires play in our forests, both nationally and provincially. We will conclude by discussing how modern climate change and fire suppression have contributed to recent and ongoing changes to Canadian fire activity and the associated ecological impacts of shifting fire regimes.
July 31, 2023:
Swedish study shows secondary forests more sensitive to drought than primary forests
by Lund University in phys.org
July 25, 2023:
– Climate change: Correlation between wildfires, flooding in Nova Scotia
By Hina Alam The Canadian Press in the Toronto Star "The fingerprints of climate change are all over the supercharged weather witnessed this year in Nova Scotia — and the rest of the country — from raging wildfires to devastating flooding."
– Commercial building codes lack strong wildfire-management provisions, indoor air quality controls, says expert
M Lewis for Globe & Mail
July 18, 2023:
What's happening to the many trees charred by the N.S. wildfire?
Heidi Petracek for CTV News. Charred wood can still be sawed and helps pay for clearn-up
July, 6, 2023:
Biodiversity, better forest management key to combat wildfire: experts
Cindy Tran for Edmonton Journal. "Old forests and mature forests are actually more resilient to wildfires than younger forests."
July 4, 2023:
One extreme to the next: June completely erased Nova Scotia's rain deficits of early spring
Ryan Snoddon · CBC News "April and May of this year were unusually dry, compared to the 30-year average…[but since June 1] Rainfall totals are way up in most areas of Nova Scotia, compared to the 30-year average."
July 3, 2023:
As California fire season begins, debate over wildfire retardant heats up
By Hayley Smith Los Angeles Times (Also used in Canada)
June 29, 2023:
'It burns wild and free up there': Canada fires force US crews to shift strategy
By Gabrielle Canon& Leyland Cecco in The Guardian/ Pertinent to NS as our recently out-of-control fires occurred in areas of significant settlement (as in much of the US area where there are regular wildfires), versus many wildfires in Canada which are in very remote areas and are allowed to burn,"While there's been a slow shift to bring healthy fires back to the forests – experts have criticized US agencies with causing more devastation by not letting enough land burn."
June 19, 2023:
Here's how you can help protect your property from wildfire, say safety experts
ances Willick · CBC News
June 17, 2023:
Wildfire in southern N.S. occurred amid some of driest recorded conditions: scientist
Michael Tutton for The Canadian Press, in the Penticton Herald "Driest woods since 1944 key to N.S. wildfire" Article cites AR Taylor on recent stats, climate warming; and Donna Crossland on historical forests fires
June 15, 2023:
Are forest fires in Canada becoming more frequent and larger – or not?
An op-ed type of article in the Financial Post by Prof Ross McKitrick (University of Guelph and the Fraser Institute) has ellicted some critical discussion of fire stats around the issue of whether forest fires are becoming more frequent, larger — or not. I will try to keep track of this important debate – See http://versicolor.ca/nstriad/hrm-forest-fire/on-cndn-forest-fire-stats/
June 12, 2023:
– Retired Halifax firefighter Paul Irving says he urged that the FireSmart program be adopted in 2004, but was ignored
Jennifer henderson in the Halifax Examiner
– Is Eastern Canada doomed to follow the West into harsher wildfire seasons?
Matthew McLearn in https://www.theglobeandmail.com/
– Over 1% of Canada's forests burned the past few weeks, officials say aging trees big factor
ByMo Fahim in www.mymuskokanow.com/
– The NS wildfires are not 'natural' disasters: climate change, forest management, and human folly are all to blame
Joan Baxter in the Halifax Examiner
– N.S. government must help communities prepare for more wildfires: climate experts
By Michael TuttonThe Canadian Press/Toronto Star
June 11. 2023:
139 firefighters from Canada, U.S. battling Nova Scotia's Barrington Lake blaze
The Canadian Press/CTV Atlantic News. "..The Barrington Lake fire in Shelburne County has grown to about 235 square kilometres since it first broke out on May 27. Provincial officials say it remains out of control, but it has stopped spreading."
June 9, 2023:
In the wake of wildfires, forests' ability to trap carbon 'goes up in smoke'
Doug Johnson for the Weather network. Interview with Werner Kurz, a senior research scientist with the Canadian Forest Service. Useful Link in article: CCA nature Based Climate Solutions: Forests
June 8, 2023:
Nova Scotia's fiery past — and potential future — with an environmental advocate (audio)
CBC Mainstreet "Donna Crossland started her career researching the history of fire in the Kouchibouguac National Park in New Brunswick. Now the vice-president of Nature Nova Scotia, Crossland has written an essay called "Nova Scotia's Fiery Past." She spoke with Mainstreet's Alex Mason about that history, and what we can learn from it."
Related:
– Essay: Nova Scotia's Fiery Past
– Ecologist's perspective on the Keji-area fires (Post on nsforestnotes.ca, Aug 17, 2016).
June 7, 2023:
– Canada marks Clean Air Day with worst air quality in the world, as feds consider disaster response agency
By Mia Rabson Canadian Press in CTV News
– From British Columbia to Nova Scotia, Wildfires Spread Across Canada
By Dan Bilefsky and Vjosa Isai in the NY Times June 7, 2023 "In a country known for its picturesque landscapes and orderliness, the out-of-control wildfires have stoked unease and underlined the perils of global warming…Until now, he said, many on the east coast had not been exposed, firsthand, to the health risks of air pollution caused by wildfires that have gripped the western provinces over recent years. "There's essentially a disconnect," he said. "They haven't had this experience." Comment: This not completely correct. I remember, admittedly prob 40 yrs ago, when we had an extended period of grey skies and smokey air from forest fires in Quebec. More frequently and according to atmospheric conditions, the air is that of the industrial heartland of US & Canada; we are the tail pipe.
June 6, 2023:
– Update on Wildfires, June 6
NS Gov. "The Barrington Lake wildfire in Shelburne County is still out of control. In total, there are five active wildfires in the province today, June 6"
– Fire update and emergency alerts
Tim Bousquet in MorningFile (Halifax Examiner)."Firefighting efforts in Nova Scotia have been greatly helped by a change in the weather — more than 90 millimetres of rain fell on the southwest part of the province Sunday and Monday, with some areas receiving 120 millimetres… worry is about alert fatigue"
June 5, 2023:
– Wildfire risk for most of Nova Scotia expected to remain unusually high this summer
Skye Bryden-Blom Global News. ""There are just places we shouldn't be putting housing," says assistant Dalhousie professor Alana Westwood. "There are certain kinds of forest ecosystems that are literally meant to burn, for example, ecosystems that are dominated by species called Jack Pine, their cones are opened by fire."
June 3, 2023:
– Rain brings much-needed relief to firefighters battling Nova Scotia wildfires
By The Associated Press on npr.org
June 2, 2023:
– Urban sprawl on wooded lands presents unique challenges when fires spread: experts
Hina Alam The Canadian Press. "Halifax blaze shows complexity of urban wildfires"
– About that rain in the forecast…
By Kyle Shaw in the Coast.  "Nova Scotia needs wet weather to fight wildfires, and to catch up after a historically dry spring."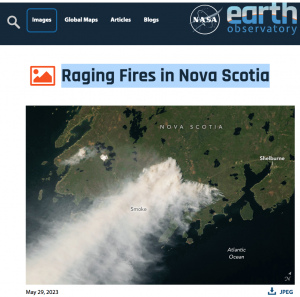 June 1, 2023:
– Tantallon wildfire 50% contained; new fire in Shelburne County, while others out of control
Suzanne Rent and Tim Bousquet in Halifax Examiner Morning File. A set of items about the fire situation in NS.
May 30, 2023:
– How climate change is fuelling fires in Eastern Canada
By Cloe Logan in the National Observer.
– A timeline of the Upper Tantallon wildfire
In The Coast
May 29, 2023:
– Raging Fires in Nova Scotia
NASA Earth Observatory.Amazing Satellite Imagery
– Forestry expert discusses wildfire situation in the Maritimes
Global News.
May 28, 2023:
– Tracking forest fires across Nova Scotia
CTV News. "Hot, dry and windy conditions on Sunday helped cause a series of wildfires in Atlantic Canada, with at least 10 reported in Nova Scotia…So far, Nova Scotia has reported 176 wildfires this season, compared to 70 at this time in 2022"