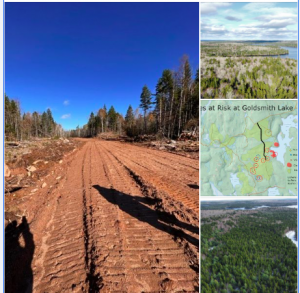 Nina Newington, writing on Extinction Rebellion Mi'kma'ki / Nova Scotia (public FB group), Mar 9, 2023:
"Citizen scientists working to protect the forest around Goldsmith Lake got some good news last week and some excellent media coverage this week: thanks to the 17 (and counting) Species at Risk they have identified in the area, Natural Resources and Renewables has put on hold harvesting in all the cutblocks touched by the SAR. NRR's Resource Manager for the Western Region noted that, with the discovery of multiple occurrences like this, the response would go beyond just adding individual buffers, saying the department would look for 'alternative avenues' to steward the area.
"So isn't it terrible that WestFor put in that obscenely wide roadway through what had been intact forest? A roadway that cuts through the 100m buffer zones supposed to protect three Frosted Glass-whiskers lichen occurrences.
"Of course it was NRR that gave WestFor the go-ahead to make the road (even if they didn't envisage WestFor clearcutting 6 hectares while they were at it.) But how was NRR to know? Nobody told them about rare lichens till after the damage was done. That seems to be the gist of Minister Rushton's email response to questions from the Chronicle Herald. Francis Campbell writes:
'The department confirmed in an email that harvests in blocks around Goldsmith Lake were approved in May and June 2022 after having gone through the entire review process.

Areas of old-growth forest were removed from the approval during this process," the department states. "Also as part of this process, the blocks were posted to the Harvest Plan Map Viewer where people have opportunity to contribute local area knowledge.

"The logging road was cut out in June/July and completed in October. Months after the whole process concluded and approvals were issued, new information was reported to the department in November. We put the harvest on hold at that time and directed WestFor to engage a lichenologist to survey the area in question. When they confirmed some areas with the lichen, these pieces of land were removed from the approval.'
Source: Lichen again puts Crown land tree harvesting plan on hold in Annapolis County
Francis Campbell on saltwire.com, March 7, 2023
"The process for reviewing harvest plans for approval is supposed to include government biologists identifying possible impacts on Species at Risk. Once again, just as at Last Hope, those biologists failed to flag SAR concerns in any of the cutblocks now on hold.
"At least, after the embarrassment NRR suffered at Beals Brook, their spokesperson had the good grace to publicly acknowledge that NRR's process for identifying SAR habitat is flawed. He even floated the idea of training citizens to help identify those habitats.
"This time around the minister points to the fact that "the blocks were posted to the Harvest Plan Map Viewer where people have opportunity to contribute local area knowledge." The implication is that nobody did and so the approvals were issued and the road work went ahead.
"In reality, several people did submit comments through the HPMV before the April 23rd deadline on the different harvest plans proposed for Goldsmith Lake. Here's the one Nina Newington sent in on April 8, 2022 for cutblock AP021213G:
'While Single Tree Selection is an acceptable prescription for ecological forestry, the scale of this cut at 67.85 ha is excessive when you consider that it adjoins another extensive proposed cut of 78.72 ha (AP 021211D). Worse yet, more cuts are planned in the immediate vicinity. A total of over 260 hectares will be disrupted to varying degrees. This in an area which should not, in fact, be available for any harvesting, however ecological, if we are to meet Lahey's primary recommendation: the protection and enhancement of ecosystem health must be from now on the "overarching priority" in how this province manages its forests. This means that the few remaining areas of intact Wabanaki-Acadian forest left on crown land can no longer be made available for harvesting. The area surrounding Goldsmith Lake and reaching east to Dalhousie Lake must be placed under consideration for protection. Specifically this proposed cutblock on the west side of Goldsmith Lake contains some of the least disrupted mature to old Wabanaki-Acadian forest on the whole north side of the South Mountain. It is a gem. Leave it alone.'
"NRR chose not to listen to this and other comments the public submitted through the one and only avenue they make available. Instead they plowed ahead with their approval, allowing an expensive road to be built into ecologically valuable old forest habitat. There's not enough intact forest left to keep making these kinds of mistakes.
"NRR is taking a step in the right direction by putting a hold on harvesting plans they previously approved. Citizen scientists want to help protect the best of what's left of our severely degraded forests. The government's already made a legislated commitment to protect 20% of Nova Scotia's lands and waters. What's getting in the way? That's a real question. We can't afford business as usual any more."
Some Related News Items
– Halt to logging at Goldsmith Lake a 'huge relief', say citizen scientists
Suzane Rent in the Halifax Examiner. Subscription required for access to full article. Intro to it by Philip Moscovitch in Morning File Mar 7, 2023
– Lichen again puts Crown land tree harvesting plan on hold in Annapolis County
Francis Campbell on saltwire.com, March 7, 2023 Subscription may be required.
– Logging could continue in Annapolis County forest despite identification of species at risk
Paul Palmeter · CBC News, -Nov 28, 2022. The title was changed on Nov 29 to "Logging paused in Annapolis County forest after identification of species at risk". From the updated article: "Late Monday, a provincial spokesperson told CBC News that the harvest plans have been paused in light of the new information. A plan by WestFor to harvest 343 hectares had been approved by the province but the government is now directing WestFor to conduct surveys after new information was reported to the Department of Natural Resources and Renewables, Adele Poirier said in an email to CBC News. WestFor cannot harvest any trees until the province has reviewed the surveys, she added."
'Citizen scientists' call on Houston to freeze all logging around Goldsmith Lake in Annapolis County
Joan Baxter in the Halifax Examiner, Nov 25, 2022.
Some Related Posts on nsforestnotes.ca
iNaturalist keeping an eye on Nova Scotia's forests 21May2019
Posted on nsforestnotes.ca on May 21, 2019 "Citizen science comes of age in NS forests"
Beals Meadow: What it was all about
Nina Newington Post on Extinction Rebellion Mi'kma'ki / Nova Scotia, July 7, 2022, reproduced on nsforestnotes.ca
Nova Scotia's Old Growth Ground Zero: the Corbett Lake Old Hardwood Forest
Posted on nsforestnotes.ca on July 17, 2019 About citizen activities and use of citizen science in efforts to protect the Corbett Lake Old Hardwood Forest.
Also View: Goldsmith Lake Forests on this website