New page, created Nov 9, 2023. To cite NS Gov Docs most pertinent to implementation of the TRIAD (drafting)
High Production Forestry in Nova Scotia: Phase 2 Guidance for Implementation
NS Gov Jan 2023 "One zone of the triad model is the high production forest zone where timber production is the priority to support the forest products sector and provincial economy. This document reviews steps taken to develop government's approach to this zone and outlines key directions for implementation, effective January 17, 2023." The document cites an online high production forestry map.
Silvicultural Guide for the Ecological Matrix (SGEM)
"The Silviculture Guide for the Ecological Matrix (SGEM) outlines the types of forest practices that can be used within matrix areas on Crown lands. The triad model prioritizes biodiversity conservation through lower impact forestry and reduces clearcutting where this guide is applied."
Old-growth Forest Policy
Old-growth forests are now included in the conservation zones. Government has updated the policy that identifies and protects old-growth forests on Crown land. The new policy is incorporated into the harvest management approvals process.
Supporting Research
A review of natural disturbances to inform implementation of
ecological forestry in Nova Scotia, Canada (PDF)
Taylor et al., 2020. Environ. Rev. 28: 387–414 Link is to full, publicly available PDF
Natural disturbance regimes for implementation of ecological
forestry: a review and case study from Nova Scotia, Canada (PDF)
McLean et al., 2021 in Environmental Reviews
—————–
There are more documents, descriptions of projects etc on the governments Ecological Forestry webpage. However, it has not been kept up to date in regard to the status of some of the projects, e.g., the Environmental Assessment project which, apparently, has been dropped – and with it, most of the public transparency/engagement around implementation of the Triad as recommended in the
A review of forestry practices in Nova Scotia (2018) (aka "The Lahey Report" of 2018)
(Also view: Addendum (2018)
On Nov 30, 2021, Prof Lahey released a review of progress on the implementation of his recommendations:
–Independent Evaluation of Implementation of the Forest Practices Report for Nova Scotia (PDF)
– Attachments to the Independent Evaluation of Implementation of the Forest Practices Report for Nova Scotia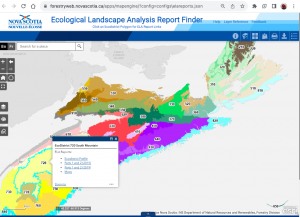 Ecological Landscape Analysis Reports
Interactive map. When you zero in on a Ecodistrict, links to pertinent PDFs are given.