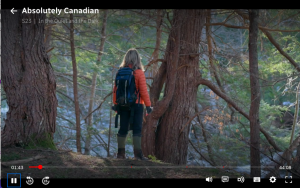 "In The Quiet and The Dark" is a Sea to Sea Production commissioned by CBC, 44 min.  Featured on CBC Television Oct 7, 2023 and available on  CBC Gem. For some background & related interviews, view Morning File (Hfx Examiner) for Sep 19, 2023,  also CBC Mainstreet for Oct 6, 2023   in which CBC's Alex Mason spoke with Nance Ackerman, the film's director.
The documentary presents absolutely wonderful imagery from still-intact hemlock forest in Nova Scotia, and on the flip side, very unsettling  scenes showing "white ghosts" –  hemlock trees completely dead after being infested by HWA (Hemlock Wooly Adelgid).
The film as a whole explores the tensions within individuals and in the ecological/environmental community surrounding the injection of hemlock trees with strong pesticides to prevent HWA infestation. It does so by following forest ecologist Donna Crossland in her quest to save a few vestiges of intact hemlock forest in NS by injecting every tree in selected stands with pesticides.
Donna was a forest ecologist with Kejimkujik National Park when HWA was discovered in southwest Nova Scotia in 2017 and was the first HWA Project Coordinator for Keji Park. She became quite frustrated, as she puts it, by the irony of coordinating a project called "Slow the Spread" but then not being able to  do anything to actually slow the spread.
As it turned out, Donna had to leave her position and then leapt at an opportunity get involved in an initiative to 'Save Sporting Lake', the site of a pristine hemlock stand.  Donna had the key skills needed to carry out such a venture; for her it would be a way to rebuild her "broken soul".
I think the film manages very effectively to convey a feeling of what it's like to actually walk in these forests for those who haven't done so,  and  the pain of losing opportunities to do just that in future.  It conveys the emotional basis of Donna's motivation to "do something".  They are the emotions of probably most people who have a connection to hemlocks, which include the film's director, Nance Ackerman, as she explains in a CBC interview.
MY NOTES FROM THE FILM
I found that the more I went back to the film, the more I wanted to do so again and again. It's stimulating, concerning, relaxing and celebratory at the same time.  I made some notes to reinforce my absorption of it all, the direct messages and the indirect.  Hopefully these notes can be helpful to others, e.g., to give one an idea of what's in it ahead of time/entice one to look at – and experience – the video, and to make it easier to find and re-visit  particular scenes. I do a lot of paraphrasing so don't take anything in the notes verbatim.
1:02:  DC (Donna Crossland) in Hemlock stand…she talks about hemlock as a "Foundation Tree", the ultimate Mother tree and "like all good mothers, beneath it we feel safe and nurtured"… we are about to lose them all.
2:38: Ovenbird singing, blue-headed vireo… the "language of the forest".
3:18:  When most of the hemlock die in NS, there will be release of carbon stores, flushes of water & flooding, loss of habitat for brook trout and salmon:  we are losing much more than this one single species. A  massive catastrophic disturbance, from Georgia to NS… and not having any legacy trees is just unacceptable, I am not willing to just give up. The humans introduced HWA..we are the first big infestation in Canada…I needed to talk to the researchers, in the U.S.
5:52:  Lab in U.S., with Mark Whitmore, Cornell entomologist. It's a catastrophe in the eastern forests, it started in the 70s in Blue Ridge Mts. He describes how the beetle kills a tree, all adelgids are females, basically all clones each producing 10000 progeny so there is very rapid proliferation. The only approach that works is insecticides, they started using them in 2009, 13 years ago, and the treatments worked.  His jaw drops, he says, that anyone is dragging their feet trying to anything other than treat those trees as fast as possible; he can understand Donna's frustration, 5 years have passed [since we first learned of HWA presence in NS].
8:00:  Donna recounts how she was HWA coordinator at Keji and running one of busiest camp grounds in the national park system. Bureaucratic delays, the pandemic slowed things down – and the pandemic wasn't just killing people, it was killing trees. She had to leave Keji…that's where Sporting Lake came to pass.
10:00:  Sporting Lake, (Oct 2021) George Kovacs, a founder of Hemlock Conservation Nova Scotia, has had a camp amongst hemlocks in Sporting Lake area for 40 year (inference), he connected with arborist Scott Robinson who was planning to inject some trees with pesticide… many hurdles.  People just showed up to help at Sporting Lake in the fall of 2021,  with diverse backgrounds; it became a close group.
11:45: A scene showing them boring last hole, of over 20,000 made to inject pesticide.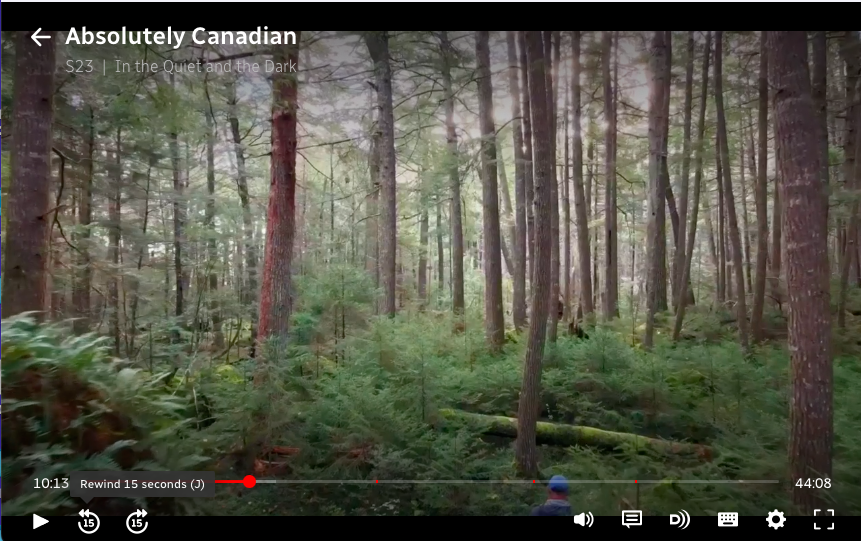 12:20:  Jeff Purdy, Mi'kaq Acadia First Nation Band Councillor, talks about Sporting Lake, he canoed it years ago, flew in with Sally to do a smudging ceremony with the volunteers.
12:53: At Pollards Falls, Kes'pukwik, southwest NS.. spent a lot of time growing up, very spiritual… ancestors walked through this country for 1000s years; start seeing things being destroyed by invasive species, heart-breaking. The first Mi'kmaq to be baptized was buried at Port Royal, but oral history tells us that we dug it up, brought the body back here… 'Talks about the need to protect archeological sites; trees tip over expose sites.
14:30:  Jeff Purdy is with Sally Steele Protected Areas Coordinator, Environment & Climate Change Nova Scotia.…we manage about 13% of the province's lands and waters, with biodiversity loss and climate change, it's a lot to hold, issues are complex and various people we need to bring together all have different personalities, many layers. Jeff Purdy on connections to the past, … so many teachings…trees get uprooted, people look around and artifacts get lost. They walk into a stand largely destroyed by HWA, no new growth…
16:00:  Donna Crossland, on HWA providing a false justification, a green light to race to cut it all. At home, she is finalizing report (spring 2022) ; it's about boots on the ground, moving forward with controlling HWA; how to convince decision makers for NS to implement this, good ideas, not my ideas, but from eastern US, it's what we need to do,
17:00:  Donna welcomes participants in a workshop, there is infestation on over 17,000 hectares.  Matt Miller, Forester and General Manager, Medway Community Forest  describes DC as a pragmatic conservationist, re: use of pesticides to save trees… not a position she has taken lightly. DC shows participants how to recognize initial signs of HWA, personal measures to take to stop its spread.
————–
On the different perspectives amongst scientists in the U.S. in regard to control of  HWA
18:28:  Ron Ellison, Senior Research Fellow in Ecology,  Harvard Forest  people in New England write  poetry about these trees, Eeastern Hemlocks are  inspiring to people  …they are our [Eastern U.S.) magnificent Old Growth trees.
19:05:   We study how forests work,  we are interested in what happens to the forest following the new arrival…we are not interested in saving the forest… HWA just showed up , what will this stand  look like in 30, 500 years. Discusses the different perspectives of "invasive species". He argues for an alternative to control, simply to understand [and accept] forests as a process.
21:30:  Arnold Orwig, Senior Forest Ecologist at Harvard Forest; takes tree ring cores. There is  modest growth then sharp decrease; he advocates to protect Eastern Hemlock in some parts of the landscape; we can and should.
22.27:  Donna Crossland I think it is valid to save a fraction of 1% of our hemlock forests in NS… it's a stop-gap measure, duck tape on a hole in the canoe.  There are biocontrols the do work, in discussion with Sally Steele.. Sally:  I'm from Australia and well aware of the risks of bio-control… we have learned a lot over the past 3 decades…we will make sure that if we introduce a species to control HWA it will not have other cascading effects on the ecosystem.
23;28:  Mark Whitmore, Cornell entomologist. The long term solution without a doubt is biological control.  LARICOPius has become established in N.Y. State, eating a lot of adelgids, hope it's part of solution
 24:00:  Donna,  But if all the trees die within just a few years, there is  not enough time for sthe ystem to adapt, she worries about quicklytrees are  dealing in Keji.
24:15:  Andy Sharp, NS Manager for Resource Conservation, Parks Canada  Eastern Hemlock is the iconic Tree species for Keji  first ifdentified in Keji in  2018, we have a legal and moral responsibility to consult with mi'kmaw… they wanted to know how would treating trees affect traditional  activities,  berries,  roots for medicine etc.  took time; it took a lot meetings  to decide what, where, how; last fall over 1000 trees were  injected. It's a  large park, much inaccessible, we can treat only a tiny fraction.
26:17:  Jeff Purdy, this is  part of reconciliation, nice to see happening, other government agencies still don't understand. Donna, Sally are two of my Go-To people.. 'Still have elders dead against it [pesticides];  discusses issue with Donna.  – I  can understand, this is very different [from typical pesticide use]. 'involves small targeted amounts…
27:31:   Jeff Purdy with 2000 yrs old artifact, arrowhead, diff ones, styles changed, evolved. After discussions with Sally.. there are other significant sites that need to be protected.. other "assignments" for Donna and Sally. 
28:40:  Snowshoe Lake…go to find Eastern Hemlock stand pre-European age.     Donna: Spruce and Hemlock  on nurse log, "Oh no, it is HWA"  On this tiny seedling, one egg sac is already present; it's in the oldest stand we know of in Annapolis Co., some 450 yrs old or older. Seedling 2-3 yrs old has no future;  probably HWA is up there [in the canopy], somewhere. Snowshoe Lake  area will never look as nice as it does this evening, ever… but we  'just have to keep going'.
30:53:  Sophie Borcoman, Visitor Experience Manager,  Kejimkujik National Park… There have been generations of campers, a beloved place. Visitors are reeling from news of threat to Hemlock, "Anticipatory Grief",  what it means for them, family experiences…   This summer they held "healing hemlock hikes", an opportunity to create space for visitors to witness hemlocks…but also to  recognize forest will changes…
32:20:  Donna Crossland: Sally is our saving light in government, she's the one with the big heart and vision. Sally:  I am such a geek for poetry, they are a kind of  doorway… Go into the woods and tell your story to the trees… . they will bend down to you and listen (32:40…)
33:31:  In helicopters, bad area with a lot of dead Eastern Hemlock; aerial surveys, grey ghosts now across all of Yarmouth, Digby, Shelburne counties, rapidly moving into Lunenburg Co… it's a race to do our best…'feel like having the kind of hope where you are  not in denial, not blind optimism, nor is it despair… the "tragic gap"…seeing the light and the dark, seeing the decline and seeing that we can make a difference and save some of the really important stands.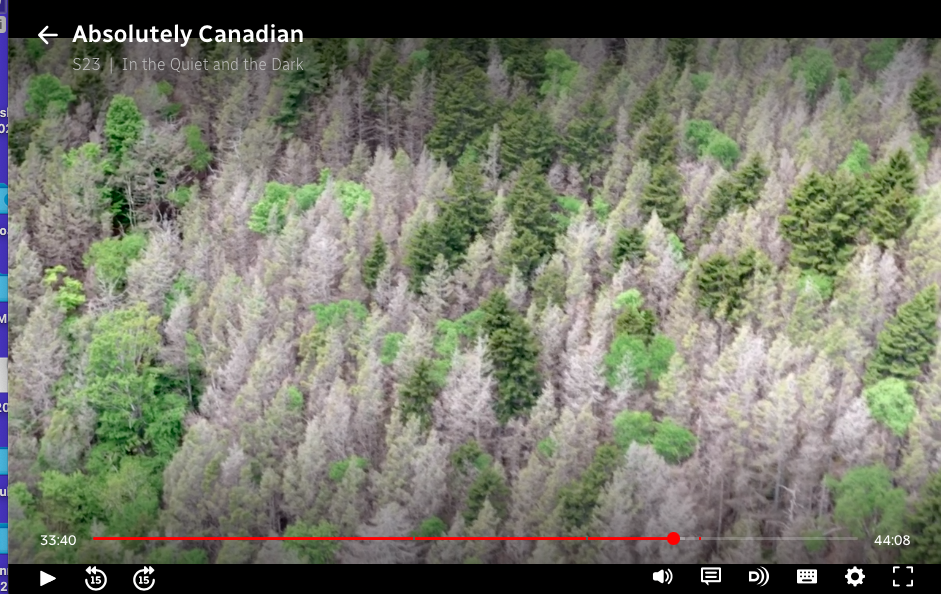 35:02: Donna Crossland, I needed to get back to Sporting Lake  to evaluate the the chemical treatments;  canoeing, odd sound- "there are moose back here"; a drone follows from the air. They arrive at the site, "almost everyone uses the word magic when they refer to Sporting Lake", it was like going home.
37:28: Donna stepped onto usual spot where we were treating trees, go deeper into forest, it's still green.  Some new growth, it actually looks better this year, wow… she  inspects and sees dead cistens*** of HWA; it's  a good news story.  HWA settled and then died. Last year, I was sitting here feeling so good and then happened to look at branches and saw HWA,  I  felt so sad, But there is hope now that our treatment from last year may have worked. 
40:06: It was all worth it, Donna is sharing  federal announcement that up to $10M is being made available to fight HWA. At a meeting,  Sally: we need to build a robust program, 'wish we acted sooner sally, but we have to keep on going.  Donna was one of the people who was key in training staff, volunteers to treat the trees, to be able to actually do something tangible on the ground;  exciting (Sally)…Donna lit a fire under all of us, she gave me a sense of hope and agency that we all need. 
Donna: Calls a barred owl… we are just trying to let nature catch up. We chucked these stones at her and we have to give her a chance to heal…
Printed  messages at end of film
"As of the completion of the film, 5600 trees (162 hectares) have been treated in Nova Scotia and will remain on the landscape"
"There are still 32,400 hectares of infested hemlock forest remaining in Nova Scotia. The number continues to grow at an alarming rate."
" Written and directed by Nance Ackerman"