See also:
– Presumptive Stony Coral Tissue Loss Disease on Vauxhall Reef & Environs (Barbados)
– Reports to AGRRA
—————
In 2023, most of my observations are conducted within walking/snorkelling distance of the Sunset Crest area in Holetown, Barbados, and are thereby concentrated in the Folkestone Marine Protected Area.
As a simple survey method to track the development of SCTLD  over time in the Vauxhall Reef area (and beyond as poss.)  I have been recording every OIC ("Obviously Infected Coral" ) that I observe on snorkelling tracks over  the reefs, each record consisting of at least one photo of each OIC. As well I take a "smattering" of photos of  disease-free corals. The field of observation is approx. 2.5-3 m on each side of the track (and I try restrict it to that, not to change the track because I see an infected coral say 10 m away). Locations along a track are given by GPS coordinates on my Olympus Tough TG6 camera in photos taken with the camera above-water & facing the shore. On some days I use a SeaLife Micro 3.0 camera which does not have a GPS sensor; then I also take photos facing the shore periodically, &
others as appropriate and  I  make a "visual estimate" of the location on Google Earth, taking into account as well, bottom details revealed in the Google Earth Images and my  knowledge/records of reef zones (Lewis, 1960) and how they relate to details in the Google Earth Images.
Obviously such methods will allow only large changes in frequency of infected corals to be detected. Changes in the species composition of affected corals over time could be especially  informative and less sensitive to poor location info. As of Jan. 31,  I have conducted about a dozen such surveys, 'trying now to work out a not-too-onerous way of processing  the data.
Five sets of Photos as Google Photo Albums:
1. Vauxhall Reef  Diseased Coral Survey Jan 29, 2023
On Google Photos (still editing descriptions of individual photos – d.p. Feb 7, 2023)
Healthy & Diseased Corals on Vauxhall Reef, Barbados Jan 29, 2023
– Pos 1 to Pos 4
– Pos 5 to Pos 9
– Pos 10 to Pos 12
– Pos 13 to Pos 16
– Pos 17 to Pos 19
– Pos 20 to Pos 25
– Pos 26 to end
Photos in the albums above are presented sequentially along the track and the positions of each photo designated as 1a, 1b…2, 2a, 2b etc.
2 Heywoods Jan 31, 2023
This site is just north of Speightstown, about 7 km north of  Vauxhall Reef and the MPA.
3. Healthy & Diseased Corals on Barbados Breakwater 15Feb2023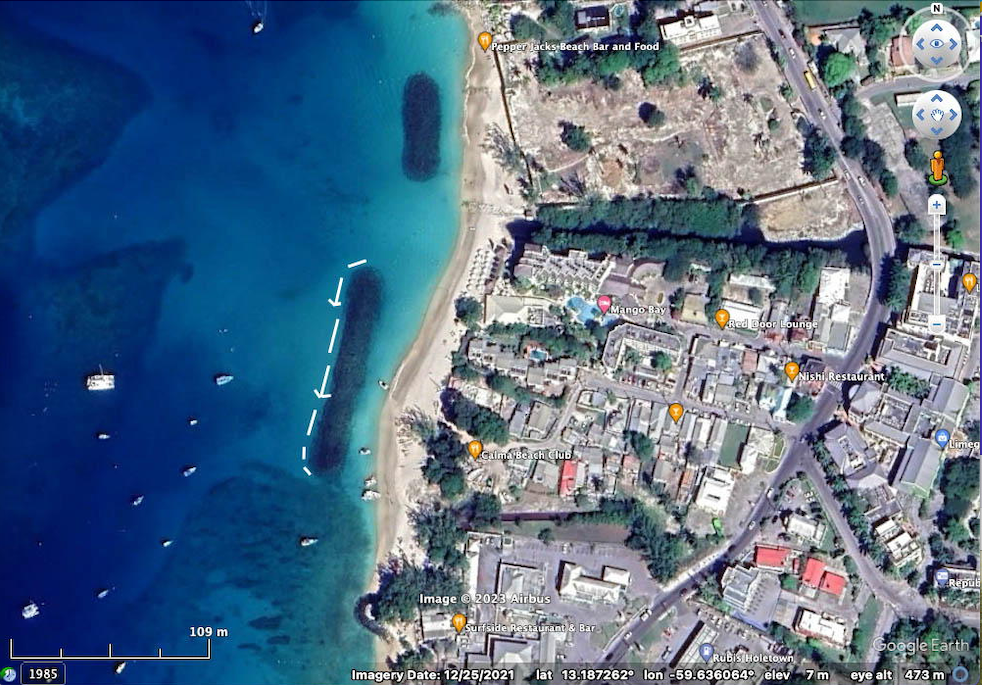 Google Photo Album. 70 photos. "Breakwater is on the west coast of Barbados. I started at the north end, and photographed every "Obviously Diseased Coral" on the seaward side; many frames illustrate the relative abundance of healthy and diseased corals. It is hoped this set of photographs will help experts to determine whether the outbreaks of disease we are seeing on the west coast of Barbados are WPD (White Plague Disease) or Stony Coral Tissue Loss Disease." Most of the corals appear to be P. strigosa and D. clivosa. Most of the diseased corals appear to be P. strigosa
4.Healthy & Diseased Corals Jan 15 & Feb24, 2023 comparisons on 'The Wreck', Vauxhall Reef, Barbados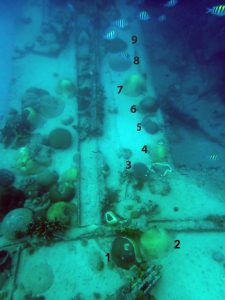 View from landward edge of 'The Wreck', south east corner. The corals in the comparison sequence (Jan 15 and Feb 24, 2023) are those on the right with numbers. Photos continue as I progressed seaward after No. 9 on Feb 24… So depiected are all corals in area 1 to 9 on both dates; and beyond area 9, on Feb 24 only to roughly 3/4 of the length of the wreck. Fish were actively feeding on the advancing margins of the diseased areas of individual corals. The Wreck is very popular with snorkelling boats. It appeared back in mid- January when I first went to the area in 2023, to have the highest density of diseased corals in the area. Some Labelling of individual photos to follow.  View Album (posted feb 25, 2023)
For more comparisons on other areas of 'The Wreck' over approx. the same interval, see AGRRA Report #15 and AGRRA Report #17
5. Presumptive SCTLD on Mountainous Star Coral (O. annularis) on Vauxhall Reef in Barbados March 28, 2023 
Only a few weeks back there were only a few, quite limited (area-wise) sites where one could see possible signs of infection of O. annularis by SCTLD or by WPD on the Vauxhall Reef. Conditions were excellent for viewing on Mar 28, 2023 and I looked for possible infection of O. annularis over a wide sweep of the reef and saw fairly advanced infection at about a dozen sites altogether, going from the Reef Front & border with the Deep Water Communities, across the seaward slope and up to the shallowest part of the Reef Crest Zone (zones as described by Lewis 1960).  View complete set of Photos in Google Album.