Photos & Photo-Reports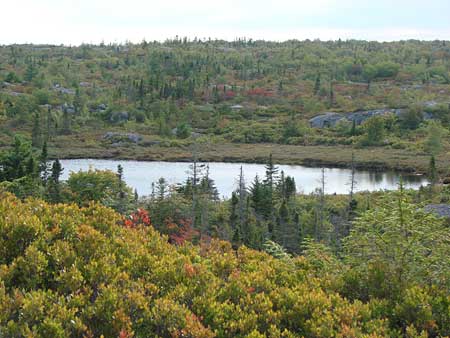 Bog & pond viewed from the trail between loops 1 and 2 of the Bluff Trail, Sep. 22, 2008.
Please submit links to sets of photos and photo-reports dealing with the Woodens River Watershed, The Bluff Trial and The Five Bridge Lakes Wilderness Area e.g., posted on Flickr, and we will list those here. Photo-Reports are illustrated trip reports or commentaries. Shorter photo sets or photo-reports may also be submitted directly to wrweo@yahoo.ca.
Ben Armstrong
BLUFF WILDERNESS TRAIL HIKE, SUMMER 2014

Ben's Solo Hike
Ben Feltmate's solo hike on
The Bluff Trail in June of 2013
Photos and Letter

Photos from Hike with Michael Haynes,
contributed by Barbara Klass
On November 4th, 2012 upwards of 65 people joined in this hike.
See
photos
Photo links contributed by Paul Berry
Posted on
Picasa

Canoe Trip into the Hay Marsh Loop of the Bluff Trail
In this
Photo-Report
, Jim Cowardine comments on the challenges and pleasures of an outing on The Bluff Trail on May 24th, 2010. A disappointment: garbage left at one site by previous visitors. (WRWEO promotes
leave-no-trace
techniques of wilderness travel.)
Photo links contributed by Barry Perrault
Posted on
www.webshots.com/
Photo links contributed by David Patriquin
flickr.com
: