Aquatic Habitat & Water Quality
Concerned or just interested in these issues?
Please consider joining the
Aquatic Habitat & Water Quality Committee
.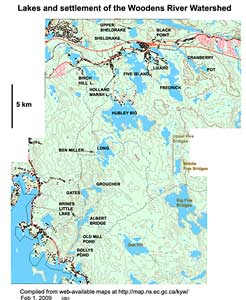 The Woodens River Watershed encompasses a set of 19 lakes draining into St. Margaret's Bay and includes many small to medium-sized wetlands. Many of the lakes and streams remain relatively pristine at this time and support brook trout populations. Some of those closer to the sea support alewife and American eel. Residents and visitors alike value these watercourses and wetlands and wish to preserve their natural beauty and health for future generations of humans and other species.

Challenges
Unfortunately, this heritage is under various kinds of environmental stresses, e.g. associated with:
Existing settlement and roads in critical areas of the watersheds
Ongoing development pressure
Logging
Acid rain
Climate change
Recreational activities
Read more about some of the challenges in CWC Report 8 on Aquatic Habitat & Water Quality in the Chebucto Wilderness (Five Bridge Lakes Wilderness Area)
The Woodens River watershed but not other watersheds in the area was subjected to a severe stress of some sort in 1989-90, when there was a sudden and precipitous decline in the early mayfly hatch. It remains unexplained and mayflies have not recovered since to their glory days (nor have the trout), although there have been sporadic reports of some recovery.


Working towards solutions
On the positive side, much of the watershed is crown land. Further a lot of the private land is not developed or minimally developed and is in a close-to-pristine (wilderness) state as owners value these areas for wilderness recreational activities. WRWEO's main reason for existence is protection of the watershed. Some of our major activities have involved:
Creation of The Bluff Trail to introduce people to a portion of the wilderness area in a "Tread Lightly" context"
Seeking Wilderness Protection status for all public (crown) land on the Chebucto Peninsula between the boundaries of Highways 103 and 333 (the Five Bridge Lakes Wilderness Area)
Construction of the first lake aeration facility in Nova Scotia
Monitoring of limnological variables
These are ongoing activities and we are working towards a long term watershed management plan.
Nova Scotia Watershed Assessment Atlas released

Dalhousie University's Hydrology Research Group launched the first Nova Scotia Watershed Atlas and geo-database in April, 2014. Created in collaboration with Nova Scotia Environment (NSE), the atlas provides the first high-level assessment of the health and stressors of watersheds in Nova Scotia. Read more. Go to http://www.sterlinglab.ca/ to download the Atlas and database. The Woodens River Watershed is watershed No. 64 in the atlas.


Compiliation of relevent studies and literature
Look under the tabs at top right for annotated links to documents and websites that provide information about the Woodens River system and its fish populations or click on a link below:
If you know of appropriate documents that are not listed, please forward them (or the links) to us.
We can scan print documents and return the originals. Also, please forward even casual observations about the Woodens system, e.g., to do with algal blooms, mayfly hatch, disturbances, pollutants, interesting nature observations etc. Send materials to wreow@yahoo.ca.
| | |
| --- | --- |
| Bob Chambers demonstrates water sampling device, 2010 | We have been especially fortunate to have the volunteer services of Bob Chambers over the last decade. He has conducted careful, extensive and intensive monitoring of key limnological variables on a number of lakes in the Woodens River Watershed. His reports are available under the Water Quality and Sheldrake Lake tabs. |