This website offers detailed, referenced information on the biology, monitoring and control of chinch bug, and links to complementary resources on the web. The emphasis is on adoption of cultural practices which reduce the incidence of pests and diseases generally as well as demands for fertilizer and water and which are worthwhile adopting regardless of chinch bug problems. Sections on Acute Controls and Permitted Materials explain some of the issues involved in identifying alternatives to pesticides to treat existing pest infestations.
1. Quick Links & Current Issues

HRM's Pesticide By-Law & Sustainable Gardening & Landscape Maintenance
About the Halifax Regional Municipality Pesticide By-law: what can and can't be used, how to report violations, overview reports etc.

Non-Essential Pesticides Ban for Nova Scotia New regulations restricting use of many pesticides on lawns and ornamentals province-wide were passed by the Nova Scotia legislature in 2010. A list of allowable pesticides - similar to HRM's Administrative Order 23 Materials List - specifies what can be used. The sale and use of pesticides not on the list will be prohibited on lawns as of April 1, 2011. The legislation will extend to ornamental shrubs, flowers and trees on April 1, 2012. But we still need the HRM By-law!
See RATE

Organic Lawn Care 101 (http://www.organiclawncare101.com/). A good source to consult for the whole range of organic lawn care practices, also for alternatives to grass.

Pesticide Free? Oui! Pesticide Free? Oui!An Analysis by the David Szuki Foundation of Quebec's Pesticides Management Code and Recommendations for Effective Provincial Policy.

Reading Pesticide Labels
Examples from pesticide products on store shelves in HRM.




CHINCH NOW
A Quick Guide to diagnosing a chinch bug problem, and how to deal with it.

Pyrethrins and Neem Oil for Control of Chinch Bug They are allowed under most pesticide bylaws and are being used to control chinch bug in communities with pesticide by-laws. Regardless,

pyrethrins pose significant heath hazards and both materials (neem and pyrethrins) are highly toxic to honeybees and to aquatic invertebrates and fish.



Other Pests
Dying grass could be due to other pests and diseases.
See also Got Pests? (Maine Board of Pesticides Control) for dealing with pests in the home, trees and shrubs, fruit, vegetables as well as turf.

The Clover Option
Clover lawns are trendy and solve many lawn problems. Spring and late summer are the best times to overseed clover into a lawn.

Endophytic Grasses for Turf
Are they the answer to controlling pests? Not yet.

Consider using a Reel (manual) mower and/or a Scythe It's easier than you think - and good for the environment! The Scythe is the oldest and most environmentally friendly grass-cutting tool.

Comments on the PMRA's Harmonization Proposal

(Posted Sep. 13, '07)



Legality of Using Soap to Control Chinch Bug
The PMRA says NO to Insecticidal Soap, 'maybe' to household soap.

Defining what's legal under the Pesticide By-Law A proposal to replace Administrative Order No. 23 by direct reference to a professionally maintained 3rd party list.


2. Purpose of the Web Site
In recent years, many communities in Canada have encouraged reductions in use of pesticides for cosmetic purposes and some have passed legislation to eliminate their use in lawns and gardens. The town of Hudson, Quebec, adopted such legislation in 1991. HRM (Halifax Regional Municipality) was the first large municipality to do so, introducing its Pesticide By-law in 2000.

The HRM Pesticide By-law was phased in gradually and 2003 was the first year that it applied to all residential properties. There was one major problem: in both 2003 and 2004, a large number of permits for use of diazinon and Sevin (carbaryl) for control of chinch bug were issued under a notwithstanding clause.

Pesticides are at best only a short term solution to a chinch bug problem. The chinch bug is not a dangerous, exotic pest which must be exterminated before it spreads. Rather, it is a normal member of the insect fauna of lawns and grasslands. It is the cultural conditions of the lawn that cause outbreaks of chinch bug and damage to the lawn. In fact, chinch bug was not known as a significant lawn pest in Canada until the 1970s

[C1]

and its ascent coincided with the intensification of fertilizer and pesticide use on lawns.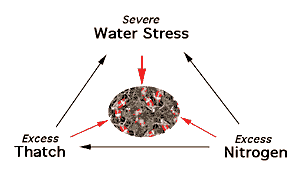 The major factors that make lawns susceptible to chinch bug attack are severe water stress, excess thatch and excess nitrogen. Sustainable, pesticide-free control of chinch involves managing these cultural conditions to improve grass health and resistance to chinch bug (and other pests).

Thus, truly sustainable solutions to the chinch problem are ones that address the cultural conditions. Changing the cultural conditions to foster a more ecologically self-sustaining system will, as well, reduce the incidence of all pests and diseases and the demands for fertilizer and water.

The prime purpose of this website, set up in April of 2004, is to outline some options for control of chinch bug (and other lawn pests) in HRM by cultural methods and provide links to complementary resources on the web. By doing so, it is hoped this site will
help residents identify practices they might apply or ask lawncare companies to apply to prevent or control chinch bug (and other pests) without using pesticides;


heighten the awareness of lawncare professionals of the many options and services that they can employ, other than pesticides, for control of chinch bug;


encourage a move towards adoption of more ecologically based cultural practices as a way of reducing all pest problems in lawns and the demands for fertilizer and water;


bolster the support of the Pesticide By-law by municipal council and residents of HRM;


help to make a case for changing building codes to require a higher quality of lawn construction in new developments.
The intent of the HRM Pesticide By-Law is to eliminate cosmetic uses of pesticides in the yard and garden and on public properties. In practice that is achieved by encouraging cultural controls of pests such as those we are advocating for control of chinch bug and, when pesticidal materials may need to be used (e.g. during the transition to more effective cultural controls), restricting those to a set of 'permitted materials' (also referred to as 'permissible pesticides' or 'alternative materials'). In the section on Permitted Materials on this web site, how such materials are defined is explained and related resources on the web are highlighted. It is hoped this will
help individuals to make informed choices in the selection of 'alternative materials' for control of pests.
Generally it will not be possible to answer individual queries such as where to find particular types of products or how to carry out a particular practice. Residents are encouraged to direct such questions to personnel in their local garden supply stores and landscaping companies, HRM and Clean Nova Scotia (the agency administering the Pesticide Permit process in 2009). Landscaping companies can supply most, if not all, of the services outlined in the guidelines for control of chinch bug.


3. Layout of the Web Site
The website has 9 sections plus the CHINCH NOW page, which provides a quick overview for someone dealing with an immediate chinch bug problem.

Use the navigation links at the top and bottom of pages, or the frames version (accessible just below the contents list for each page), to navigate between sections.


Sect.
No.
Section Title
Link
I
HOME PAGE
This page

Page in Frames
II
BIOLOGY
The life cycle of chinch bug, how to recognize chinch bug and damage by chinch bug,
See Page

Page in Frames
III
MONITORING CHINCH BUG
Methods used to monitor chinch bug so that developing infestations can be nipped in the bud.
See Page

Page in Frames
IV
FACTORS AFFECTING CHINCH BUG POPULATIONS AND TURF DAMAGE
Chinch bug is a normal component of the insect fauna of lawns, but in most lawns does not do noticeable damage; this section looks into what causes chinch to get out of control and damage the lawn.
See Page

Page in Frames
V
PERMITTED MATERIALS
The material inputs that can be used for control of pests in HRM under the Pesticide By-law are defined by Administrative Order No. 23. This section explains the concept of a Permitted Materials List and cross references the List in Administrative Order No. 23 with that in the CGSB Organic Standard (and OMRI).
See Page

Page in Frames
VI
CONTROL: OVERVIEW
Controls for chinch bug are presented in three sections corresponding to three levels of control. The first (acute controls) consists of short term measures to stop a developing infestation. Higher levels of control are preventative in nature and address the underlying conditions that predispose a lawn to damage by chinch bug.

Overview Page

Page in Frames
ACUTE CONTROLS
These are short term measures to stop a developing chinch outbreak (e.g., by physical removal, use of pesticidal soap or beneficial nematodes); they do little for long term control

See Page

Page in Frames
CULTURAL CONTROLS These involve changing lawn maintenance practices to relieve the lawn conditions that are conducive to chinch bugs without changing the fundamental nature of the lawn, e.g., watering the most drought susceptible areas, mowing higher, reduced nitrogen use.

See Page

Page in Frames
REDESIGN Control by redesign involves more fundamental changes designed to make the system more self-sustaining and pest resistant and may require significant structural and/or aesthetic changes in the lawn system, e.g., introducing clover, adding shade trees, lawn renovation to increase soil depth and quality.
See Page

Page in Frames
VII
PROVISIONAL GUIDELINES
A set of specific measures for getting rid of chinch bug or for preventing it from becoming a problem under different situations in HRM.
See Page

Page in Frames
VIII
PHOTOGRAPHS
Illustrative photographs taken in Halifax Regional Municipality.
See Page

Page in Frames
IX
REFERENCES
The full citations for sources referenced in the text.
See Page

Page in Frames
QG
CHINCH NOW?
A Quick Guide to diagnosing a chinch bug problem, and how to deal with it.
See Page

Page in Frames
A Frames Version is offered to facilitate easy navigation. (See the link just below the Page Contents in the box at the top of this page). To print out a page when using the Frames Version, switch to the No-Frames Version.

Some technical terms are highlighted as links; selecting the link brings up a pop-up window with an explanatory note.

A Links section on each page provides links to complementary materials available on the web.

Sources of factual information are referenced by a letter/number combination inside a square bracket, e.g. [C10]. The full citations are located in Section IX (REFERENCES).
4. Site Development and Feedback
The initial content for this website was compiled and written in late March/early April of 2004 by David Patriquin (Professor of Biology at Dalhousie University, Halifax, Nova Scotia) who also maintains the site. Richard Wetmore, owner of a certified organic landscape business in Woodstock, New Brunswick, and President of the Maritime Certified Organic Growers, contributed an article on certified organic landscaping. Gregor MacAskill contributed background materials related to the Soil and Compost Use Guidelines which he had been involved in developing for Landscape Nova Scotia. Helen Jones of RATE has provided many helpful suggestions and typo corrections.
Feedback and further contributions that will help to improve the site are invited and much appreciated.
Please send feedback to David.Patriquin@dal.ca
A log of major changes is available so that repeat visitors don't need to examine the whole site to figure out what's new on it. (See the 'Update Log' link in the contents box at the top of this page).
5. Use of Materials on this Website
This site has no official status. It was developed as an unsolicited, volunteer effort. It is intended to help citizens make informed choices about their approaches to control of chinch bug (and other pests) but should be only one of several or more sources consulted. Visitors are encouraged to follow up on the sources and links in these pages and to consult other sources of information about chinch bug, pesticides and lawn ecology and maintenance.

Materials on this website, including photographs (except those for which a specific source is acknowledged), may be used for non-profit, educational purposes.

Please cite the source, including
The Title: Control of Chinch Bug Without Pesticides

The URL: www.versicolor.ca/lawns

The date when the site was accessed for
the material being used: e.g. Site visited 12 May 2004
For other uses, please contact David.Patriquin@dal.ca.
6. Links
More About the HRM Pesticide By-law
---