Getting there
You can cycle to the trailhead - we have a bike rack where you can lock your bike while you hike The Bluff Wilderness Hiking Trail. You can cycle up St. Margaret's Bay Road (Highway 3) towards Timberlea/Tantallon. You can stay on the Bay Road until you reach our parking lot (about 14 kms from the Armdale Rotary). You can also travel to the BLT Rails to Trails trailhead by the Coke Plant on Lakeside Park Drive and then ride the BLT Rails to Trail to The Bluff Wilderness Hiking Trail trailhead.
You can also take metro transit bus #21 or #23 (the 23 only runs on weekdays during peak hours). Both buses will leave you in Timberlea, at the end of the line on Forestglen Drive (with the intersection of Fraser Road). The BLT Trail crosses Forestglen right at the bus stop. You can then walk on the BLT Rails to Trails to The Bluff Wilderness Hiking Trail trailhead about 2 kms.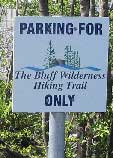 A parking lot for The Bluff Trail has been constructed and is now open to the public. To access the parking lot you go to exit 4 on hwy 103, turn onto the Bay Road (Rt.3) heading back to Halifax, go 2 km to Bay Self-Storage on the right. The Bluff Trail parking lot is immediately afterward. The civic address is #2890. (GPS: 44.666577,-63.762932.)

No trailers are allowed in the parking lot nor is overnight parking permitted.

From the parking lot, walk onto to the BLT trail, and head west approx. 350 meters. The trailhead for The Bluff Trail is on the left shortly after you go through the highway 103 underpass. GPS coordinates for the trail head: 44.666577, -63.762932.
Note that the remote trail loops are all accessible by lakes, such as Cranberry (for 2nd loop), Frederick (for the 2nd and 3rd), and Hubley Big Lake (for the 4th loop). Although it might take 6 hours to reach well into the 4th loop going by foot from the trailhead, going by boat via Hubley Big Lake could cut the time to less than an hour.