David G. Patriquin
Professor of Biology (retired)
Dalhousie University

I went to Dalhousie University in Halifax, Nova Scotia, in 1973 as a marine biologist with interests in nitrogen cycling in coastal systems. My discovery of a novel nitrogen-fixing bacterium associated with saltmarsh cord grass led to an invitation to collaborate with Dr. Johanna Dobereiner at EMBRAPA in Brazil on research into similar associations in tropical grasses including sugarcane.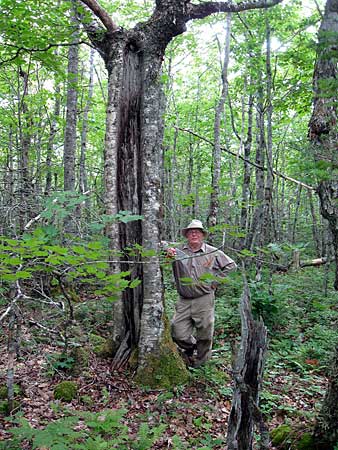 The work of this group stimulated my interest in the potential of organic farming in temperate regions for nitrogen self sufficiency. (In the 1970s, organic farming was generally viewed as suitable for subsistence farming but not for mainstream farming in North America & Europe.) I collaborated with individual farmers and groups of farmers to investigate this topic and in the 1980s became involved in the development of standards for certification of organic farms. In that connection, I acted as a 3rd party certification agent for several organic farming organizations, inspecting farms in the three Maritime provinces and Maine. I also conducted assignments related to organic farming for IDRC (International Development Research Center) in southeast Asia and Africa and collaborated with the CIPAV group in Colombia. In the 1990s, I worked with a local landscaping company in their development of an organic approach, introducing use of white clover as a key lawncare practice. Undergraduate Honors and Graduate students were involved in these activities.

In the late 1990s I began to develop web applications for teaching. In the 2000s, I headed a team that developed and delivered two fully online introductory biology classes, the goal being to facilitate more convenient access to a major introductory level class.

Circa 2004, I began to study the natural history within my bioregion which I arbitrarily defined as the region within 50 km driving distance from downtown Halifax. I retired in 2008. Since then, I have been active in and served on the boards of several natural history and environmental organizations. I am webmaster and writer for nswildflora.ca, halifaxfieldnaturalists.ca, backlandscoalition.ca, the Wildland Writers, Sandy Lake & Environs and I write a blog under the heading Nova Scotia Forest Notes.

In the winters of 2015, 2016 & 2019 I went to Barbados and Carriacou respectively to resurvey seagrass beds I had surveyed in 1969 as part of my PhD research. I am currently writing those up with my Dal colleague Bob Scheibling as co-author.(Bob had also conducted PhD research in the Caribbean in days gone by.) While in Barbados, I conducted some informal research/observations on fringing reefs in Barbados and collaborated with a reef protection group, CORALL Barbados, in the indentification of a site for a coral reef nursery.

I feel very fortunate. From my youth, my dream was to live in Nova Scotia where my family roots lie. Now I have lived most of my life here and our "kids" and grandkids are still sharing the experience. It is also a place I am still just getting to know.
Education
McGill University - Macdonald Campus (1972-1973)
Postdoctoral Fellow Environmental Microbiology
Research on nitrogen fixation and denitrification in the laboratory of Dr. Roger Knowles

McGill University (1967-1971)
PhD, Marine Sciences
Thesis research on nutrient cycling in tropical seagrass beds

McGill University (1964-1967)
MSc, Marine Sciences
Thesis research on population biology of a landlocked population of Atlantic cod on Baffin Island

Bishop's University (1960-1964)
BSc, Biology & Chemistry
During the summers of 1962-1965, I was a crew member/scientific assistant on the M.V.Salvelinus conducting fisheries, benthic and oceanographic surveys along the coast of Beaufort Sea.

Bishop's College School (1952-1960)
McGill Matriculation
As the son of a teacher at BCS, I grew up as a "school brat" on the campus of this private school in the Eastern Townships of Quebec. I only wish we valued public education sufficiently that all of our youth could benefit from an education of this sort.
Web/Social Media
versicolor.ca
Twitter
Nova Scotia Forest Notes (blog, begun June 21, 2016)
Facebook

Interests
Outdoor/experiential education in natural history, wilderness protection, photography, writing & admin for websites.
Award
I was given the Colin Stewart Conservation Award for 2016 by the
Halifax Field Naturalists 2016 and the Environment Stewardship Award from CARP (Canadian Association of Retirees and Pensioners) in 2017.
Publications
PDF doc
Documents on DalSpace
Google Scholar listings

Some Recent Presentations
Dec 3, 2020: In the Water and on the Drumlin by Bedford Lions Club Sandy Lake Beach Park. For Bedford Lions Club.

Nov 3, 2020: From Barrens and Bogs to Gardens. For the Atlantic Rhododendron and Horticultural Society

Dec 6, 2018: Natural History of the Forests and Surface Waters of Sandy Lake (Bedford, NS) & Environs
Presentation to the Sackville Rivers Association

Oct 2, 2018: The Natural History of the Halifax Backlands. For the Seniors College Association of Nova Scotia.

------

The oak drumlins of the Chebucto Peninsula
Talk for the Aethenaeum Society of Nova Scotia, Oct 16, 2017.

Multiaged old growth red oak stand on the Chebucto Peninsula
Co-author: Nick Hill. To Mersey Tobeatic Research Institute Old Forest Science Conservation Conference, Debert, N.S. Oct 19-21, 2016. Slide presentation (On dalspace)

Life on a rocky shore
Talk and Field Trip for Young Naturalists Club, Halifax, Sep. 19 & 27, 2015.

A Rare, Fire-Dependent Pine Barrens at the Wildland-Urban Interface of Halifax, Nova Scotia
N. Hill and D. Patriquin. Presentation at Wildland Fire Canada 2014 Conference, Halifax, N.S. Oct 6-9, 2014. Summary & Slides

Ericaceous Nova Scotia
to the The Atlantic Rhododendron and Horticultural Society, Feb. 5, 2013.

Methods of plant identification, habitats and species in the Halifax area
For the Native Plant Talk Series, May 10, 2012.

Life on a sandy shore
Talk and Field Trip for Young Naturalists Club, Halifax, Sep. 17 & 25, 2011. View links

N2 fixation by free-living and associative organotrophic diazotrophs in marine and terrestrial habitats
to Roger Knowles Tribute Symposium at Canadian Society of Microbiologists Annual Conference, Memorial University June 20-23, 2011. Abstract

Landscapes of the Five Bridge Lakes Wilderness Area: A Natural History
My component ("Land") of a joint presentation with Dusan Soudec on "Our new Candidate Wilderness Area by land and water" to the AGM of the Woodens River Watershed Environmental Organization Feb 17, 2010. Dusan spoke about Water.


---
Updated 20 Dec 2020