Natural History of the Backlands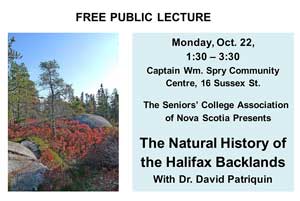 Links
---
How to get there:

There many informal trails in the Backlands, but few formal trails currently. The Mac Run group is developing a network of trails for walking and biking that go into Crown land in the Backlands.

Providing access to the Backlands wilderness area is a lot of what the NCC/HRM Urban Wilderness Park is all about.

I am a little hesitant to describe how I access the Backlands because it's often across private property, through rough areas etc.

However, I can suggest "the bike barrens" (McIntosh Run trails) as a great place to start your explorations. It's readily acessible, safe walking and goes through unburnt and burnt barrens. It's spectacular right now (Oct 23). This is HRM land, with a piece of it falling in the Williams Lake Backlands/proposed wilderness park area.

View Google Maps

OCT 31, 2018: I JUST VISITED THE AREA AND THE OLD TRAILHEAD IS GONE (BUILT OVER), BUT THERE ARE NEW ONES IN TWO PLACES NOW AS SHOWN BELOW

Click on images below for larger versions.