THIS IS AN ARCHIVE (Sep 12, 2017) OF THE OLD WEBSITE

The Current Site is at:
www.nswildflora.ca
Wild Flora and Habitat in Nova Scotia
Programme: Upcoming Meetings and Events for 2017
Through the fall, winter and spring, we meet at 7:30 pm on the 4th Monday of the month in the auditorium of the Nova Scotia Museum of Natural History, 1747 Summer Street, Halifax. Meetings are open to the public. Field trips are held throughout the year, but most frequently during the summer. They are usually held on a Saturday or Sunday. The field trips are also open to the public, except when numbers must be restricted.

NS Wild Flora Society Board hard at work planning programme (fall, 2014).
Caitlin Porter joined the board in 2015.
Events during the summer are often scheduled on short notice.
Members receive e-mail notification.
May 22, 2017 at 6:30 p.m.:
Eisner Cove Wetlands
An evening walk (replacing an indoor meeting) to explore a little known mixed Acadian forest woodland and black spruce/tamarack forested wetland in Dartmouth. Meet at 6:30 p.m. at the end of Fenwick Street in Dartmouth. View
Google Earth Map
. Wear boots, bring insect repellent.
May 26-28, 2017:
NatureNS celebration of Nature Weekend May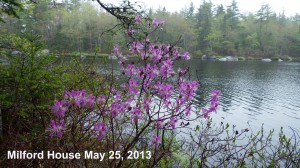 Nature NS is holding its popular spring weekend at Milford House May 26-28, 2017. As in the recent past, the Young Naturalist Club will be participating, making it a family affair. There are talks about loons, flying squirrels and trout, a variety of field trips, and good food! For the kids, nature-oriented games, fields trips, and a campfire with Frank Meuse and Shalon Joudry from Stone Bear. See
Nature NS
. Registration must be received by April 21.See Nature NS.
Tuesday June 6, 2017:
Bayer's Lake Woodland Trail
Join HFN and NSWFS (the N.S. Wild Flora Society) for a late spring walk in BayerÕs Lake on this hidden treasure of a trail often overlooked in the middle of a busy industrial park. Long-time member and past president of NSWFS Heather Marchione will identify woodland plants and lakeshore shrubs for us. Please bring along field guides and binoculars. There is a limit of 10 participants so register early.
Rain Date: Thursday, June 8
Contact: Carol Klar, cklar@bellaliant.net, or 443-3385.
Time/place: 2:00 p.m. at the trailhead across from ClarkÕs Transport, 68 Horseshoe Lake Drive, BayerÕs Lake Industrial Park. Cars may have to park at Access Nova Scotia, as the trailhead parking is limited to three or four cars. Duration: 1 and 1/2 hours
Difficulty: Easy
June 16th to 18th, 2017:
Parrsboro Excursion
View
Attached document
VIEW
PREVIOUS EVENTS
(2007-2017)