Photographs of Old Growth
Red Spruce on the Chebucto Peninsula

Click on images for larger versions.

Posted 1 Oct. 2009.

Updated 3 Nov. 2009.

These photos are posted to complement

an article to be published in

The Bridge

(November, 2009)

See

Text

More photographs and comments to be added. To be sure you are viewing the latest version, refresh this page in your browser.
Panorama


Panorama from well up The Climbing Tree, Aug. 12. That's Lower Trout Lake in the distance. Trees that tower above the rest are red spruce.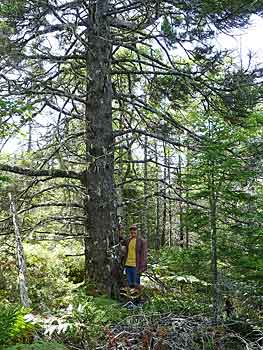 The Climbing Tree (32" dbh)
Lower Trout Lake Area
| | |
| --- | --- |
| Looking northwest across Trout Lake | Close-up; deciduous forest on the upland |
| | |
| --- | --- |
| Shoreline on south side of Lower Trout Lake | Large red spruce on slope to lake |
| | | |
| --- | --- | --- |
| Bank on south side of lake; dense fir; black spruce; paper birch, red maple; some large red spruce | Base of large red spruce; note absence of moss in litter area by base of the tree. | Large, older fallen dead wood of this sort was not common. |
Select Sites
| | | |
| --- | --- | --- |
| Site 1 Tree #4 (28" dbh) | Site 1 Tree#6 (24" (dbh) | Site 1, Tree # 8, 3-split above (23") |
| | | |
| --- | --- | --- |
| Site 1, Replaceent tree # 5 (8" dbh) & firs | Site 1: old stump | Site 1: red spruce snag |
| | |
| --- | --- |
| Site 1: Replacement red spruce (9") and old, cut logs | Site 2: tree#3 (25") |
Forest Floor
| | |
| --- | --- |
| Site 2: moss covered boulders | Site of old bear scat: dead moss & 3 witherod seedlings |

Above: lichen covered rock
Right: Large fallen dead tree covered with moss and vegetation
Blowdown Area
| | |
| --- | --- |
| Top right: birch seedling in recently exposed soil Right: stump and logs | |
Lichens on Red Maple
Fir Forest outside of the Crown land
| | |
| --- | --- |
| | At left: old stump of a large tree, likely red spruce |
---
versicolor.ca/forest