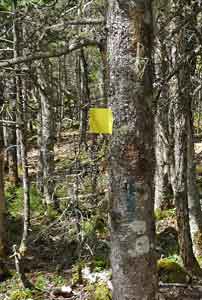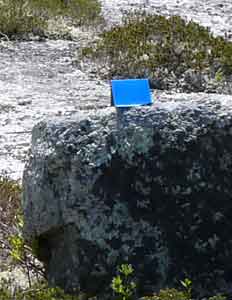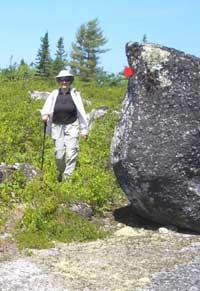 The four loops of The Bluff Trail are colour-coded with small metal signs placed on rocks or trees at regular intervals and at points where there might be some confusion as to what is the correct route. The signs are painted in different colours to distinguish the routes:
Loop 1 ( Pot Lake Loop): yellow
Loop 2 (Indian Hill Loop): blue
Loop 3 (The Bluff Loop): red
Loop 4 (The Hay Marsh Loop): orange
One set of signs at trail junctions identifies the colour coding, another set shows where you are and indicates distances for each section of each loop.



While the signs help to ensure hikers can stay on route, it is still possible to get lost, e.g. if one wanders from the trails, weather becomes inclement, the trail becomes covered by snow, a hiker becomes exhauted or stressed from hunger, dehydration or an accident. So always take appropriate precautions and be prepared for a change in plans.
Carry a map and compass, first aid kit, adequate water and water purifiers, extra layers of warm, dry clothing, rain jacket and rain pants, a knife, emergency matches, and flashlight, extra food. Carrying a cell phone is advised and always let someone know your plans and expected time of return. Plan your exursion to leave planty of time to return during daylight hours and cut it short if it's taking longer than expected. Hikers should be alert since they will be traveling through bear and moose country. There are also coyotes. The trail is a wilderness trail, designed to challenge and delight the experienced hiker. Hikers should use caution at all times.