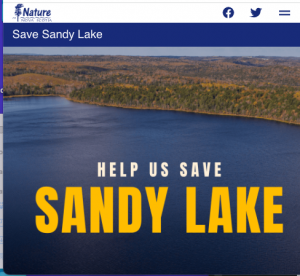 Nature Nova Scotia, the Federation of Nova Scotia Naturalists, announced on their Facebook site yesterday that they had recently joined the Sandy Lake-Sackville River Regional Park Coalition "to help spread awareness and take action on the threats facing this rare gem".
Nature NS appeals to supporters to "Help us save Sandy Lake by writing to government today. Ask Premier Tim Houston to remove these old forests, pristine lakes, and species at risk habitats from the province's Task Force on Housing list of rushed development areas. Sandy Lake should be protected park land, belonging to all Nova Scotians."
View Undeveloped Shorelines and Rare Old Forests in Bedford NS Threatened by Rushed Housing Order on the Nature NS Website (Posted Mar 19, 2023) for details.