Purcell's Backlands
Recent News

Oct 30, 2013: City sinks Purcells Cove water plan "Council voted 13-1 to table a feasibility study on servicing, which for all intents and purposes killed the notion."

Oct 29, 2013: Purcell's Cove area residents seek closure in Council decision on sewer-water feasibility study..and "suggest Clayton and its parent company, The Shaw Group consider gifting the wilderness lands abutting Williams Lake to the residents of Halifax and Nova Scotia, for the ongoing enjoyment of current and future generations."

Oct 8, 2013: Sewer & Water Report was tabled at the Oct 7th meeting of Halifax and West Community Council. Interpretation: Good News!

Oct 3, 2013: Meeting of Halifax and West Community Council
Oct. 7th @ 6pm Capt Wm Spry Centre
The community council can do one of three things at this meeting:
Advance the PURCELL'S COVE SERVICING FEASIBILITY STUDY to Regional Council for further consideration
Request additional information from staff, or
Table the study and not advance the matter to Regional Council.
The Williams Lake Conservation Co. strongly encourages those concerned about this issue to contact the six Community Councillors prior to this meeting and make their views known. If not in favour of extending water and sewer to the Purcell's Cove Area, please endorse option #3. The CBCL Report and HRM Staff Report are both now available online on the HRM website.

Related: Two councillors won't support recommendation to bring water, sewer to Purcell's Cove (Metro News Oct. 2, 2013)

April 9, 2013: Purcell's Cove Community Steering Committee discharged of duties View Details. See also: HRM website for Planning and Engineering Feasibility Study: Extension of Central Sewer, Water and Stormwater Systems, Purcell's Cove. (The full implication of this action is not clear...)

March 1, 2013: MacIntosh Run Lands NOT in planned new Parks and Protected Areas. unfortunately, none of the Purcell's Backlands have been identified for future protection as a provincial park or Protected Area. There is a large block of crown land encompassing the Lower MacIntosh Run that was proposed by some groups and individuals for protection. The good news: it is still crown land and could be protected through other means.

February 25, 2013: Community Steering Committee Meeting - Report on costs of Water and Sewage Extension. See Chronicle Herald: Water, sewer extensions pegged at $15 million . View HRM Site with access to Presentation PDFs

January 23, 2012 Community Steering Committee Meeting gets results of survey, presents sewage & water scenarious. See documents on HRM website, in particular pages 1-5 on Questionnaire Results (PDF) and maps in the CBCL Consultant presentation - Servicing Options (PDF). The survey verified community oppostion to sewage and water extension. The maps illustrate some of the servicing options (none of them wanted). Also available here: audio recording from the Jan 23 meeting. Alan Roughman's very relevant comments begin at 48 mins 40 sec. (It may take a minute to load. Try this Audio Link if you couldn't open the javascript window.)

Dec 4, 2012: Save Williams Lake - Video Graduate students at Dal produced a 5-minute video about Williams lake and environs to highlight the values of the area & the issues. See Video

Nov. 28th, 2012: "A small victory Tuesday as Halifax regional council voted unanimously not to move those services into part of the area.[Oceanview Drive to Fergusons Cove Road] BUT the move... is more symbolic than practical...Purcell's Cove Road from Wenlock Grove to Oceanview Drive would likely get connected in the near future..."The elephant in the room has always been that development has been driving this process," he said. "It's great for the folks (where there won't be any extension) but it really hasn't made the real problem go away at all." See Chronicle Herald | CBC report | Press Release from Purcells Cove Area 1 Residents' Action Committee

Nov 20th, 2012: Community Steering Committee hears from Developer & Residents From Chronicle Herald: "Clayton Developments wants to build approximately 1,600 new homes on the nearly 162 hectares of wilderness land it owns near Halifax's Williams Lake...Mike Coughlan suggested that the engineers hired to do the study look at alternate ways to provide potable water to the few residents who need it....Much of the impetus for extended services came from the Royal Nova Scotia Yacht Squadron and its restaurant, said retired professor Nathan Brett." Read Chronicle Herald & CBC report (with video). Listen to Audio Recording. View HRM Site with access to Presentation PDFs

Nov 13th, 2012: Public Consultation meeting for the proposed McIntosh Run single-track trail system "The Concept Plan for the trail system was presented at the meeting. An overview of the plan is shown on the map... and involves approximately 25km of phased trails on public lands (HRM and DNR). Read more at www.mcintoshrun.ca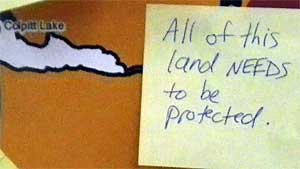 OCT 29th, 2012:
CBCL Limited consultants asked for feedback on proposals to extend water & sewage along Purcell's Cove Road. ee Sept 12 Consultants' report At a packed meeting, participants expressed loudly & clearly "not needed, not wanted" and called on HRM to conserve the Purcell's Cove Backlands for wildlife and wilderness receration.
More
Purcell's Backlands -
LINKS